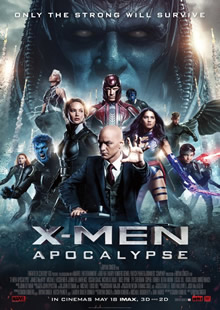 Starring: Michael Fassbender, James McAvoy, Jennifer Lawrence, Oscar Isaac, Rose Byrne, Nicholas Hoult, Olivia Munn (Rated M – 144 min).
In quick succession with variable quality, we have endured the caped crusader battle the man of steel followed by Captain America opposed to his once brother in arms Ironman. Now various X-Men mutants stretch the friendship when a historic villain threatens to tear apart Charles Xavier's school for the gifted.
X2 (2003) holds up as my favourite, however X-Men Days of Future Past (2014) allowed time travel to explore classic characters as their younger selves coming in contact with the ageless Wolverine as a kind of mediator. That concept pushed a little further here still works although not quite as efficient.
Beginning in 3600BC during an Egyptian prologue, the action sets forward into the 1980s with chief villain resurrected looking to cause the apocalypse on modern society. Teleporting around the globe, this menace recruits an array of mutants including fan favourites Psylocke (Olivia Munn), Angel (Ben Hardy), and Magneto (Michael Fassbender). The latter is full of conflicted aggression due to the death of his family then a flashback to his youth in an Auschwitz concentration camp. That'll certainly do it, while showcasing Fassbender's strongest scene harnessing his rage.
Superhero overload is at an all time high but overall, this has some pretty exciting moments laced with humour. But don't be fooled, this is not for young children. Although his academy is growing, Professor X (James McAvoy) is strained to overcome the threat of former friend Magneto with his new crew with a battle royale ensuring global destruction (including a wiped out Sydney Opera House). Something we have seen all before.
Quicksilver (Evan Peters) has the best scene of any X-Men film to date while addicted Game of Thrones fans may rejoice at Sophie Turner seducing every second of screen time as ruthless glam Jean Grey.
Be ready for two excellent cameos – one is 'hairy', the other is Ally Sheedy (The Breakfast Club) playing a teacher. Good, not great addition to the growing Marvel cinematic but let's give X-Men a rest for now.
Shane A. Bassett
Sydney Unleashed is one of Australia's premier entertainment publications exploring the latest in lifestyle trends. From Sydney's finest restaurants, cafes and bars to the hottest in gadgets, products, and home entertainment, Sydney Unleashed is your one-stop lifestyle platform.