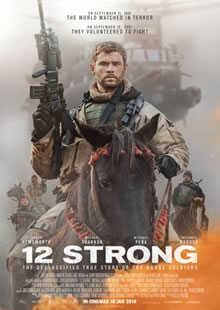 Starring: Chris Hemsworth, Michael Pena, Michael Shannon, Elsa Pataky, Lauren Myers, Trevante Rhodes (Rated MA 130 min).
Firstly, I cannot thank the armed forces deployed overseas or at home enough for what they do. Based on a true story derived from a book 'Horse Soldiers' from author Doug Stanton following special forces soldiers on the ground in Afghanistan just after the 9/11 incident.
Debating and arguing what to do next, there is way too much internal group challenges being led up by Captain Mitch Nelson (Chris Hemsworth). When there is a need for drama, he gives it to you. When there is a need for quietness, he gives it to you. However striking explosive action is what 12 Strong is basically relying on.
No holds barred bullet and bomb symphonies are loud, dynamic and mostly impressive thanks to stalwart and one of an abundance of producers here, Jerry Bruckheimer. However as this is the focus, it is draining to the brain plus damaging to ears in pulsating digital sound.
Michael Shannon (Shape of Water, Vanilla Sky) is wasted in an insignificant manner, while Michael Pena fares better, while it was nice to see Mrs Hemsworth, Elsa Pataky (Furious 6, Snakes on a Plane) within minor affectionate emotional scenes together with her Australian husband.
Hemsworth is solid, unintentional charm, even sneaks out during the extended focus on the soldiers attempting to ride horses at short notice, most with no prior experience.
Full on as you would expect, desert situations concerning modern warfare isn't pretty. 12 Strong is grating, only worth watching if you're into war movie tropes.
Shane A. Bassett
Sydney Unleashed is one of Australia's premier entertainment publications exploring the latest in lifestyle trends. From Sydney's finest restaurants, cafes and bars to the hottest in gadgets, products, and home entertainment, Sydney Unleashed is your one-stop lifestyle platform.