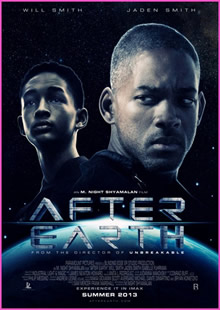 Starring: Will Smith, Jaden Smith, Sophie Okonedo, Zoe Kravitz, Monika Jolly (Rated M 107 min).
This is a movie that is sure going to divide audiences into either frustration or complete boredom. Will Smith decided against Oscar winner Django Unchained to do this fiasco. Already a major box office disappointment stateside, After Earth is not a complete flop, although it may well be an insomniac's delight.
Therapeutic: no; mind-numbingly stupid: yes. The challenge is to stay interested; it had me completely baffled as to who exactly wrote this awful excuse for a screenplay that both Smith senior and junior could deliver such grating never-ending incomprehensible monotone dialogue. The plot is spelled out in narration that sounds like it's been recorded inside a beehive. A thousand years after the blue planet has been supposedly consumed by an alien apocalypse and evacuated presumed extinct, Nova Prime has become the new colony for humans. Structured life as they know it.
Will Smith is General Raige (no, he is not a rock and roll wrestler) returning from a long tour of duty to his wife and distant 15 year old son Kitai (real life son Jaden Smith). Another mission pops up and dad takes son on a journey with fellow soldiers as a kind of work experience project. Head on in a meteor shower, the space craft crash lands breaking in half with two survivors, guess who? The General is injured, can't move from the cockpit, so he orders the whiney teenager on a bush-walk to the tail section to trigger a distress beacon.
They are on Earth, it's alive and actually flourishing with deadly plants and oversized animals. At night, the temperature drops to freezing point but various hot spots provide the only chance of survival. Sucking on energy capsules while taking orienteering orders via an arm-radio from his now caring father, it's man vs. boy vs. elements. Mostly filmed in Costa Rica, the lush jungles are breathtaking and some of the effects look stylish.  The rest is so dreadful that some serious moments become unintentionally hilarious.
Soon to be seen in Mad Max Fury Road, Zoe Kravitz easily out acts everyone in her limited screen time, while blink and you will miss Australia's own Lincoln Lewis as a training cadet near the start.
© Shane A. Bassett
Sydney Unleashed is one of Australia's premier entertainment publications exploring the latest in lifestyle trends. From Sydney's finest restaurants, cafes and bars to the hottest in gadgets, products, and home entertainment, Sydney Unleashed is your one-stop lifestyle platform.