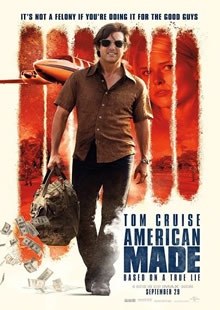 American Made: Movie Review
Starring: Tom Cruise, Sarah Wright, Domhnall Gleeson, Lola Kirke, Lara Grice, April Billingsley, Kayla Perkins, Caleb Landrey Jones (Rated MA – 115 min).
Despite recent disastrous hiccup The Mummy, and any personal thoughts on superstar Tom Cruise due to off screen odd behaviour or certain beliefs, his on-screen reputation continues to ascent with age as a true movie personality who takes roles full tilt crossing dramatic acting ability with comic edge remaining action orientated.
The frenetic true story of commercial airline pilot Barry Seal, American Made is no different for fast-paced adventure with serious violent undertones and as a qualified aviator himself, Cruise is credited for some of the aerodynamic stunts himself. Well…he is Maverick!
Initially approached by clandestine operative to become a contract flier for the CIA, he ends up flying missions over Latin American. Then also hired by the Medellin cartel to transport such contraband including what's best described as Colombian marching-powder.
With his fanciful breezy nature, Seal is even set up in his own airport with personal plane at the ready in Mena, Arkansas, right under the nose (pun intended) of then Governor Clinton. Everything seems to be going swimmingly until issues occur which may indicate a set-up. Part of the fun is finding the clues. Seal certainly didn't, at first. Set during the the height of excess in the Wall Street 1980s, period details and clothing are on point.
Beginning his career with celebrated comedies (Go, Swingers), director Doug Liman worked with Cruise on the underrated time-travel thriller Edge of Tomorrow. He again lets his star flow into a convincing and engaging character.
The Barry Seal story remains an interesting part of recent history. It is told here with vigour and witty animated injections to help explain how the stings and pickups were conducted. Cinematography is full of hair-raising panoramic airborne images worthy of a travel catalogue.
Amazing, top of their game support cast, too many to mention. However, Caleb Landrey Jones (Twin Peaks, Split) pulsates for pure unpredictability whenever on screen. Future award winner Lola Kirke (Mistress America) makes her presence known and Sarah Wright as Mrs Seal impressively holds strong opposite her toothy lead.
Eye-opening must see film and one of the best of 2017 for outrageous energy alone. One may have to be reminded it is actually based on fact.
Shane A. Bassett
Sydney Unleashed is one of Australia's premier entertainment publications exploring the latest in lifestyle trends. From Sydney's finest restaurants, cafes and bars to the hottest in gadgets, products, and home entertainment, Sydney Unleashed is your one-stop lifestyle platform.