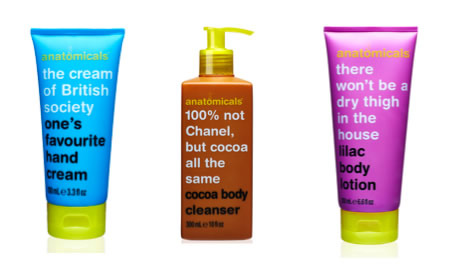 100% not Chanel, but cocoa all the same cocoa body cleanser RRP$8.99
Make no mistake, this is a 100% genuine anatomicals product. it's not fake. you can tell that because the bubbles are correctly positioned over the first (and only) 'o' of the logo and anatomicals doesn't read anatooomicals or anatomicals. grief, who'd want to ban anatomicals? after all, it's the finest couture toiletries brand in the world, used by the glamorous since its glorious inception in the early part of the 21st century. this cocoa body cleanser is the latest addition to the collection. WSD (Women's Shower Daily) are already heralding it as a triumph.
The cream of British society one's favourite hand cream RRP$7.99
The aristocracy aren't what they were. their fortunes have dwindled and those who still have their stately piles (not as in the dreadful bottom condition caused by sitting on their thrones for too long) have had to resort to taking in paying guests – perish the thought. if there's one thing they've managed to hold onto, it's the fact that they can continue to afford this cream and don't have hands as dreadful as their former, now fired, servants.
There wont be a dry thigh in the house lilac body lotion RRP$8.99
"Blubber, blubber, blubber." many beauty products claim to reduce the fat (also known as blubber) on your body. but not this lotion. it only increases blubbering because it leaves your skin feeling and looking so soft and silky, everyone will be reduced to tears at its loveliness. we just hope they're using anatomicals waterproof mascara (unlikely as it doesn't even exist).
All Anatomicals products are available now.
Sydney Unleashed is one of Australia's premier entertainment publications exploring the latest in lifestyle trends. From Sydney's finest restaurants, cafes and bars to the hottest in gadgets, products, and home entertainment, Sydney Unleashed is your one-stop lifestyle platform.