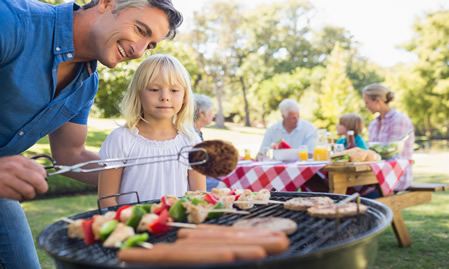 Aussie Dads' BBQ Skills Going Gourmet
A survey of over 1,200 Australian families has shown that Aussie Dads get the thumbs up from their partners with 55 per cent saying they have 'good barbecue technique' and more than 50 per cent are experimenting with adventurous gourmet style meals.
The survey, conducted by BeefEater® Barbecues and online parenting publication, Kid Magazine, showed that tasty marinades and creative recipes are taking over from traditional 'snags and steaks' on the barbie.
"Every spring, we conduct a consumer survey to keep up-to-date with barbecue cooking trends and we have seen an ongoing increase in the number of people who are experimenting with creative BBQ food, including delicious sauces, rubs, innovative menus and delicious accompaniments," said Ms Michelle Rossier, marketing manager, BeefEater® Barbecues.
When it comes to plating up, 38 per cent said their partners can cook the perfect steak but seafood it seems is the hardest to cook, with just 7 per cent getting it right.  11 per cent can pull off a yummy roast and interestingly, 15 per cent are putting together delicious salads and sides.
"There is an increasing trend for creative salads and sides, influenced by the popularity of Mediterranean and Asian cuisine – move over coleslaw, hello chargrilled veggies and wilted Asian greens!" laughed Michelle.
Steak tops the list of favourite BBQ food at 42 per cent, followed by lamb (20 per cent), chicken (9 per cent) and seafood (8 per cent).  Interestingly, only 3 per cent said fish was their favourite food and least popular was pizza at just 2.4 per cent.
"We found the lack of popularity of pizza to be interesting because we always receive great feedback about our pizza ovens – it's incredibly quick and easy to cook a pizza on a BBQ and they taste amazingly authentic!" said Michelle.
When it comes to equality of the sexes, the barbecue it seems continues to divide and conquer with almost half of men (45 per cent) taking control of the tongs and just 15 per cent of women surveyed said they share the BBQ cooking with their partner.
"Every year we continue to see that the barbecue is still a 'man's domain' with a resounding 89 per cent of men gathering around the BBQ to cook and share a drink and conversation with their mates at barbecue parties," said Michelle.
Interestingly though, the BBQ purchase is a joint one, with 54 per cent of women having their say on which BBQ is best.
"Many women are involved in the decision because they want to enjoy the best tasting BBQ food on a stylish barbecue that looks good in the backyard," said Michelle.
Style and performance are important considerations when choosing a barbecue with 77 per cent of those surveyed saying that their partner had suffered 'BBQ envy' over a friend's new BBQ or top-of-the-range new model.
"These days, barbecues, like cars and mobile phones are state-of-the-art appliances that are a result of a high level of careful design and technology processes that make them aspirational purchases for the home.  Innovations such as the BeefEater® trade marked quartz start ignition, anti-rust technology and the use of premium materials such as cast iron and top grade stainless steel – these are factors that place the new generation of BBQ's in the 'must have' category of home appliances.  The humble Aussie Barbecue has come of age," said Michelle.
This is reflected in the survey results – when asked what they would most like to do to improve their backyard, the majority (41 per cent) said they would like to upgrade their existing barbecue to a new one.
"Upgrading to the latest model is now very much accepted as a consumer purchasing trend which has spilled over from technology products into home appliances," said Michelle.
Over half (28 per cent) of survey respondents said they would love to improve their backyard by building a beautiful outdoor kitchen.
"Renovation TV shows have turned dreams into reality by showing how easy it is to extend your living space by building an outdoor room and clearly it is becoming increasingly desirable to do so by many Aussie families.  This was borne out by our survey which showed that almost half (46 per cent) said they cook outdoors more than they used to because they are more set up for it now," says Michelle.
And it seems that most Aussies have the equipment to prove it – 80 per cent have special BBQ cooking tools, 75 per cent have an outdoor dining setting and 20 per cent have an outdoor sofa/comfy chair setting.  Just 9 per cent said they had no BBQ equipment at all.
In the height of summer, almost half of all Australian families (37 per cent) fire up the barbie once or twice a week, with 30 per cent enjoying delicious home-cooked barbecue food two to three times per week.
"The survey showed what we already know – Aussies are a nation of barbecue lovers," said Michelle.
And when asked why, the resounding answer is 'taste' with 37 per cent agreeing that they love barbecuing because BBQ food is really tasty.  27 per cent said it's a fun way to get together with family and friends and 25 per cent saying it's part of the Aussie way of life.
Most people own a gas BBQ (70 per cent) and just 5 per cent own a solid fuel BBQ.
"This result is interesting as these findings would be reversed in many other countries.  In Europe and South America for example, solid fuel barbecuing is very popular.  We are finding though that many Aussies are now purchasing a solid fuel BBQ as a second option because of the unique smokey taste that cooking with solid fuel gives – it's very popular currently, which is why we launched a solid fuel version of our BBQ BUGG®.  Because it's neat and portable, it's great to take camping, on holiday or just out to the park for a day, to give a different flavour to your regular BBQ food," said Michelle.
And finally – when asked how they will spend Father's Day, only 5 per cent of dads will be treated to breakfast in bed with 14 per cent of dads cooking a BBQ meal for their family.  The majority, 51 per cent will enjoy a family day and 11 per cent will do nothing special at all.
"Whatever you decide to do, we wish all dads a happy father's day!" said Michelle.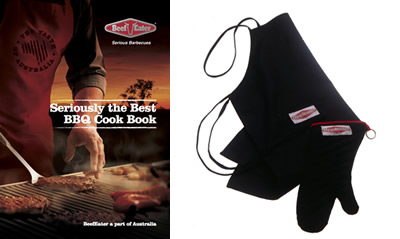 Sydney Unleashed is one of Australia's premier entertainment publications exploring the latest in lifestyle trends. From Sydney's finest restaurants, cafes and bars to the hottest in gadgets, products, and home entertainment, Sydney Unleashed is your one-stop lifestyle platform.