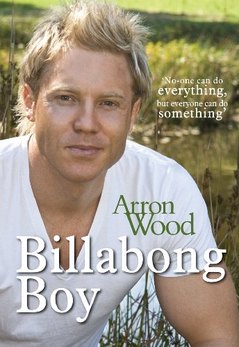 Billabong Boy by Arron Wood
A life story that proves we can all make a difference!
At eight years old, Arron Wood jumped into the billabong near his Mildura home and emerged covered in a toxic, blue-green algae that seared his eyes and left a rash all over his body. It was a pivotal moment for Arron, the beginning of a life committed to preserving the environment that he now shares in his new autobiography, 'Billabong Boy'.
Arron's inspiring career as an environmentalist and educator has earned him awards including the 2001 Young Australian of the Year (National Environment Winner) and the 2006 United Nations Individual Award for Outstanding Services to the Environment. His expertise in environmental preservation has seen him sought after by political parties, green groups and corporations while his charm and charisma has seen him make regular appearances on radio and TV to discuss environmental issues.
In 'Billabong Boy', Arron now shares for the first time the personal battles he has faced in the hope of providing inspiration to anyone who has ever felt as though they're unable to overcome adversity. From facing schoolyard bullies, battling low self-esteem and ultimately having to deal with depression and anxiety while running a business, Arron's path to his current success has been filled with obstacles that many people will have experienced themselves. "At one stage I could go no lower, I had really hit rock bottom," says Arron. "To express how I came back from such a dark place is something I hope will help others in a similar situation. I set out to save the environment and in the end I think it actually saved me."
In 2000, Arron founded Firestarter, a Victorian-based environmental education organisation that uses an innovative 'kids teaching kids' approach to developing young leaders and facilitates relationships between environmental industries and businesses, governments and the general public. In 'Billabong Boy', Arron shares how we can all apply the principles behind Firestarter to inspire one another to take responsibility for our collective environmental future.
"We've now had over 20,000 kids participate in our Kids Teaching Kids Program to inspire future environmental leaders," says Arron. "With the green economy growing and sustainability becoming mainstream, I established Firestarter to make sure our kids not only have a healthy environment to live in, but are also ready to lead the world in environmental technology and innovation."
It is his close relationships with family that have seen Arron through his challenges and throughout the book, his father Richard reflects on crucial moments in his son's life that have made him the man he is today. The book also includes a foreword from Green's Senator Bob Brown who notes that we can all, in some way, make a positive change to the world around us by taking Arron's lead.
ABOUT THE AUTHOR
A committed environmentalist since an early age, Arron's commitment to the environment was covered on ABC's Australian Story in 2004 and he hosted the Channel Seven documentary Our Water, Our Future which aired in 2005. His previous roles have seen him with Lower Murray Water Authority, Mildura Rural City Council and the Mallee Catchment Management Authority. Arron was the youngest Waterway Manager in the State of Victoria by some ten years and held the Deputy Chair of the Victorian Waterway Managers Group in 1999.
'Billabong Boy' is available now.
Sydney Unleashed is one of Australia's premier entertainment publications exploring the latest in lifestyle trends. From Sydney's finest restaurants, cafes and bars to the hottest in gadgets, products, and home entertainment, Sydney Unleashed is your one-stop lifestyle platform.