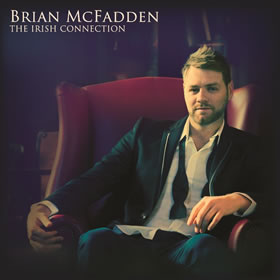 BRIAN MCFADDEN: Irish Connection
Brian McFadden (Westlife) speaks of his latest solo album, 'The Irish Connection', featuring Ronan Keating and Sinead O'Connor:
"I have toyed with the idea of making an album of my favourite Irish songs for a few years now but the timing was always wrong. I have been making an original album with my brother in arms Rob Conley for the last year and a half, but we decided to take time out of that to take on this challenge and a challenge it was. The idea of covering other artists songs in theory sounds easy but in reality it comes with the huge pressure of justifying the originals and the artists, all while trying to put my own feel on the songs, give them new life and somehow try and make them sound like they could possibly be my own.
The beginning of this project started with rob and I sitting in the studio listening to a lot of songs and doing a lot of head scratching. What would the album be? Old traditional Irish songs? Ireland's biggest hits of all time? Ireland's hidden gems?…….. so hard when there are so many amazing songs in all these themes. So…. We just started recording.. We started with a song from unarguably Ireland's greatest musical act, U2. I knew instantly which song I wanted to do. "All I want is you" is for me U2's most underrated song. The melodies, the lyrics, the feel, the sound….. Perfect! And we are up and running!
"Black Is the Colour" a song that sings the sound that is Irish music. (even though it originates from Scotland) it's one of the most loved and covered songs in Ireland. I am delighted to be joined on this song by the amazing Sinead o Connor. Her vocals on this track show why she is one of the greatest female singers of our time. She can take the simplest of songs and make it sound so intricate using just her haunting voice. Let's just say. School was in session that day and lessons were learned!
Now I knew we were on the right track. We had recorded a modern rock song and a traditional folk song and they sounded like they came from the same album. We were now in a situation that it didn't matter what genre, time period or tempo the originals were, it was all down to us producing it to fit in with these first two songs. This made choosing Damien Rice's "9 crimes" so much fun. To take a song so raw and quirky a lot more commercial and produced now made sense to this record. Just like Enya's, "Only Time" twisted to sound more like a Brian McFadden song than the usual operatic left field sound we normally hear from Enya.
Say the name Christy Dignam to anyone in Ireland and you'll get a similar sense of acknowledgement as you would should you say Bono. Aslan are the greatest band in Ireland. Unfortunately for the rest of the world they haven't been gifted songs like their biggest hit… "Crazy World". This is one of my favourite songs of all time and one of the only songs that I know all of the lyrics off by heart, making it my party piece for the last 12 years. It's such a buzz for me to make a new version of this song with Aslan's charismatic front man Christy.
Every great album needs to have a song from the heart. "Moondance" by Van Morrison was the first dance at my wedding to beautiful wife Vogue. So being the softy that I am, I covered this and dedicate to her. Around this time while making the album it felt time to sing the song I would fondly remember as, mammy's song. No car journey with my mother would be complete without the soundtrack of my childhood, Mary Black and particularly "No Frontiers". It was songs like this that make me proud to be Irish. The most amazing melodies and bold lyrics that would never be accepted these days.
This kicked of the vibe for me of singing those songs that hit a nerve. I remember the first time I heard "Chocolate" and it gave me goosebumps, along with the feeling that this was the birth of something special. It was the birth of Snow Patrol. I wouldn't be Irish if I didn't include The Cranberries. "Dreams" just melts out of your stereo. One of the greatest frontwomen of our time singing harmonies that make melodies and vocals that intertwine and dance with each other. It had to be done.
The final track on the album I approached with haste. "Nothing Compares To You" is firstly a Prince song and secondly one of the finest female vocals of all time. Is this something I should mess with? What the heck.. I'm all in. I'm not Sinead and I'm certainly no Prince but I kept it simple and I sung from the heart. Ronan Keating and I had a deal. I sang on his album, he sings on mine. Good deal. Ro came into the studio and listened to the whole record, sat back and contemplated. "All I Want Is You" he said. First I thought he loved me, then realised he meant the song. I'm so glad he did for two reasons. One, he's not my type and secondly, we ended up making one of my favourite ever collaborations and my favourite track on this album. The perfect way to finish off what had been an enjoyable, educational; rollercoaster of an album that I'm hoping will be Evergreen."
'THE IRISH CONNECTION' is available now.
Sydney Unleashed is one of Australia's premier entertainment publications exploring the latest in lifestyle trends. From Sydney's finest restaurants, cafes and bars to the hottest in gadgets, products, and home entertainment, Sydney Unleashed is your one-stop lifestyle platform.