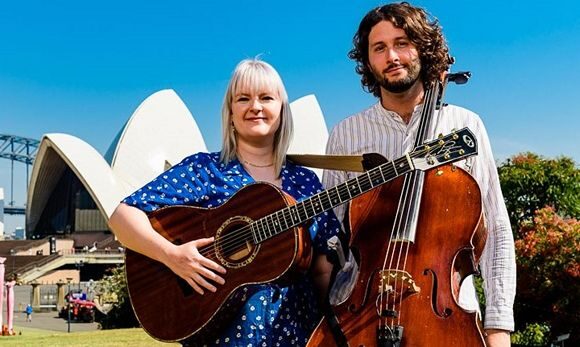 New Scottish Chill playlist inspires Spring travel to Scotland
With the weather warming up in Australia, and while international travel restrictions remain in place, many of us are enjoying Spring barbeques and picnics at home, chilling out in our own backyards, and dreaming of future travel plans. As inspiration for where to explore when the time is right to travel – and with many of the planned events cancelled due to COVID – the Year of Scotland (YOSA) in Australia has released Scottish Chill – the second Spotify playlist in the #SoundsofScotland series, curated for those dreaming of hopefully travelling to the bonny islands for the northern hemisphere Spring when our borders reopen.
2020 had been earmarked as the Year of Scotland in Australia to showcase Scotland's finest traditional, Gaelic, Celtic, and folk musicians to audiences around the country. However due to the pandemic, many of the planned events were cancelled. In addition to concerts streamed on YOSA's Facebook page, the #SoundsofScotland Spotify series will help keep the travel dream alive.
So fire up the barbie, pop on the YOSA Scottish Chill playlist, and enjoy the Australian sunshine now while you plan a trip to Scotland for Spring of 2021, when we can (hopefully) all travel again.
Scotland in Spring
Scotland sparkles in Springtime. From March through to June green spaces are suddenly blazing with colourful flowers and trees in bloom, the hills and mountains look stunningly beautiful, and sounds of wildlife start to fill the air again. The shoulder season often brings temperate, mild weather without the typical summer crowds. But the best part of visiting Scotland in Spring is the long daylight hours, allowing extra time to explore the beautiful city parks and landmarks.
Glasgow's Bellahouston Park is famed for its connections to artist Charles Rennie Mackintosh, whose iconic art is prevalent throughout the city. Located in the city centre, next to neighbouring Pollock Country Park, it's a perfect spot to relax, soak in the sun, tuck into a picnic and escape the city without having to venture too far.
With the colours of spring popping up across Scotland, castles, buildings and attractions show their true vibrancy and character with the warm sun bouncing off their ancient structures and inviting you in to uncover their fascinating history. Close to Edinburgh Castle, Princes Street Gardens come to life in springtime. Nestled in the shadow of the city's 12th-century castle and divided into eastern and western sections by William Playfair's monumental galleries on the Mound, the gardens have flower displays that are legendary.
Festivals Galore
May marks the beginning of the Scottish music festival season. As a nation of music lovers, no other country puts on a music festival quite like Scotland. Spend an unforgettable weekend in a field with thousands of other revellers watching local acts strut their stuff live, escape to boutique events held in the grounds of grand estates and on magical islands, or indulge in Celtic extravaganzas dedicated to the nation's rich musical heritage. When it comes to music festivals, it's hard to top Scotland for sheer volume, variety and atmosphere that caters to practically every genre imaginable.
Music is just the tip of the iceberg when it comes to Scotland's festivals. Expect anything and everything from stand-up comedy and performance art to family-friendly entertainment and even yoga being staged alongside incredible live music. Visitors can also enjoy the novelty of celebrating World Whisky Day (on the third Saturday of May each year) in the spirit's homeland.
Scotland's Highland Games
May also marks the start of Highland Games season in Scotland. Highland Games have been a part of the culture for hundreds of years and are just as popular today as the have ever been. It's no wonder that Australians often time their visit to coincide with the Highland Games so they can experience a true sense of Scottish community, heritage, culture and celebration. Visitors will make new friends with the locals and other visitors as they enjoy Scottish hospitality and watch a gripping sporting spectacle of champions, with dancing, music, and more.
Every Highland Games event has a unique character and traditions, and many are held in stunning locations. Though the Games may have started in Highland Scotland, these days they stretch right across Scotland from the far north coast of the Highlands, out west to the island of South Uist, east to Aberdeenshire and south to Peebles.
YOSA's Scottish Chill playlist
The Scottish Chill playlist has been curated to showcase some of the country's best musical acts, bringing together a variety of local artists performing easy listening tunes that are perfect for Australian outdoor entertaining.
The playlist's tracks include a mix of musical genres from musicians hailing for all over Scotland, all with the common thread of a laid-back vibe that can be enjoyed over the warmer months from Spring through to early Summer. Artists on the Scottish Chill playlist include:
Jellyman's Daughter
Scottish duo Jellyman's Daughter visited Australia late in 2019 as part of the official launch of YOSA. Their music lands squarely in the middle of an intriguing crossroads between bluegrass, post-rock, folk and soul. Emily and Graham write their songs together, mixing intimate vocal harmonies with wild and visceral cello, driving guitar and sweet mandolin, often complimented by banjo and double bass.
Aaron Smith
Scottish singer-songwriter Aaron Smith has caused quite a stir within the music industry recently. His debut single 'Unspoken' pinched the highly prized top spot on both Spotify's "New Music Friday" and Apple Music's "Best of the Week" playlists. Aaron's earthy yet ethereal music sounds so rustic, so natural, that it's the perfect accompaniment to an Aussie backyard barbeque in Spring!
Joesef
A new singer-songwriter quietly making waves in the UK music scene, Joesef has already been compared to Amy Winehouse. The soulful musician comes from Glasgow and his voice is tender, sexy and clean, and his songs are filled with honest, heartfelt lyrics and soul-warming, jazz-inspired lo-fi pop instrumentals.
Blue Rose Code
Blue Rose Code is Edinburgh-born songwriter Ross Wilson. At the edge of contemporary alt-folk, Wilson's music evokes a meeting of Van Morrison and a young John Martyn, both shipwrecked with a bunch of Motown records. Wilson has been gathering countless accolades and praise for his work, with an ever-growing, intensely devoted fanbase providing fuel for his creative fire.
Sydney Unleashed is one of Australia's premier entertainment publications exploring the latest in lifestyle trends. From Sydney's finest restaurants, cafes and bars to the hottest in gadgets, products, and home entertainment, Sydney Unleashed is your one-stop lifestyle platform.