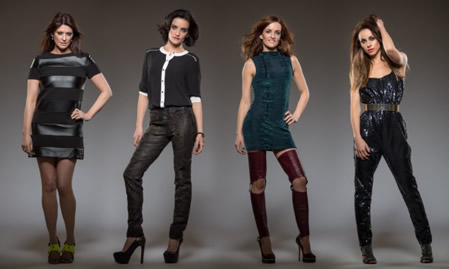 B*Witched: Interview with Keavy Lynch
Talking with the stunning Keavy-Jane Elizabeth Annie Lynch was a blast from the past and a wonderful insight into this multi-talented Irish queen. Part of the 1990s all-girl pop sensation B*Witched, they were responsible for global chart toppers such as 'Rollercoaster', 'Blame it on the Weatherman' and of course 'C'est La Vie' from the self-titled 1998 album.
Touring Australia through February 2017 with fellow retro pop favourites Atomic Kitten, S Club 3, East 17, and Liberty X, the quartet are as popular as ever with some gigs selling out fast.
There is so much interest in the upcoming reunion tour. What led to putting the group back together?
Keavy Lynch – So exciting there is sudden interest immediately after releasing tour dates. We got back together for an English ITV show four years ago but it did take me about eight months before that to say 'yes' due to my new career as a counselor in mental health paving my way into a different world so kept responding 'no thank you' as did Edele for other reasons. Then eventually I was pleased I said 'yes', but instead of one night only, we extended to a tour twice selling out arenas in the space of a year on the back of the TV appearance.
Coming back to Australia is going to be exciting.
KL – In 1998, we only did a promotional tour consisting of meet-greet fan days and in-store appearances singing two or possibly three songs on stage. This time we share with the rest of Australia a full set and fun times, it was meant to be a return with original members.
What do you think it is about retro reunions being so popular – a nostalgia thing for the masses and fond memories possibly?
KL – You're right, people often love to remember their youth through music triggering the teenage years or whatever age. There was certainly a difference to 90s pop than now – it was young, fresh, innocent mostly. All about having a great time – all bubblegum, no judgment, all fun.
How are rehearsals? Will we hear new and old songs combined?
KL – Definitely all the hits and may chuck one or two new ones on there, keep an eye on twitter, we may ask Australian audiences what they think. The newer EP, Champagne and Guinness, became instantly popular so fans seem to embrace the newer tunes.
Did you archive any of the fashion accessories or outfits from back in the day (most of them works of art)?
KL – I did keep a few but if I actually wear them again, I do not know. One day I might have children, sit them down to watch videos and get the clothes out for fun. So it really is about personal memorabilia for me although I don't think we will disappoint anyone by not turning up in denim on that stage.
Who came up with naming the band?
KL – It was actually quite funny, in the studio already writing our album during a break, the classic series Bewitched came on television so it was our producer at the time Ray, twigged that's it. He thought we were all quite magical with our own world going on (laughs).
Would social media have helped or hindered the band if it was around during the 90s?
KL – Interesting question Shane. Firstly, I don't think we would have had time, but maybe hindered, I'm not sure. The amount of magazines, radio stations and television shows promoting us was flooded at that time every moment of any given day. Fans had huge opportunity to see, read, or hear – just in different ways.

You're stunning, incredibly good-looking, having not changed a bit. Having dabbled in acting also, have you ever considered furthering that career?
KL – Thank you Shane, I am blushing (laughs), I'll take that compliment. The on-stage Christmas shows are fun but Lindsay and Edele are the actors in short films or features or TV appearances. My career is enough juggling the degree in Mental Health and music (laughs).
What can Australian audiences expect when they come to the show, possibly wearing double-denim?
KL – Expect a good time, we have been gigging together again for four years now. Continuing to blow my mind how the audiences are. We are very lucky to have a bunch of memorable songs that generally the fans know every single lyric. It's high energy singing live, dancing in denim (laughs). If you found yourself at any point singing along to our songs, allow that joyous moment to happen again, come see us. It was so tiring last time to be honest so I look forward to being more awake and taking it all in. Talk to the Australian crowds.
Shane A. Bassett
Sydney Unleashed is one of Australia's premier entertainment publications exploring the latest in lifestyle trends. From Sydney's finest restaurants, cafes and bars to the hottest in gadgets, products, and home entertainment, Sydney Unleashed is your one-stop lifestyle platform.