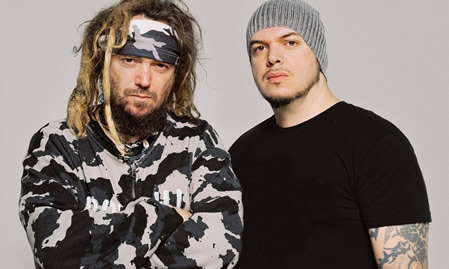 Cavalera Conspiracy Interview
When vocalist/guitarist Max Cavalera split from Sepultura back in late 1996, nobody could have ever predicted that it would be a decade before both Max and his brother Igor Cavalera (Sepultura drummer) would put aside their differences and finally make music together once again.
Having handed in his resignation to Sepultura in early 2006, it wasn't long before Igor reunited to bury the hatchet with his brother, which eventually led to the pair performing for the first time in over ten years at the tenth annual D-Low Memorial Festival (which is in honour of Max Cavalera's stepson Dana 'D-Low' Wells, who was killed in a 1996 car accident).
For the better part of a year, there's was virtually no mention of any further collaboration between the brothers. But in August 2007, Max officially confirmed that the pair was working on a new project under the name of Cavalera Conspiracy (they were originally called Inflikted, but had to change names due to another band recording under the same name).
Fast forward some seven months later, and Cavalera Conspiracy (who also comprise of ex-Ill Niño/Soulfly guitarist Marc Rizzo and Gojira bassist Joe Duplantier) are finally set to release their highly anticipated debut album 'Inflikted'.
Just prior to the album's release, I caught up with an excited vocalist/guitarist Max Cavalera at home in Phoenix (Arizona) to talk about his renewed passion for playing music and performing live, Igor's punk influence and the misconception that 'Inflikted' was a relatively quick album to put together.
"I think that to a lot of people, this album seemed to come together very quickly. But to me, that's not the case. For me, it's been a very long process. Every day for the last two years, I have been submerged in this thing non-stop. So having said that, as you can imagine, I'm glad it's finally finished. It's been a very consuming album, and even a little stressful given the high expectations people have. But I really liked the way it turned out, and I think it stays true to the concept I had when I first started talking to Igor about the project. I really think this is a strong album, and I believe it has a lot of potential. Actually, it's around this time that I consider the worst time. That's because the album has been finished for a while, but it still isn't released. I want people out there to hear it, but here I am still waiting! (Laughs) I'm that excited about this release! If there's one thing about my job that I still haven't learned, its patience. I really don't have patience. I want this album out right now, and I want to be on tour. But I guess I'll just have to wait a little longer."
One of the genuinely surprising things about 'Inflikted' is how different it sounds to both Max and Igor's past as members of both Sepultura and Soulfly. Rather than opt for simple nostalgia, the pair have crafted an album that is clearly modern sounding, without betraying the achievements of the past.
"You know, I think this album is a real departure for us. 'Inflikted' wasn't really put together in any way that a lot of people expected of us. We didn't sit around with a couple of our own records going, 'Let's reproduce this!' For me, that's not the way I do things. No matter what, whether it was with Sepultura, Nailbomb or Soulfly, I always wanted to be at the front of change. I always wanted to go against the grain and introduce people to something new direction-wise on every album rather than simply do the same thing time and time again. So when it came to making this album, it was no different to me. Maybe when people hear this for the first time, they might miss some of those changes. But if you listen to this album a few times, I believe it's something that will catch your ear because it's something that you probably haven't heard before. You'll find 'Inflikted' follows the same tradition of Igor and I in regards to doing something completely new sounding. It's got that sound that says we were simply going by our gut feeling the whole time. The albums we have made together in the past always had that same fire, but they took different directions sound-wise."
Although having immersed himself in his Soulfly project for the better part of ten years (in that time producing five albums), Max assures that there was no change of mindset prior to preparing for the writing sessions for Cavalera Conspiracy's debut.
"Although I have made a lot of albums, there has only ever been two where I had a premeditated idea of what I wanted to do. The first album was 'Roots' (1996), which I recorded when I was in Sepultura. That was a conceptual album that actually had a name before anything was written for it. The only other album like that is Soulfly's 'Primitive' (2000), and only because I had already planned to have so many guest appearances on there. Apart from those two, every album I have made has been completely unplanned. I have the first scratches of songs in my mind, along with some vocals and some song titles. But it's always through that studio process that we end up shaping the album. It's really the only way I do all of my albums. A lot of my albums really turned out different to how I initially thought they were going to be. Take for instance Sepultura's 'Chaos A.D.' (1993). That was originally going to be called 'Propaganda', and it was thematically going to be all about politics. That changed a lot in the recording process to eventually become what it did, which was talking about the chaos in the world as a whole. Things will always change in the studio, and even more so with Igor with me. We really didn't have any big plans behind the album. We just played what we thought was right. And as long as we thought the music was OK, it was on the album. It's the way we have always recorded our albums, and once again it was the same as this album."
Barring a couple of songs that are on the slower side, 'Inflikted' is quite literally bristling with energy, speed and aggression. As Max states, it's simply down to chemistry.
"I've been telling people that I think that there's definitely a fire and a level of aggression that can be attributed to me playing with Igor again. It's a gift man. There's a definite chemistry that works there, and this kind of music that lends itself to that sort of passion. I question why that has to change? I wasn't really interested in playing something that was something that we didn't want to do. We could have definitely made a Brazilian jazz album, but that's not what we're about. So in a very weird way, the two things I was staying away from was doing something too experimental, and staying away from anything that copied what we had already achieved in the past. I tried to find a balance between those two guidelines. I was constantly questioning how it could be done? I wanted something that has the fire of the past, but without borrowing too much from the past. But I also wanted something that showed that we still have a fire that's there for the future in the sound sense, without getting too experimental. So I think it was a fine line to work along. But I think we achieved that man. I think we achieved that. The album has a real sense of purpose and the fire I was looking for, and I think that comes from the pair of us together. I'm very happy with working once again with Igor, and we're both proud of 'Inflikted'."
There's no denying the punk influences on 'Inflikted' in the sound sense, particularly in tracks such as 'Hex' and 'Nevertrust'. But it's also evident in the artwork that adorns the album, with the band's logo similar to the logo Black Flag is synonymous with.
"Igor designed the logo, and I think it's fair to say that there's a big Black Flag influence there. He's a huge fan. I actually mentioned to Igor when I first saw it for the first time how much it reminded me of the Black Flag logo as well. In fact, he explained to me that when he created the Cavalera Conspiracy symbol, he wanted to get away from the elaborate design that he had come up with for Sepultura. It was a really cool logo, but it's not easy to draw! (Laughs) I keep trying, but they always look like shit. But with this logo, you can master it in a matter of minutes. I know I have! (Laughs) And it's also easy to tag places. I've been carrying around a marker and drawing that design wherever I go. I feel like I'm twelve years old again, kind of waiting to get busted by the police for spraying the logo all over my city! (Laughs) In truth, I think Igor was looking for something that looked a little different. There are a lot of metal bands out there with logos that all look the same, and I completely agree with him. And a lot of the album covers look the same too, as well as the bands themselves. So I think Igor was really coming from somewhere else. I thought the logo looked really original, and I love the album cover too. I think it's really great. It's different from what everybody was expecting."
As unplanned as the songs were before heading into the studio, so was the name Max chose for the band.
"It's a name really. It really doesn't have a deep meaning. Most band names don't have a deep meaning, and I don't think that's necessary. Actually, most bands don't have a meaning! (Laughs) But you know, sometimes you can find something in a name at some stage later on. To me, this is a conspiracy against the bullshit of politics within music. It could also mean us going against the conspiracy that destroys music and people. I'm trying to keep the spirit of Max and Igor the same as it was when we were twelve or thirteen. That's not impossible. It's very possible. We love music. You just have to block out all that bullshit and pick up your instrument and just play. That purity is what I'm trying to find when I do this. So to me, this is a conspiracy against all the shit talkers, all the people that ruin the industry with their bullshit and the whole corporate mentality. This band is a very punk rock thing to do."
Aside from ex-Ill Niño/Soulfly guitarist Marc Rizzo and Gojira bassist Joe Duplantier, 'Inflikted' also boasts two guest appearances, with the first being ex-Pantera/Down bassist Rex Brown on 'Ultra-Violent'…
"That was actually really easy to arrange. I heard from good sources in LA that Brown was around doing some stuff with Down. So after trying through numerous sources, I eventually got his number and called him. I told him I was in town making an album with Igor. He told me that he knew all about it because he took a lot of interest in the fact that we were playing together again. So I told him about me being a guitar player, and that our bass player was actually being a guitarist in his other band, and that we really needed a bass player for this one song so that we could get this album finished. He asked me when, and I said tomorrow. The funny thing is that I booked the studio the following day for a full eight hour session. I have never seen Brown record before, but I figured it'd give the both of us enough time to bullshit with each other and get down to recording the song. Brown finished the song in thirty minutes! (Laughs) So for the next seven and a half hours, we talked shit. We had a good time remembering all the tours we did together between Soulfly, Pantera and Sepultura, so it was a really great experience. I love that about music. I'm never competing with anybody. It's just about making music with friends. It's just a lot of them happen to be in very popular bands. So there was a really cool feeling of bonding. It was very cool, and I'm glad he came down and kicked ass on the song."
…And then there's Incite's Ritchie Cavalera on 'Dark Ark'.
"Ritchie is very much my friend, but it was actually Igor's idea to have him on the album. When it comes to recording, I'm always behind when it comes to the vocals. Every album I have ever made, the vocals are always incomplete to some extent, and that tends to stretch out the recording process the most. The joke is that the album will always be done, but my vocal parts will always be half completed by the deadline! (Laughs) So Igor was like, 'I know that you have a lot of songs to go, but you haven't even finished half of them yet. F**king ask Ritchie to sing and help you out!' (Laughs) So I asked Ritchie to help me out. It was really cool, and he was proud to be a part of this album. He's a Sepultura fan like a lot of my family, so he was very honoured and proud that Igor asked him to be a part of this album."
Given the short existence of Max's former side project Nailbomb (who only managed to release one studio album, a live album and DVD), one has to question whether Cavalera Conspiracy is a one off project, or a fully fledged band?
"I think that's already been decided. It's more than a project, but less than a band. It's somewhere in-between, if that makes any sense. Nailbomb was a studio project, and only ever played two shows. That's all that band was ever meant to be. Cavalera Conspiracy on the other hand is not a studio project. All the songs were played by the musicians that make up the band. I have a real excitement for this band. So you could say that the album was made to be played live. I really like the music that has come out of this line-up, so I'm looking forward to touring and treating this like a band. But on the other hand, I have Soulfly, and that is what I consider my 'other' real band. So Cavalera Conspiracy sits somewhere in-between everything. It's a real learning experience balancing two bands at the moment."
Apart from juggling two bands, Max now has to contend with two touring acts as well. But as he points out, it's just a matter careful planning.
"We'll definitely be touring with this thing and showing people out there that these songs have come out of this line-up. We also want to satisfy that group of people out there that want to see Igor and me playing together again. I know that Igor's looking forward to that too. He's excited about touring with this album as much as I am. He wants to go everywhere. So many people want to see that. There's a lot that missed the opportunity because they were too young to see us when we were playing in Sepultura, and then there's those that have been waiting ten years to see that again. So for all those reasons we'll tour, and make this band continue. It should be interesting. I don't see Cavalera Conspiracy clashing with Soulfly in terms of schedules. It's just something that has to be planned a little more carefully. But really, it's no big deal. I love music, and to me, the worst case scenario is not being able to make music at all! (Laughs) I have too much to do, and that's OK by me. Having nothing to do is bad! I've been busy. I wrote two albums (Cavalera Conspiracy and the yet to be released new Soulfly album) in the last year. It wasn't easy, and it was time consuming, but it was good. That's what I'm here to do. At this point in my career, I'm really hungry for music, and I want to do more. When you're feeling like that, you should work and create. And the same can be said for playing live. I think there's a very real possibility that both bands could possibly play live together at some larger events. It should be pretty cool. I'm looking forward to that."
© Justin Donnelly
Sydney Unleashed is one of Australia's premier entertainment publications exploring the latest in lifestyle trends. From Sydney's finest restaurants, cafes and bars to the hottest in gadgets, products, and home entertainment, Sydney Unleashed is your one-stop lifestyle platform.