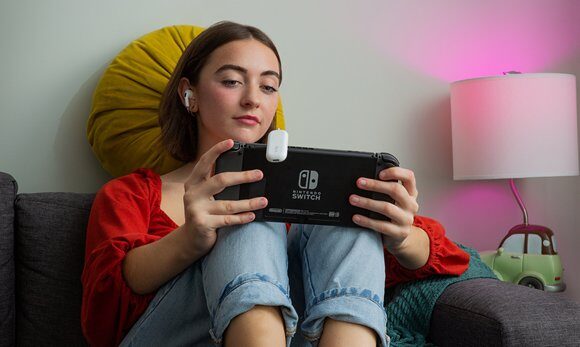 The countdown to Christmas has begun! If you've left your shopping to the last minute, then here's some inspiration to get you started.
For the audio buff or gamer
You bought wireless headphones to be untethered and wire-free. However, wired connections still exist. Meet AirFly Pro, a Bluetooth adapter that lets you use your favourite wireless headphones or earbuds in places that only have a headphone jack, like airplanes and treadmills. AirFly Pro also lets two people listen to the same soundtrack, podcast or music with their noise-cancelling headphones or AirPods. Think of it as a wireless headphone splitter. Features a built-in battery that lasts 16+ hours and recharges via standard USB-C. What else can AirFly Pro do? With the flip of a switch, you can send music or directions wirelessly from your iPhone to a car's AUX IN. Make an old speaker Bluetooth compatible. Love the Nintendo Switch for gaming? Now you and a friend can play together with wireless headphones. AirFly Pro is a must-have accessory when travelling with noise-cancelling Beats Solo Pro or AirPods Pro. Don't choose between your ultra-quiet headphones and in-flight entertainment. With AirFly Pro, you can connect and enjoy both. AirFly Pro is now available at Apple stores, JB HI-FI, Officeworks and online at www.twelvesouth.com.au (RRP AUD$89.99).
For the green thumb
The Plant Runner – a mobile greenhouse, bespoke indoor plant care range, and lifestyle hub – have just launched two new potting mixes – a Cacti & Succulent Potting Mix and an Aroid Potting Mix which would make for the perfect gift this Christmas. In addition to the new potting mixes, The Plant Runner offer many other great gift options including the Robert Gordon Ceramic Watering Can ($49.00), The Plant Runner Indoor Plant Food ($12.00), The Plant Runner Neem Oil ($18.00) and The Plant Runner Indoor Potting Kit ($22.00). From humble beginnings travelling the countryside in Australia's first mobile greenhouse, The Plant Runner has evolved into a fully-fledged plant care and lifestyle hub with a cult following. What started as a passion project between two Melbourne mates has blossomed into a one-stop-shop for plant wellbeing. Carefully selected for their modern aesthetic and considered eco footprint, The Plant Runner's range of premium plant care tools, potting mixes and plant food helps green thumbs breathe new life into indoor flora. Committed to reducing their environmental impact, The Plant Runner's product range boasts minimal packaging and no single use plastics wherever possible. All tools and accessories are built to last. For more information, visit https://theplantrunner.com/
For the tech head
Leading Australian lighting and electrical company, HPM, have hand selected the newest and most useful gadgets for our new homebound life that are sure to be the hottest hits under every tree this year. With tech at a variety of price points, HPM has something on offer for every type of person this Christmas from the tinsel tamers, the rum ball rollers all through to the grumpy grinches! One of the top options this year is the HPM USB & wireless charging hub – an all in one charging unit that allows you to power up to six devices at the same time! This inclusive device automatically detects power required to charge each device quickly, safely and equally meaning all phones and iPads connected will charge at a similar pace for the entire family to unplug and seize the day at the same time. Both charging solutions also include over current protection, circuit protection and over temperature protection to keep the littlest of family members safe. For those looking to light up their homes like the Griswold's, the HPM 8 Outlet RCD-Protected Plugboss Powerboard is the perfect option. With an octopus like ornament dubbed the PlugBoss with eight power outlets, this rugged, extra-safe powerboard will simplify all the cords and plugs while keeping the family safe from any unwanted zaps. Featuring quality RCD protection to prevent electrocution from faults, spring-loaded covers on outlets to prevent dust build-up, and a long lead length for more flexible positioning, this is a must have for any outdoor Christmas light layouts. Other highlights include Arteor with Netatmo (a series of home automation switches and sockets to simplify any homeowner's daily life) and VIVO Sound Diffusion (an integrated speaker system that connects with any device via Bluetooth). More Info.
The uplifting gift
In Essence is a premium Australian Essential Oils brand that sources the highest quality, pure essential oils and uses ultrasonic technology to optimise the look and power of essential oil diffusion in your home or workspace. The In Essence Silent Night Set (RRP $64.95) will give the gift of a lavish and restorative bedtime ritual with the calming and soothing properties of lavender and jasmine, and a limited edition luxurious pillowcase. While the Aurora Diffuser & Reef Blend (RRP $69.95) will capture the feeling of an Australian beachside Christmas – a fresh piece of home decor to diffuse the accompanying Reef Pure Essential Oil Blend all year round. Inspired by the Australian Great Barrier Reef this refreshing blend captures the deep blue depths and vivid coral gardens of the Great Barrier Reef in Australia. The uplifting mix of citrus includes Mandarin, Grapefruit, Spearmint and Lime overlaid with a twist of Lemongrass to evoke this place of breathtaking beauty. In Essence Products can be found at In Essence online, Myer, David Jones & select pharmacies (available online & in-stores).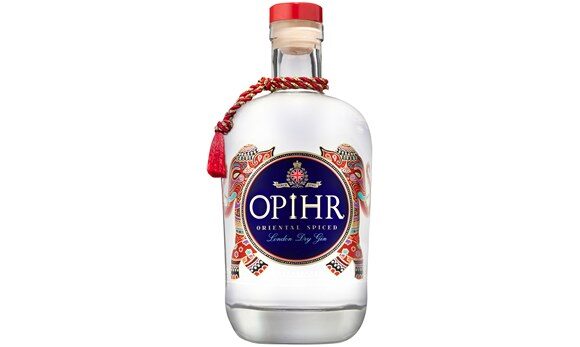 For the gin lover
OPIHR Gin is calling on Australians to indulge their adventurous side this summer with their Oriental Spiced Gin. Its liquid is the perfect celebratory spirit to inspire a curiosity for discovery as we look forward to a future full of travel and new experiences. OPIHR's Oriental Spiced Gin is a truly unique London Dry Gin, firmly rooted in the Ancient Spice Route and inspired by the adventurous spirit of merchants travelling thousands of miles to trade exotic spices and botanicals from distant lands. It is made using exotic hand-picked botanicals, herbs and spices of the Orient, including spicy cubeb berries from Indonesia, cardamom and Tellicherry black pepper from India, and coriander from Morocco. Making the perfect gift this Christmas, Opihr Spiced Gin 700ml is available at Dan Murphy's for $59.99 and BWS stores for $61.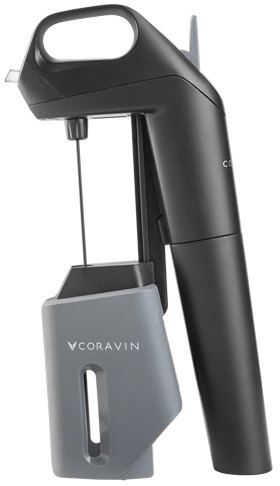 For the wine connoisseur
Allowing consumers to enjoy any bottle of wine, in any amount, without opening the bottle or wasting a single drop, SmartClamps™ is an innovative Wine Preservation System that has just been unveiled by leading wine technology company Coravin. The collection features three sleek designs including Model Three, Model Five and Model Six. The cutting-edge offering makes enjoying the most coveted of drops as easy as 1, 2, 3. Simply insert, tip and pour! The Coravin works by inserting a hollow needle through the cork and pressurising the bottle with Argon gas. This allows wine to perfectly flow and be enjoyed by the glass. Once the needle is removed, the cork naturally reseals itself, allowing the wine to stay fresh for months and even years. The SmartClamps™ range was developed with first-time users in mind. The three models feature a unique handle design to ensure a perfect pour every time and a sturdy grip base to avoid any spills. In an exciting new step for the brand, a Coravin Screw Cap accessory is included with every system. The included Coravin Screw Cap provides wine lovers with the ability to pour and preserve their favourite screw cap wines with the freedom to enjoy it by the glass, prolonging the life of the wine for up to three months. With simplicity and preservation at the helm of design, Coravin has completely changed the way in which the world buys, preserves and enjoys wine. The SmartClamps™ collection is available online at www.coravin.com.au and in select stores. The products RRP from $379 and $649
For the audiophile
Exclusively engineered by EFM, the 20W Havana Bluetooth Speaker is the most powerful premium Bluetooth speaker yet and make for the perfect Christmas gift. Designed around the optimal structure for maximum audio performance whilst still being both compact and portable, it has a unique, modern industrial design which is tough and sturdy – ideal for both indoor and outdoor use. Compact and portable with powerful sound quality, it features a built-in mic for hands free calling, has an IPX6/7 water-resistant rating and the latest Bluetooth broadcasting technology allowing you to pair up to 40 speakers (RRP $249.95).
For the athlete
Pick up some quality sportswear from the Canterbury Clothing Company this Christmas such as the Classics Cotton Harlequin Shorts. With an elasticated waist and adjustable drawcord, this high performance 100% cotton drill short gives you maximum range of movement as well as a perfect fit for comfort. The tape side pockets are added for convenience, so you can keep items close at hand even when on the field training or playing a game. Continuing Canterbury's tradition of iconic sporting style, the short is complete with flat felled seams and the distinct CCC embroidery on the right, so you'll immediately identify with Canterbury's well-established community of fans and athletes. Pair it with some socks such as the Classics Cotton Sport Crew Sock (which maximises comfort and durability to meet all your sporting needs) or a built-to-last Classics Classic Hoodie which features a highly breathable polyester-cotton mix. Offering exceptional warmth and freedom of movement, the stylish hoodie comes with a two-piece hood for extra coverage, ribbed cuff and hem – perfect for on-field training or everyday wear. All products available from https://www.canterburynz.com.au/
For the skin care enthusiast
Get the Boracay shimmering glow, day or night, with the sexy Bronze Shimmering Body Oil (RRP $38.95). With the hydrating properties of organic coconut oil, your skin will be moisturized and hydrated. Lightweight and fast absorbing, this shimmering body oil will become a beauty staple. Or try the Rose Gold Shimmering Body Oil (RRP $38.95) to illuminate your skin. Packed with vitamins and minerals, your skin will feel hydrated and nourished for that ultimate glow. Also available is the Gold Shimmering Body Oil (RRP $38.95) which will amp up your glam this summer season! With the hydrating properties of coconut oil, it will give your skin a subtle shimmer. A scent reminiscent of the tropics, this is among the finest shimmering body oils that'll become an essential to your beauty routine. For a multi-tasking wonder, get the Natural Sun & Body Oil (RRP $33.95). This lightweight tanning oil can help you achieve a deep tan in the sun. It's also the perfect addition to your daily skincare routine as a body moisturizer. Formulated with natural ingredients that keep your skin hydrated and nourished all day.
The perfect gift for Her
The Lux Aestiva Goddess Collection has been created to make your loved one feel like the goddess that she is. She can smother herself from head to toe in precious oils and will glisten in your choice of Rose Quartz, Tigers Eye or Smoky Quartz Shimmers.  The collection features Constellations Cleansing Oil – a crystal charged cleansing oil that will leave your skin feeling nourished and dewy. Calm your skin while melting away the day's impurities with rich fatty-acids that are essential for building a healthy skin barrier. Also included is Marula Oil – a lightweight, fast absorbing face oil perfect for dry, damaged skin. This highly prized oil derived from the, once considered sacred African marula tree, hydrates, reduces redness, helps retain moisture and increases overall smoothness of the skin. Then there's Gypsy Oil – a luxurious, fast absorbing body oil created to be used daily for ultimate skin health. This divine dry oil contains rose and jasmine buds suspended in a delicate infusion of botanical oils. It will leave your skin moisturised and lightly scented with floral notes without feeling oily.  And Gypsy Oil Shimmers are a collection of luxurious, fast absorbing body oils enhanced with natural mica particles for ultimate skin glow. These vitamin rich botanical oils contain prickly pear oil for deep hydration and meadowfoam oil to balance the skins oil production whilst glisten with natural tones. RRP $216 from here.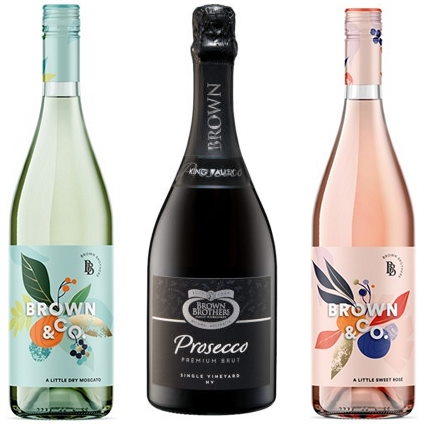 For your tipple-loving friend
The pinnacle of their well-loved and celebrated Prosecco range, the new Brown Brothers Premium Prosecco Brut is lightly drier than their best-selling Prosecco NV – Australia's #1 Prosecco – and has been launched with everyday celebrations in mind, and is perfect for when you want something a little more special (RRP $25). Another option is the Brown & Co A Little Dry Moscato (RRP $18). Bursting with musk and fresh green grape, it has floral on the nose and citrus through the palate. A little dry and a little delightful, this Moscato leaves an aftertaste of adventure. For a vibrant and fruity option, try the Brown & Co A Little Sweet Rosé (RRP $18). This one brings honeydew melon, guava, and delicate strawberry together with a palate of fresh citrus and rose petal. A little sweet and a little lively, this Rosé dances to the beat of its own barrel, and is vegan friendly. All Brown Brothers & Brown & Co are available online at brownbrothers.com.au, and nationally at BWS and Dan Murphy's.
The perfect practical gift
For the climber or hiker, consider the Victorinox Swiss Army Knife Classic. Perfect for cutting ropes, its 14 functions are as sharp, strong and intuitive as you need them to be. So no matter if you're climbing up the corporate ladder or a class 5 crag, the Climber is with you all the way to the top. Tools include a large blade, small blade, corkscrew, can opener, small screwdriver, bottle opener, screwdriver, wire stripper, reamer, punch, key ring, tweezers, toothpick, scissors and multipurpose hook. Dimensions = Height: 18 mm, Length: 91 mm, Weight: 82 g (RRP $74.95).
For the kids
Smiggle is Going Crackers For Christmas! Well aren't we all?! So it makes perfect sense that our favourite stationery store with more, Smiggle is bursting with games and toys, gadgets, gizmos and activity sets that will surprise and delight this Christmas. A gift from Smiggle will send kids crackers with excitement, ticking off any number of items on their Christmas wish lists. From classically Smiggle, must-have gifts, to family fun and stocking stuffers, there's something for everyone and every budget, from pocket money to extra special. Smiggle is making Christmas merrier! Everything is available from Smiggle stores nationally (and internationally) or online at www.smiggle.com
Also for kids
The Kidizoom Action Cam HD is a light, multi-functional action camera for kids. They can capture great photos and videos in high definition on a 1.8-inch colour LCD screen, choosing from lots of cool visual effects; then play games, including an augmented reality game, or create fun stop motion, slow motion, fast motion and reverse videos. The Action Cam HD features a wide-angle lens which you can use to create professional looking photos and videos. It also includes a waterproof case and a floating mount so you can take photos and videos in the water. Attach the camera to bicycles, scooters, surfboards and more with the included mounts for cool action fun. With 2.5 hours of recording time, a built-in rechargeable battery and nine cool accessories (include a Waterproof case, Camera holder, Adhesive mount, Mounting attachment, Bicycle mount, Wide angle lens, Wrist strap, Micro-USB cable, and Floating handle) you have everything you need to record your action adventures in one fantastic pack. The Kidizoom Action Cam HD is suitable for kids from 5+ years, and available at Big W, Myer and good toy stores and online retailers (RRP $89.95). More Info.
For serious streamers
Connect with superior clarity every time you go live on channels like Twitch and YouTube with the Logitech C922. Stream anything you want in your choice of Full 1080p at 30fps or hyperfast HD 720p at 60fps. Broadcast masterfully with reliable no-drop audio, autofocus, and a 78-degree field of view. Featuring full high-def 1080p streaming, you can stream and record vibrant, true-to-life video. The glass lens and full HD 1080p captures the most exciting details, bright and natural colours in fluid video at 30fps, while the 78-degree field of view accommodates up to two people. You can use the app to zoom and pan the camera. Serious streamers need the hyperfast frame rate of 60 fps at 720p for particularly smooth video, and that's just what the C922 delivers. You'll be live broadcasting with no lag or distortion. Equipped with HD autofocus and light correction, the C922 fine-tunes to the lighting conditions to produce razor-sharp high def images even if you're in a dim setting. Fitted with two microphones, one on either side of the camera, the C922 Pro Webcam is able to capture more realistic sound from every angle, so that your voice comes through sounding natural and clear. And with Logitech Capture, you can start recording high-quality video content the second you plug in your new webcam. It enables you to customize recordings, adjust your camera settings, and even create vertical video all with one intuitive interface. Also includes free 3-month premium XSplit license (RRP $199.95).
For the music lover
This Christmas, say hello to JBL's newest earbud range that has been beautifully designed for modern life. Immerse yourself in your world with the JBL TUNE 115. Whether you're tuned into music or taking calls, Dual Connect lets you use either earbud (or both) at any time, whether in stereo or mono mode. Small in size, small in price but mighty in sound, listen to your favourite artists thanks to incredible JBL Pure Bass. With up to 21 hours of battery life and a comfortable fit, the TUNE 115 allows you to keep the fun going all day and night. The TUNE 125 is ideal for those wanting a hassle-free experience when using earphones. Whether it's sweating it out at the gym, hiking through the mountains or getting through the morning commute, the new wire-free earphones by JBL provides the perfect musical escape and comfortable fit without the fear of falling out. The JBL TUNE 125 earphones' Pure Bass sound provides a powerful punch to all your playlists and boasts a hefty 16 hours of combined playback time for effortless entertainment. Equipped with intuitive and convenient controls for hands-free calls, the JBL Tune 125 is also ergonomically crafted for long-lasting comfort and a super competitive price. While the TUNE 225 keeps the best bits of its successor (JBL TUNE 220TWS) and adds new features, boosted battery life and improved sound. JBL Pure Bass Sound from a large 12mm driver is housed in the stylish earbud design, now available in several colours. Go from flipping open the case to enjoying the latest playlist or calling friends in seconds, with no wires holding you back. Built for life on the go, thanks to the compact charging case and up to 25 hours of battery life, listen longer and in comfort.
The perfect isolation gift
With lockdown rekindling our passion for playing games, the just launched world-first TRAPPED: Escape Room Game Packs, makes staying home a lot more fun, by transforming any room into an escape room experience. Players simply put the pack contents such as wall posters, cards to display, hangers for door handles, ID cards and secret envelopes, on walls and surfaces in a room of choice, and then work together – or compete to beat the clock, crack the clues, solve the puzzles, and escape the room. Each game lasts between one and two hours and can be played by two to six people, and are suitable for eight years old and upwards. Choose from TRAPPED The Carnival and find out who will be crowned carnival king or queen, TRAPPED The Art Heist where it's your mission to identify the painting then steal it, and TRAPPED The Bank Job where you have to open the bank vault and steal the contents. Each game includes its own content, back-story and level of difficulty. As the easiest of the levels, Carnival is the ideal game to play with younger children, before progressing to the 'medium' Art Heist or 'hard' Bank Job for teens through to adults. Family-friendly and designed to get everyone involved, TRAPPED is available from Big W, Toyworld, ZING, EB Games and all good toy and games retailers (RRP $20 each).
For the showbag fan
Showbags.com.au (Benson's Trading) offer a range of showbags suitable for pre-schoolers through to tweens and even adults, absolutely perfect for Christmas presents! The range includes not only delicious chocolates and confectionary, but also showbags full of activities including toys and art supplies to keep kids entertained. For the sporting fans there are AFL and NRL showbags, featuring team merchandise and sporting equipment to get active in the backyard. Other showbags include Cadbury, Pokémon, Harry Potter, FRIENDS, Hot Wheels, Barbie, Paw Patrol and Peppa Pig, to name a few. Showbags can be purchased from the comfort of your own home, online from www.showbags.com.au (RRP $6.00 to $30.00).
For the coffee connoisseur
Your coffee-loving family and friends will be sorted with these great gift ideas from Vittoria. You'll be able to count down the days to Christmas with Vittoria's Nespresso Compatible Capsules Advent Calendar. Behind each of the 25 windows is a 100% arabica aluminium coffee capsule from Vittoria's range of 18 locally roasted blends and single origins. Available from Woolworths (currently on offer at $10). Another great option is the Cafe at Home Starter Kit which includes a Piccolo Coffee Capsule Machine (a compact and automatic capsule machine that produces cafe quality coffee at the press of a button), ten 12-packs of Vittoria Coffee Espresso blend capsules and a set of six Light Brown Traditional Espresso Cups and Saucers (RRP $250 with a limited time special of $199). And for those that like to enjoy their coffee in style, the Fashion Series Bundle is perfect and includes: Bianco Coffee Beans 1kg – Special Bar (a blend of washed Central American Arabica and un-washed South American Arabica coffee), 2020 Fashion Series Cappuccino Set of 6, 2020 Fashion Series Espresso Set of 6. Vittoria has worked with amazing fashion designers within this series including We are Kindred, Macgraw, Bec & Bridge, Sir The Label, The Upside, Alice McCall, Instead We Smile, Albus Lumen and Madelyn Nichols (RRP $169). Products available from https://www.vittoriacoffee.com/shop
Great at home gift ideas
Keep your loved ones busy at home during isolation with some of these great gift ideas. The Nylex Weather Station Pro will allow you to view indoor and outdoor temperatures, humidity, moon phase, rainfall and more on the LCD console of your own weather station. The unit stores data so you can monitor and analyse conditions over 24 hours, and be alerted when high or low weather criteria are met. RRP $199 and available at Bunnings Warehouse. While the Northcote Pottery Irondale Collection features garden pots that coordinate beautifully with a matching water feature that's so easy to install, it doesn't require an electrician. It comes with a pump and power cord. RRP $150 and available at Bunnings Warehouse. Another option is the Cyclone Two-In-One Kneeler and Seat. Designed for both kneeling and sitting while gardening, it provides comfort and support with its extra-thick EVA foam pad and strong steel frame. It has an Oxford nylon tool holster with three deep pockets, and folds for easy storage. RRP $49.98 and available at Bunnings Warehouse. And for the practical, there's the Hills Foldable Bamboo Laundry Basket. It has a summery, striped, waterproof cotton exterior, stylish bamboo frame and sturdy base, and is big enough to fit loads of toys for the kids, plus a few bottles of wine for the grown-ups. RRP $29.95 and available at Bunnings Warehouse.
Sydney Unleashed is one of Australia's premier entertainment publications exploring the latest in lifestyle trends. From Sydney's finest restaurants, cafes and bars to the hottest in gadgets, products, and home entertainment, Sydney Unleashed is your one-stop lifestyle platform.