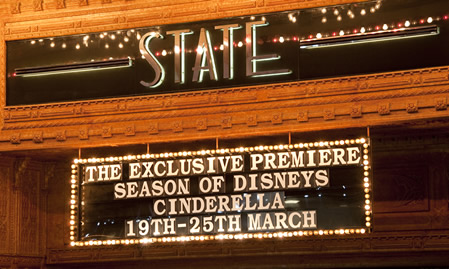 Cinderella at State Theatre
Disney's Cinderella is a story for the ages, and Sydney audiences have the opportunity to see this masterpiece at one of Australia's most enchanting and historical theatres, the State Theatre.
After recently being named in a list of the world's most spectacular theatres by CNN, the State Theatre is the perfect venue for an unprecedented week long preview event of Disney's Cinderella which will screen daily from Thursday 19th March to Wednesday 25th March at 7pm, with matinees on Saturday 21st & Sunday 22nd March.
Featuring Australia's very own Cate Blanchett in the role of the Stepmother and the beautiful Lily James as Disney's most iconic princess Cinderella, Walt Disney Pictures and critically acclaimed director Kenneth Branagh bring the classic tale of Cinderella to the big screen in a way audiences have never seen or experienced before.
In a special treat for Anna and Elsa fans, audiences will also see an exclusive short film Frozen Fever before the main feature. Frozen Fever will also screen prior to Disney's Cinderella when it opens in cinemas nationally on 26th March. Immerse yourself in the magical world of Cinderella with an array of activities to enjoy prior to the screening including the opportunity to pose for that quintessential Cinderella moment with the glass slipper.
"This event is an opportunity for audiences to experience movie magic in Sydney's majestic State Theatre," said David Seargeant, Group Managing Director of Amalgamated Holdings Limited. "The State Theatre is Sydney's largest and most prestigious picture palace from the golden era of Hollywood and we are delighted to be working with Disney to give audiences the opportunity to experience this major film event exclusively in the captivating atmosphere of the State."
The premiere season of Disney's Cinderella is a unique offering from Disney and Event Cinemas, presenting movie goers of all ages with an exceptional entertainment experience.
"Cinderella is one of the most enchanting stories of all time, and this latest film is truly the seminal version of the classic tale," said Catherine Powell, Managing Director, The Walt Disney Company Australia and New Zealand. "There can be no better place to see this beautiful fairy tale come to life before your eyes than by experiencing the magic of Disney's Cinderella at the magnificent State Theatre."
Tickets are on sale now from Ticketmaster.com.au and prices start at $18* per child and $25* per adult. There are also family tickets available from $70*.

THE EXCLUSIVE PREMIERE SEASON OF DISNEY'S CINDERELLA AT THE STATE THEATRE – 19th – 25th March, 2015
SHOWING NATIONALLY AT EVENT CINEMAS FROM 26th March.
Sydney Unleashed is one of Australia's premier entertainment publications exploring the latest in lifestyle trends. From Sydney's finest restaurants, cafes and bars to the hottest in gadgets, products, and home entertainment, Sydney Unleashed is your one-stop lifestyle platform.