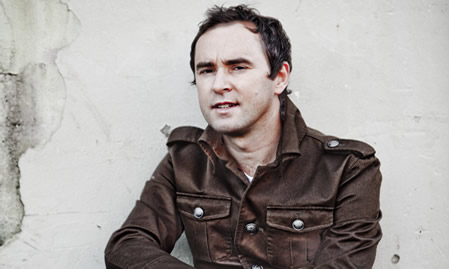 Damien Leith's New Chapter
With his seventh studio album on the horizon, Damien Leith is feeling more inspired than he's ever been as he enters a new and exciting phase of his career. The enormously popular singer and songwriter has returned to his roots as a songwriter and has penned 12 new original tracks for his appropriately titled album 'Chapter Seven'.
Damien's story thus far is familiar to millions. He won the affection of a nation through the vehicle of reality TV, and enjoyed multiple platinum-selling albums on a major record label. Damien's new chapter is a story of independence, and a new direction.
The Irish-born troubadour recorded Chapter Seven in a studio he built himself. The result is an honest and poetic collection of beautifully crafted songs that showcase Damien's vocals and songwriting skills like never before. What's more, this time Damien takes control on the recording and production front too.
"I've never been this strongly involved on all sides of a project, from the writing, the production, the mixing; everything," Damien says. 'I've worked countless hours on this album, often losing track of time and being totally consumed by the music. It's been such a rewarding and exciting experience."
Damien has certainly come a long way, in every sense. The multi-talented artist has called Australia home for more than a decade. Australia, in his words, "has been good" to him. Early on, he performed and toured with his family group, the independent act "Leaf" (and later "Releaf"). His career skyrocketed when he contested the 2006 edition of Australian Idol, a series he went on to win. Damien captured the attention of a nation, and brought the country along with him for an incredible ride.
"It's been a big journey and an amazing learning curve. When I entered the contest I'd been gigging for a long time but I've learnt so much more since then. In the past six years, I've learned a lot about the industry, the business, about myself and the things that drive me and what I'm passionate about. It's been an incredible time and here's to the next 6 years and beyond!"
The ride has featured more thrills than spills. In 2007 and 2009, Damien showed-off his creative talents when he published two novels, 'One More time' and then 'Remember June' to accompany his album release of the same name. He has won four ARIA Awards and topped the Australian sales charts. His song Beautiful accompanied a global Estee Lauder campaign. Through it all, he's not jaded. And he's still hungry.
On 'Chapter Seven', Damien showcases the artist he has become. "I wanted positive songs," he explains. "In the album I cover a lot of different themes, love, loss and everything in between. But I've tried to approach them from a more positive outlook. It's true to the style people know me for." The album has a mix of ballads and up-tempo songs. And Damien is in good voice with his trademark falsetto. "There's a good balance running through the whole album. It has an acoustic feel, but has big songs as well.  I love that I can strip back any song to guitar and it still sounds just as good".
And he's brought some influential friends into the picture. Famed producer and sound engineer David Nicholas – who has worked with luminaries from Elton John to INXS — mixed the album, and co-produced some of the tracks. Other great hit makers such as Gary Clark (Natalie Imbruglia, The Wanted, The Veronicas) and Jon Vella (Meatloaf, Ricky Martin) came on board to add their touch to the album along with, Joe Melson, the songwriting legend who co-penned Roy Orbison's "Only the Lonely" and "Crying". Damien and Joe have been writing together for some time now and two of their new songs feature on this album. 'It's been an absolute honour to work with Joe whose become a close friend and mentor'.
Naturally, Damien has been drawing inspiration from The Big O, the artist who served as a creative well for his hit 2011 album Roy – A Tribute to Roy Orbison. That said the main inspiration behind the album came from his studio and from experimenting with sounds and working away in a new creative space. A lot came through that process. I honed in on the essence of my sound, trying to get the best out of my voice and spending a lot of time on the lyrics and moulding them to my voice. There are different chants, and "moments" in the songs, which are really special.
A notable family-man, Damien's decision to return to the independent music world was made at home. 'Chapter Seven' is released through a relationship with Social Family Records, and it's had the blessing from Damien's family. "Going independent is a big decision. It doesn't just affect me but my wife and kids. Without (Damien's wife) Eileen's support it wouldn't be possible to go in this direction. We all need to be united and feel this is something we want. Eileen is the driving force saying, 'you can do it.' And I think that's brilliant."
'Chapter Seven' will arrive in November, with support from the first release single 'Without a Fight'. Damien admits he's in seventh heaven. "I'm absolutely thrilled with it. There's a sound that runs through the entire album and it's my sound." All the elements are in place for Damien to crash through the next phase of his brilliant career.  Chance and good fortune are also covered. The number 7, explains Damien with a smile, "it's my lucky number."
'WITHOUT A FIGHT' 2013 TOUR DATES:
Thu 31-Oct-13: Perth, ELLINGTON JAZZ CLUB
Fri 01-Nov-13: Perth, ELLINGTON JAZZ CLUB, (08) 9228 1088 www.ellingtonjazz.com.au/
Sat 02-Nov-13: Joondalup, THE BLVD TAVERN, (08) 9300 9494 www.blvdtavern.com.au/
Sun 03-Nov-13: Mandurah, MANDURAH BOWLING AND RECREATION CLUB, (08) 9535 1438
Thu 07-Nov-13: Gold Coast, THE SOUND LOUNGE, (07) 5534 7999 www.soundlounge.com.au
Fri 08-Nov-13: Redcliffe, MON KOMO HOTEL, (07) 3284 6520  www.monkomo.com.au/
Sat 09-Nov-13: Brisbane, BRONCOS LEAGUES CLUB, (07) 3858 9000 www.broncosleagues.com.au/
Sun 10-Nov-13: Brisbane East, VICTORIA POINT SHARKS CLUB, (07) 3207 7865 www.sharksclub.com.au/
Wed 13-Nov-13: Mudgee, ROTH'S WINE BAR, (02) 6372 1222 www.rothswinebar.com.au/
Thu 14-Nov-13: Katoomba, CLARENDON GUESTHOUSE, (02) 4782 1322 www.clarendonguesthouse.com.au/
Fri 15-Nov-13: Cronulla, THE BRASS MONKEY, (02) 9544 3844 www.brassmonkey.com.au/
Sat 16-Nov-13: Wollongong, THE HERITAGE HOTEL, (02) 4284 5884 www.heritagehotel.com.au/
Fri 22-Nov-13: Launceston, LAUNCESTON COUNTRY CLUB, 1300 795 257   www.tixtas.com.au
Sat 23-Nov-13: Hobart, WREST POINT SHOW ROOM, 1300 795 257    www.tixtas.com.au
Fri 29-Nov-13: Canberra, THE ABBEY, (02) 6230 2905 www.theabbey.com.au/
Sat 30-Nov-13: Melbourne, THORNBURY THEATRE – VELVET ROOM, (03) 9484 9831 www.thethornburytheatre.com/
Fri 06-Dec-13: Dural, DURAL COUNTRY CLUB, (02) 9651 1600
Sat 07-Dec-13: Nowra, SHOALHAVEN ENTERTAINMENT CENTRE – STUDIO, 1300 788 503 www.shoalhavenentertainment.com.au/
Sun 08-Dec-13: Newcastle, SPEERS POINT CAROLS
SPEERS POINT PARK
Thu 12-Dec-13: Taree, BEAN BAR & CAFE, (02) 6550 0022        www.beanbarcafe.com.au/
Fri 13-Dec-13: Port Macquarie, PIER ONE @PANTHERS, (02) 6580 2301 www.portmacquarie.panthers.com.au/
Sat 14-Dec-13: Sydney, THE BASEMENT, (02) 9251 2797 www.thebasement.com.au/
Sydney Unleashed is one of Australia's premier entertainment publications exploring the latest in lifestyle trends. From Sydney's finest restaurants, cafes and bars to the hottest in gadgets, products, and home entertainment, Sydney Unleashed is your one-stop lifestyle platform.