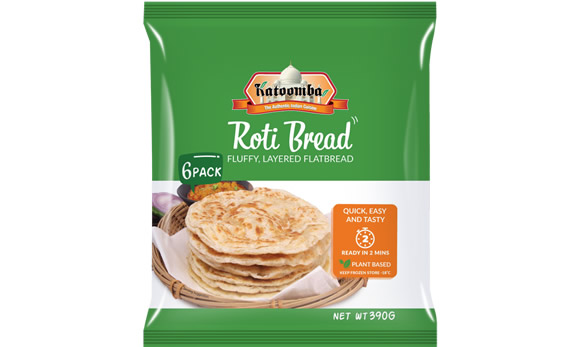 Delicious Katoomba Foods Roti In New Handy Size
Move over puff pastry – an even more versatile ingredient is taking its place in supermarket trolleys and kitchens across Australia. 
Katoomba Foods Roti Paratha, the latest must-have freezer staple, has just been released in a brand new, handy six-pack size – which is perfect for an individual, couple or small family for a single dinner. 
The family-owned Katoomba Foods, based in Homebush (Sydney) with facilities across Australia, has introduced the smaller pack to meet huge customer demand and to allow individuals to trial the unique and delicious Roti Paratha. 
Katoomba Foods Roti Paratha – unique in Australia because of its 64 layers – has grown in leaps and bounds since first being introduced to Costco in 2009. It is now widely available in Woolworths, Coles, independent supermarkets and ethnic stores across Australia. 
Katoomba Foods was a pioneer in introducing Asian-style flatbreads into Australian supermarkets and has seen its products grow to become market leaders.  
Katoomba Foods national commercial manager Joe Mastroianni says the popularity of Katoomba Foods Roti Paratha is, in part, because Australians today are well travelled and willing to explore new cuisines, while TV shows such as MasterChef have also created a demand for different cuisines. 
But it is also because Katoomba Foods Roti Paratha is far more versatile than just a flatbread to accompany your favourite curry or South-East Asian dish. It can be used in a multitude of ways from sweet to savoury dishes, he said. 
In fact, Katoomba Foods Roti Paratha can replace most puff pastry, dough, breads or wraps in a host of recipes across all types of cuisine and is overtaking puff pastry as the go-to product in Aussie freezers. 
"Our roti can be paired and accompany all sorts of dishes from different origins and, in my personal experience, is the ultimate replacement for traditional wraps and even gourmet bread," Mr Mastroianni says. 
"Our rotis can be easily used to make savoury and sweet puffs and, since they come separately wrapped and in a round shape, they thaw faster and are much more recipe friendly." 
Katoomba Foods Roti Paratha takes its inspiration from the traditional street food-styles of roti paratha and roti canai flatbreads that are enjoyed across India, Malaysia, Singapore, Thailand and Indonesia. 
But their versatility extends even to Western cuisine. Katoomba Foods Roti Paratha can be used in anything from sausage rolls, to souvlakis, or from sweet and savoury pies to cheese and spinach triangles. The options are endless. 
What sets Katoomba Food Roti Paratha apart from its supermarket rivals is its traditional authentic style, quality ingredients, state-of-the-art manufacturing – and, of course, its incredible 64 layers of pastry which gives a crispy almost croissant-like texture. 
Katoomba Foods Roti Paratha new six-pack size was introduced to "allow new customers to trial our product and enjoy it", Mr Mastroianni says. 
"Our new six-pack was also created to cater for traditional meal consumption, families and couples who may usually purchase wraps, tortillas, pitas, flat bread, naans etc to accompany their meals. 
"It is easy to use," Mr Mastroianni says. "Just take the roti out of the pack, place it on a preheated, hot non-stick pan and cook on both sides until golden brown. You don't need to add any extra oil to the pan to cook our product." 
Katoomba Global Foods is an Australian family-owned business which started as a small spice milling unit in Malaysia. 
The business moved to Australia in 1987, initially manufacturing and distributing ginger and garlic paste to the food service industry. Since then, it has established itself as a dominant international food player servicing high-volume customers across retail, food service, manufacturing, and distribution.  
Katoomba Foods' strength is its experience and reputation of building strong partnerships with customers through its expertise, high-quality standards and a global supply network.  
The company has its head office in Sydney and state-of-the-art warehousing and distribution facilities in Sydney, Melbourne, Adelaide, Brisbane and Perth.
Katoomba Roti Breads are widely available in Woolworths, Coles, Costco, independent supermarkets and ethnic stores across Australia.
Sydney Unleashed is one of Australia's premier entertainment publications exploring the latest in lifestyle trends. From Sydney's finest restaurants, cafes and bars to the hottest in gadgets, products, and home entertainment, Sydney Unleashed is your one-stop lifestyle platform.