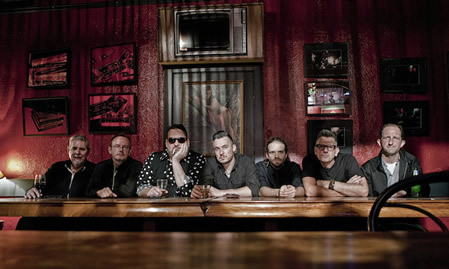 Dave Wright & The Midnight Electric
Australian rock band, Dave Wright & The Midnight Electric, have just released the first single off their upcoming album 'The Lucky Country', set to drop in November. The lead single and title track, The Lucky Country, examines two recurring phrases that singer and songwriter, Dave Wright, heard when growing up; the 'Lucky Country' and 'The Great Australian Dream'. Initially a two-man show formed in 2010, the band has grown to seven members and have achieved a top ten hit on the AMRAP Great Southern Charts, with their single 'Railway Song' from their debut EP 'Suicide Season.' Inspired by artists including Springsteen, Hunters & Collectors and Ryan Adams, the band produce raw Aussie-rock tracks with power and emotion. We caught up with Dave Wright ahead of the album's release.
How did you get your start in the music industry? 
Mainly through hard work and grit – I played keyboards in many, many bands from the age of 14. I then started Dave Wright & The Midnight Electric in 2010 as a vehicle for the songs I was writing and accumulating.
Best part of what you do?
Playing shows and seeing people respond and connect to the music we make. All of our songs have some sort of social message, and we find that people often really connect to the messages we sing about.
And the worst part?
The load out!
Favourite album of all time and why?
Bruce Springsteen – Darkness on the Edge of Town. Heavily influenced by the punk wave that had broken, Springsteen took his classic West Side story meets Chuck Berry format and stripped it back. The songs are stark, dark, and powerful, although not altogether devoid of hope. Less verbose than anything The Boss had done before, Darkness showed us what happened to the heroes of Born To Run who pulled out to win- lives of the mundane and vanquished. A stone classic.
Best live performance that you've ever seen?
Bruce Springsteen & the E Street band – Wrecking Ball Tour, Fenway Park, Boston, USA, August 15 2012.
Favourite venues to hang out in?
The Yarra Hotel, The Retreat Hotel, The HiFi Bar, The Corner Hotel.
Take us through a typical day in the life of Dave Wright.
When I'm not playing or rehearsing with my band, Dave Wright and the Midnight Electric, I run my little cafe Jimmy The Saint in South Melbourne. We make a great coffee! I also spend a lot of time listening to awesome tunes for inspiration, and hanging out for the next rehearsal or show.
What advice would you give to someone looking at getting involved in the music industry?
Study your heroes. Like any job or industry, there is an apprenticeship that shows like The X Factor and The Voice sadly cannot provide. Figure out what constitutes a good song for you and then write it 100 times. Figure out what you want to say and then do it, as economically and as simply as possible. Don't be afraid to try and always stay true to the music that is in your heart.
Any news or final comments?
Our new single, The Lucky Country, is out now and available for free download from www.davewrightandthemidnightelectric.com. The Lucky Country album is out November 1st 2014.

Danny Canak
Sydney Unleashed is one of Australia's premier entertainment publications exploring the latest in lifestyle trends. From Sydney's finest restaurants, cafes and bars to the hottest in gadgets, products, and home entertainment, Sydney Unleashed is your one-stop lifestyle platform.