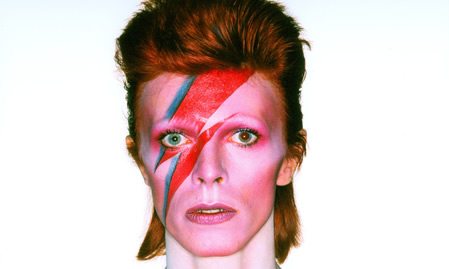 It's no secret David Robert Haywood Jones, better known as David Bowie, was a very talented man in the musical arena. With a Hollywood Walk of Fame Star to prove it, the thin white duke also established himself in an abundance of great movie roles spanning forty years.
Within his Ziggy Stardust and the Spiders from Mars era, Bowie was quoted: 'I feel like an actor when I'm on stage rather than a rock star'. Many of his video clips were like mini-movies – just see Ashes to Ashes for proof of that.
Leaning more towards the obscure, his ability on screen was apparent early on. The Man Who Fell to Earth was a 1976 space oddity where he played a humanoid alien visiting earth for water only to start a successful business which was really a means to raise funds to build a new rocket to return back home until the plan goes awry when falling in love with a local girl. It became a slow burn word of mouth hit at the box office running in cinemas over a year. It is now considered a cult hit, identified by the unique intrigue for the lead actor.
His equally unusual big screen follow up, Just a Gigolo, took audiences into an offbeat universe of cabaret and gigolo work for lonely ladies including Golden Years of Hollywood legend Kim Novak of Rear Window fame. These two early roles were templates for the movies Bowie appeared in for years to come, no performance was the same or structured, he seemed to take on characters disturbed or on the edge of unbalanced reality.
The Hunger (1983) was stylish kinky trash masquerading as a horror film. Against all odds, scene stealer Bowie has a remarkable presence as a vampire assistant who goes through an aging process. Partially made in Australia with principal photography in New Zealand, a hectic Japanese prisoner of war film starring Jack Thompson, Merry Christmas Mr Lawrence, was highly regarded at the time of release by critics – Bowie was the standout.
Over the years, a long list of cameos where highlights such as the critical moment David appears as himself in Zoolander, the entirely mystic almost unexplained presence in the film prequel Twin Peaks; Fire Walk with Me, while playing pop culture icon Andy Warhol in Basquait, he raised a few eyebrows in the reality of the artist's mannerisms.
Criminally overlooked comedy thriller, Into The Night (1985) included another outstanding brief appearance once seen, not forgotten. Probably the most larger than life, identifiable role of his silver screen career was as Jareth the Goblin King in the 1986 fantasy from creator of Muppets' Jim Henson, the well loved epic Labyrinth.
Not the first choice, Henson considered Michael Jackson and Sting for the character who is essentially a stalker child thief with the aim of changing babies into goblins. Labyrinth was a mediocre hit at the time but has since become almost the signature role for Bowie, much loved, quoted and mimicked. More recently he appeared opposite Hollywood heavyweights Hugh Jackman and Christain Bale in under-appreciated sleight of hand drama The Prestige.
One of the most controversial parts he agreed to was in a 1988 film from cinematic maestro Martin Scorsese playing a character from the new testament in Last Temptation of Christ. Picket lines and classification complications were only the beginning of the furor when this film got released. Surprisingly the only film considered a musical he did was Absolute Beginners (1986) set in London around the 1950s fashion world. This boring romance failed to find an audience although the title song did go gold making its way to Top of the Pops.
Coming to Australia in 1983, David Bowie shocked the remote bush town of Carinda when walking in unannounced to the local pub to shoot a short film revolving around his hit song Let's Dance. From that very day, The Carinda Hotel has become an international tourist attraction.
It's no question that his music has stood the test of time. Director Quentin Tarantino recycled his Golden Globe nominated theme from the 1982 film Cat People (Putting out the fire with Gasoline) during a prominent part into his own opus, Inglorious Basterds. Notorious for eclectic soundtracks, when asked why he used the tune, QT once responded by saying: 'It's a such a great incredible song but didn't play until over the end credits, so I used it in one of my most important scenes, plus it's Bowie'.
As an actor David Bowie dabbled, however the cinematic legacy continues through his son Duncan Jones (Duncan Zowie Heywood Jones) prominent in the film industry, a critically acclaimed director of Moon and the upcoming blockbuster Warcraft.
RIP David Bowie, 1947 – 2016.
Shane A. Bassett
] Sydney Unleashed is one of Australia's premier entertainment publications exploring the latest in lifestyle trends. From Sydney's finest restaurants, cafes and bars to the hottest in gadgets, products, and home entertainment, Sydney Unleashed is your one-stop lifestyle platform.