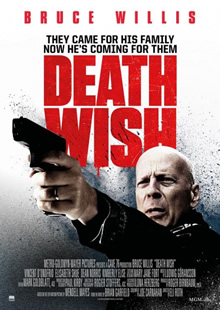 Starring: Bruce Willis, Vincent D'Onofrio, Elizabeth Shue, Camila Morone, Kirby Bliss Blanton, Dean Norris, Kimberly Elise (Rated R – 107 min).
The late great hard man Charles Buchinsky, better known as Charles Bronson, appeared in the original 1974 Death Wish creating controversy back in the day as white collar working man gone street vigilante Paul Kersey, only to (reluctantly) reprise the role in four more instalments.
A real life New York vigilante, Bernhard Goetz, used the Death Wish movies as inspiration shooting four muggers on a train, furthering the retro film series into notoriety. Decades later in a world of tragedy concerning gun laws, Death Wish seems to be an inappropriate modern remake for many reasons. However, there is no good time to be releasing any violent opus. And trust me, as a movie analyst, this is just higher profile than multiple action films across a variety of platforms released on a regular basis and always will be.
As a film buff kid, I loved Rambo movies, still do. Albeit they also coerced picketing of anti-violence groups outside cinemas. Impressive small role in Moonrise Kingdom aside, plus an uncredited spot in Split, this is leading man Bruce Willis at his sleepwalking best lead since Looper (2012). He plays a highly regarded Chicago surgeon losing his wife after a vicious home invasion leaving his teen daughter in a coma on the eve of her college acceptance. It takes time for him to take revenge into his own hands, including intervals with strumming up money brother (D'Onofrio) and a pair of wandering detectives in and out supplying moderate compassion.
After a delightful sardonic gun commercial on television, Dr. Kersey visits the store to be looked after by an eager sales girl sure to be employee of the month, Bethany (wonderful fresh, bouncy, knowledgeable Kirby Bliss Blanton). Although at this point, he dismisses a possible purchase.
Weirdly, a random gun falls onto the floor of a surgery room when a criminal trauma patient comes in, so it's from here Kersey packs heat. A cross city massacre of trashy individuals ensues with social media quick to pick up on a man wearing hoodies known as anti-hero Grim Reaper cleaning up the streets. I like a good action drama, this has its moments.
Director Eli Roth signals a few nods to original and split-screen, plus finale shot promising more carnage to come followed by an AC/DC rock classic. Roth (Knock Knock, Hostel) also knows how to make uncomfortable situations go into further, super creepy territory…. beware!
Willis may be slower but Last Boy Scout (1991) came to mind. Against the grain of his lifestyle, he gets things done. Harsh, creatively violent with an array of black comedic one-liners, just not as flashy.
Shane A. Bassett
Sydney Unleashed is one of Australia's premier entertainment publications exploring the latest in lifestyle trends. From Sydney's finest restaurants, cafes and bars to the hottest in gadgets, products, and home entertainment, Sydney Unleashed is your one-stop lifestyle platform.