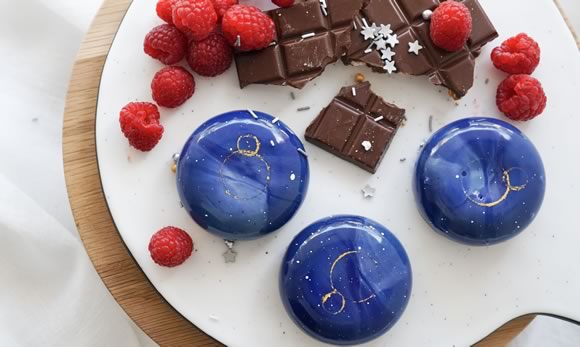 Haymarket has just scored a brand-new boutique patisserie churning out an enticing selection of desserts, cakes and treats. After the booming success of the first Dulcet Cakes and Sweets in Burwood, co-owners, Vivienne Li and Juno Zhu have just established a second location, bringing inner-city dwellers a taste of their much-loved sweet treats.
For Vivienne and Juno, making cakes and desserts is an art form. Having both trained at the famed Le Cordon Bleau culinary institute, Juno and Vivienne are incredibly accomplished pâtissières. Before making the decision to open her own business, Juno was working as the head pastry chef at Quay, one of Sydney's top restaurants. But Juno's unrivalled passion meant she was striving for something more and so in 2017, she went into business with her best friend Vivienne and opened the doors of Dulcet Cakes and Sweets in Burwood. Since then, Sydney has fallen in love with their innovative, Asian inspired treats.
Utilising real ingredients, without being too heavy handed on the sugar, Juno and Vivienne hand craft delicious treats relying mostly on the ingredients to speak for themselves. Dulcet are committed to serving their customers premium delicacies, and are always looking to explore new flavour combinations and creations to surprise with. Most of their creations feature Asian flavours like Matcha, durian, black sesame, taro and red bean and are made fresh in-house daily so you know you're always getting the cream of the crop.
The Haymarket venture serves up a string of goodies for you to get around from flavoured soft serves to signature lattes, tarts, cheesecakes and mousses among others. You'll want to get yourself a creamy signature soft serve made using a specially imported Marukuyu-Koyamaen Matcha powder served with Pocky biscuit sticks. Or opt for a Hot-Kid Chewy Milk Candy flavour, if you're looking to relive your childhood.
You'll be in awe of their galaxy chocolate mousse cake which literally resembles the solar system. This picture-perfect treat is layered with dark chocolate mousse, raspberry sour cherry confit and jasmine mousse. The Taro Swiss roll is also deliciously light with mashed taro rolled in fluffy soufflé sponge.
Other picture-perfect creations include the Popcorn and Snickers bar with layers of dark mud cake base, peanut nougat, peanut butter mousse, and covered with milk chocolate and crushed peanuts. There is also a delightful array of cakes that resemble other food. Try the dumplings made with yoghurt mousse and black sticky rice or sweet burgers made with earl grey mousse buns, a crunchy hazelnut praline disc, mango jelly cheese a chocolate patty and matcha cream lettuce.
You may already be familiar with Dulcet's signature 20-layer crepe cake. Their most popular cake is made using premium Musang King durian but you can also grab an equally enticing chocolate or matcha mille crepe cake if durian isn't your thing. Beyond over the counter goodies, Dulcet also whips up customised cakes, made to order. This is Vivienne's domain as she crafts anything from layered wedding cakes, to themed birthday cakes and cakes that look like designer handbags – making you look twice and think "is that really a cake?"
The baking extraordinaire duo has been delighting Burwood locals for the past 2 years and now Dulcet in Haymarket, brings their delicious offering to the city. Head to Dulcet to enjoy an enticing range of Asian inspired treats, heavy with matcha, mousse and jellies and a range of flavoured lattes.
Dulcet Cakes and Sweets
Prince Centre, TG4/8 Quay St, Haymarket (Opp 191 Thomas St)
Open Monday to Sunday: 11AM – 10PM
Sydney Unleashed is one of Australia's premier entertainment publications exploring the latest in lifestyle trends. From Sydney's finest restaurants, cafes and bars to the hottest in gadgets, products, and home entertainment, Sydney Unleashed is your one-stop lifestyle platform.