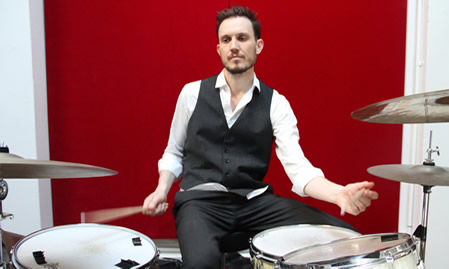 Six years in the making, The Long Time is the debut album from critically acclaimed Australian composer and producer Elliott Wheeler. Wheeler took some time out recently to chat with Sydney Unleashed.
How did you get your start in the music industry?
I studied classical and jazz piano from when I was young, then went on to study at the Conservatorium.  But I really got working when I started doing sessions and then some composition work for screen composer, Peter Kaldor.  Pete became a mentor for me and really taught the craft and technical side of screen composing.  I was very lucky to get that opportunity to have a figure like that in my life, who was so giving and was willing to teach.  And from there I've been working in screen writing and production ever since.
Best part of what you do?
Working with great people and artists, both my regular team and the people we get to work with.  It's a constant source of inspiration.  Also, any time you get to hear musicians playing something you've written, whether it's one singer or an orchestra, it's always the most delicious buzz.  There's something magical about hearing something that's only existed mumbling about in your head take on a life in someone else's hands.
And the worst part?
Having to put up with yourself while you're writing.
Any interesting experiences you can share?
When we were working on the Gatsby soundtrack in London with Bryan Ferry there was a power blackout at Bryan's studio.  We were working with the fantastic group of jazz musicians that Bryan had put together for his Jazz Age album.  We were on a tight deadline, so we just put the laptop on the table in the waiting room and all the musicians sat and around listened to the tracks we had to record.  After a few listens, they'd start picking out melodies, chords, counter melodies, just playing it over, Bryan would make suggestions, and you'd just gradually hear the arrangement emerging out of all the different ideas.  There'd be this moment when it would suddenly crystalize, and everyone would recognise it.  Something would just click, and suddenly it would take on a life, would become the song.  It was beautiful to watch.   Then when the power come on in the afternoon, the band went in and recorded pretty much exactly what they'd worked out earlier.  It was the most brilliant way to come about an arrangement, and very different to how I normally work.  I think you can hear that interplay of ideas in those tracks on the soundtrack.  It was a beautiful thing.
Favourite album of all time and why?
Probably the Koln Concert by Keith Jarrett.  It's just the most amazing piece of improvisation, and gets as close to something universal/incredibly private as I think I've heard in music.  I can't listen to it very often.
Best live performance that you've ever seen?
Pretty hard to beat Prince.
Favourite bars/clubs/pubs to hang out in?
505 on Cleveland St, Surry Hills (great music venue). Vini. Arcadia.
Take us through a typical day in the life of …
early morning debate about whether to exercise or not. In at work by 9, have a quick meeting with the team about what we're working on.  Depending on the day/project/deadline, usually write during the morning til a bit after lunch, then record for the afternoon.  Then start mixing/programming/arranging with our engineers, then dinner and either free time or go back and keep mixing, depending on what's happening.  It really depends on what stage of a project we're at.  If we can, keep the hours civilized, if not, do whatever you need to do.
What advice would you give to someone looking at getting involved in the music industry?
Treat it like you would any other industry.  Work long days or nights, don't be lazy, be amazing at the things you try and get other people to work with you on.  Follow things up, do things you say you're going to, don't be late. Find something you do that no-one else is doing. There's no magic advice, but all the people I enjoy working with and who do well just work the way you'd expect.  They're great at what they do, passionate, friendly, and professional.  I think sometimes people who are thinking about music as a career have a misconception that because they're working in an artistic area the basic rules of engagement are somehow different.  There are just too many people who are amazing at what they do to think you can be flakey and still compete.  Very generic advice, I know, but there you go.  It's a broad industry.
Any news or final comments?
I'm working with Baz Lurhmann at the moment on the Strictly Ballroom Musical, which will be on stage in April.  It's going to be great fun.
© Danny Canak
Sydney Unleashed is one of Australia's premier entertainment publications exploring the latest in lifestyle trends. From Sydney's finest restaurants, cafes and bars to the hottest in gadgets, products, and home entertainment, Sydney Unleashed is your one-stop lifestyle platform.