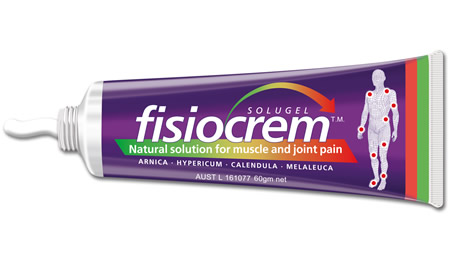 Three-time Olympian offers tips on creative goal-setting and effective injury management the natural way.
Three-time Olympian, Kerri Pottharst knows the euphoria of being at the top of your game one minute, to being at your lowest ebb the next. Having represented Australia in volleyball for 22 years, Kerri's career highlight was winning gold with her then beach volleyball partner, Natalie Cook, at the Sydney 2000 Olympics.
Kerri's road to Olympic success illustrates the power of creative goal-setting and effective sports injury management relevant to anyone – whether an elite athlete or weekend warrior. "People think athletes are born with a special talent. While some are, most achieve greatness through hard, work, persistence and strategic goal-setting," said Kerri.
Kerri endured six knee surgeries that threatened to end her professional volleyball and coaching career, along with many less serious injuries common in sport, including soft tissue trauma, muscle soreness, stiffness and inflammation, on her journey to success. After ending up in hospital following an indoor volleyball match, Kerri was devastated when informed by her doctor that she may never play volleyball again, due to extensive tissue damage.
"While I was tempted to wallow in self-pity, I was determined to somehow reach my goal of playing volleyball again," said Kerri. Kerri achieved her goal, but on a different surface. Playing volleyball on sand was softer on her joints, which allowed her to extend her career without harshly impacting her joints. The many setbacks Kerri endured taught her the importance of strategic goal-setting and effective injury management.
Pivotal to Kerri's effective injury management is her commitment to using a gentle, non-chemical anti-inflammatory called Fisiocrem SOLUGEL. "I've been an athlete for more than 25 years and as I get older, I realise I need to take extra good care of myself and use only the best natural products available."
FisiocremSOLUGEL offers sports people like Kerri and non-elite athletes a natural solution to common muscular aches and pains and soft tissue trauma, including bumps and bruises. As an advocate for all things natural, Kerri uses FisiocremSOLUGEL before resorting to products containing harsh chemicals.
"I try to avoid parabens whenever possible. I use FisiocremSOLUGEL because it's natural, free of parabens and works wonders on muscles aches and pain," Kerri said. When playing volleyball full-time, Kerri typically performed up to three hours of volleyball drills every morning on sand, targeting specific areas of her game that required improvement. Her afternoon regime involved more training on the sand, or hitting the gym to improve her strength and conditioning.
Since retiring from professional volleyball in 2006, Kerri's life hasn't slowed down. She is now busier than ever, conducting motivational presentations, running workshops, making media appearances and participating in charity work. Kerri's invaluable tips on how to prepare mentally and physically for a sporting event through personal motivation and effective-goal setting focuses on one key component – creativity.
"Creative goal setting involves writing down what you want; defining how you can achieve these goals; assigning dates to these steps and creating an inspiring environment full of reminders to do something each day in order to move one step closer to your dreams."
Kerri's top tips for goal setting include:
Taking the time to decide what you want to achieve.
Defining goal timelines.
Identifying a picture that best captures your goal.
Writing and visually illustrating your thoughts using colour, something 3-Dimensional and placing this somewhere where you can see it every day.
Doing something each day that drives you closer to your goal.
Professional athletes through to everyday Australians can draw inspiration from Kerri's proven strategic goal-setting and effective sporting injury management and treatment.
Fisiocrem SOLUGEL is available from pharmacy, physiotherapists, chiropractors and health-related retail outlets.
Sydney Unleashed is one of Australia's premier entertainment publications exploring the latest in lifestyle trends. From Sydney's finest restaurants, cafes and bars to the hottest in gadgets, products, and home entertainment, Sydney Unleashed is your one-stop lifestyle platform.