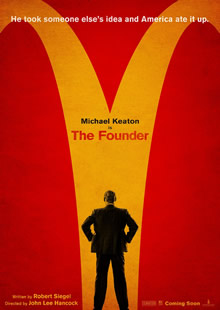 The Founder: Movie Review
Starring: Michael Keaton, Laura Dern, Linda Cardellini, Nick Offerman, Patrick Wilson, BJ Novak, Kimberly Battista, Rebecca Ray, John Carroll Lynch (Rated M – 115 min).
Remarkable true story, more complex than you could ever imagine, about the individual credited as founding the fast-food restaurant conglomerate McDonalds.
Let's begin with the great Michael Keaton as Ray Kroc, the striving but entirely unsuccessful entrepreneur traveling salesman in the 1950s. Equally charming, ghastly, frustrating, Keaton creeps under your skin making Ray a smart, intrusive, fascinating character that you simply cannot help but judge from the outset and possibly finish up hating.
Stumbling across a family operated revolutionary hamburger business delivering great food from kitchen to customer in seconds, Ray distinguishes instant potential approaching the brothers McDonald to franchise. Mac (John Carroll Lynch) and Dick McDonald (Nick Offerman) have tried this before with dramas so it is not an option, until fast-talker Ray convinces them he will oversee proceedings.
New establishments are formed causing direct conflicts between the brothers anticipating Ray is stealing their ideas to suit himself. In the meantime, Ray destroys his own marriage and someone else's during this new found obsession, however watching the brothers dreams fall apart is even more heartbreaking.
Another Oscar nomination seems inevitable, Keaton is incredible. Some of the low, snake-like scheming Ray Kroc is capable of has to be seen to be believed. The way he annoyingly manipulates others to get what he wants, acting tour-de-force from Mr. Mom.
Nice to see Laura Dern (Jurassic Park) in support although underused as suffering wife Ethel. An always impressive platinum blonde Linda Cardellini has a pivotal role and also sings a duet with Keaton himself. Actually, all those around him are worthy albeit overshadowed from their ball of energy leading man.
A few unanswered questions aside, I assume edited for time restraints in storytelling, The Founder is a dramatically unconventional business success story.
Shane A. Bassett
Sydney Unleashed is one of Australia's premier entertainment publications exploring the latest in lifestyle trends. From Sydney's finest restaurants, cafes and bars to the hottest in gadgets, products, and home entertainment, Sydney Unleashed is your one-stop lifestyle platform.