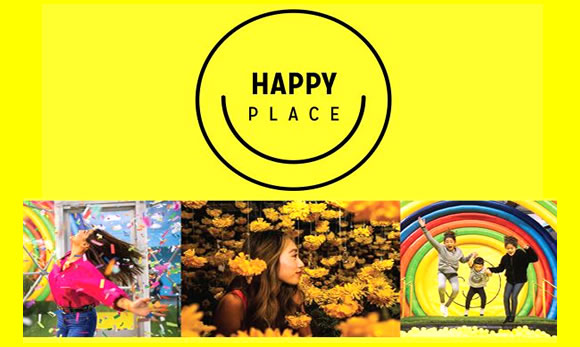 Happy Place Comes To Australia
After sold-out residencies in Los Angeles, Chicago, Toronto, Boston, Las Vegas and Philadelphia, the pop-up phenomenon HAPPY PLACE – dubbed 'the world's most Instagrammable exhibit' – has just opened its vibrant doors at Broadway Sydney. On a mission to spread happiness around the world, the innovative experience has helped more than one million people "find their happy" while exploring multiple vibrant rooms. This is HAPPY PLACE'S first location outside of North America.
Featuring larger-than-life whimsical installations and multi-sensory immersive rooms, visitors can get snap-happy in the world's largest indoor Confetti Dome, a giant rainbow complete with a jumpable 'Pot of Happiness', six-foot-tall X's and O's surrounded by red lips, the famed Rubber Ducky Bathtub, the wildly popular Cookie Room scented with the aroma of freshly baked chocolate chip cookies, an Upside Down room that defies gravity, and Super Bloom, a room filled with 40,000 golden handmade flowers, to name just a few of the photo-friendly spaces – HAPPY PLACE is guaranteed to put a smile on your face. HAPPY PLACE Sydney will also unveil unique features with a very Aussie twist.
The inspiration behind HAPPY PLACE came from its founder, veteran American entertainment manager and live event producer Jared Paul, whose client roster ranges from New Kids on the Block to Lea Michele and Sabrina Carpenter. Paul also produces tours for "Dancing with the Stars" and was behind the hit arena shows for "Glee." On a mission to raise his three children surrounded by positivity and joy and at a time when he saw so many challenging and divisive events happening around the globe, he wanted HAPPY PLACE to provide an oasis for people of all ages and backgrounds to come together and embrace moments of happiness in their everyday lives.
Jared Paul said: "We founded HAPPY PLACE on the simple idea that the world could use a lot more happiness, and after seeing the joy it brought people in America, we knew the experience was something special. Since then, we have made it our mission to inspire more smiles and laughter by providing a momentary escape, but we never dreamed we'd be able to bring a little bit of happiness all the way to Australia. We're all so excited to come to Sydney this February, and can't wait for you all to experience HAPPY PLACE."
Graham Kennedy, Head of Arts and Entertainment, Live Nation commented, "Live Nation has a proud heritage of bringing the best entertainment to Australia and is pleased to partner with such an innovative and unique experience. Having seen the joy that HAPPY PLACE has brought to hundreds of thousands of guests across the USA and Canada, we're thrilled to bring the pop-up phenomenon to Australia for the first time."
Hundreds of thousands of guests visited the very first HAPPY PLACE in Los Angeles, with famous fans including Adele, Kourtney Kardashian, Jesse Tyler Ferguson, Kerry Washington, Olivia Wilde, Hilary Duff, JoJo Siwa, Travis Barker, Jason Sudeikis and Sarah Michelle Gellar posing up a storm across the 20,000 square feet of happy.
Outside of the rooms, guests can enjoy the HAPPY PLACE Lemonade Stand, benefiting local charities, a specially curated retail store, and a delicious culinary menu featuring a variety of tasty Instagrammable items. The Sydney location's Lemonade Stand will benefit Red Cross Australia. To date, HAPPY PLACE has donated over $100,000 USD to local charities.
HAPPY PLACE:
Broadway Sydney, 1 Bay St, Ultimo (Located on rooftop)
From Friday 6 March – Sunday 3 May 2020
Monday and Tuesday: 3:00 pm – 9:00 pm
Wednesday and Thursday: 12:00 pm – 9:00 pm
Friday, Saturday and Sunday: 10:00 am – 8:00 pm
For more information or tickets, visit: happyplace.me
Sydney Unleashed is one of Australia's premier entertainment publications exploring the latest in lifestyle trends. From Sydney's finest restaurants, cafes and bars to the hottest in gadgets, products, and home entertainment, Sydney Unleashed is your one-stop lifestyle platform.