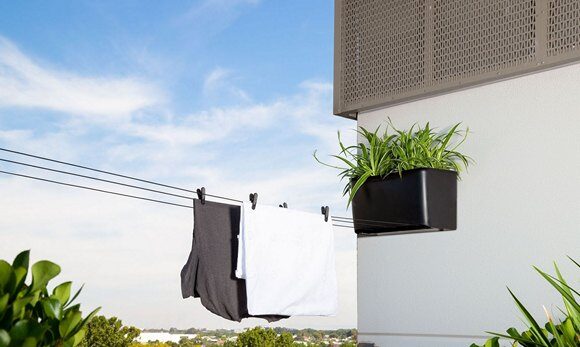 Hills Indoor Laundry & Clothesline Collection
Hills have a brand new indoor laundry and clothesline range for those keeping busy at home during lockdown. Products include:
Hills Planter Retracting Clothesline (RRP $129)
Laundering products can take up a lot of space, particularly when drying clothes outdoors. A clever way to save space is to use a retractable clothesline which can be hidden when not in use. Take style and functionality to the next level with the innovative Hills Planter Retracting Clothesline. The unique patented design disguises the clothesline as a planter when not in use and has 15 litres of pot capacity with an in-built self-watering tray. Each line extends up to 6.3 metres, meaning it can hold king size bed sheets and there are 19 metres of total drying space. It is made with the same high-quality UV resistant material as other Hills clotheslines. The Hills Planter Retracting Clothesline is the perfect addition to a modern courtyard or balcony and its multi-purpose use means your outdoor area can be transformed into an entertaining space quickly when guests are coming over.
Hills Foldable Bamboo Laundry Basket (RRP $29.95)
Carry your clothes from wash to line with the Hills Foldable Bamboo Laundry Basket. It has a strong, lightweight bamboo frame with a waterproof polyurethane coated fabric. It is foldable and has 35L capacity. It is available in Black, Smoke or Grey colours.
Hills Premium Aluminium Laundry Hamper (RRP $36)
With its lightweight aluminium frame, the Hills Premium Aluminium Laundry Hamper allows for a large capacity load of 105L. It has Hills fresh, anti-bacterial fabric with odour control. It is heavy-duty, making it easy to hold multiple wash loads.
Hills 21 Metre Portable Clothesline (RRP $199)
The Hills 21 Metre Portable Clothesline is the innovative indoor-outdoor drying solution that bridges the gap between conventional outdoor clotheslines and indoor clothes airers. It is fully weatherproofed with the same material construction as a clothesline with the addition of four adjustable height levels and folds up reasonably flat for easy storage. Its 1.8 metres long lines are perfect for towels and sheets. It has a capacity of 30kg and is easy to manoeuvre with its wheels.
Hills indoor laundry and clothesline range is available through Bunnings Warehouse stores and independent retailers. More info at www.hillshome.com.au. 
Sydney Unleashed is one of Australia's premier entertainment publications exploring the latest in lifestyle trends. From Sydney's finest restaurants, cafes and bars to the hottest in gadgets, products, and home entertainment, Sydney Unleashed is your one-stop lifestyle platform.