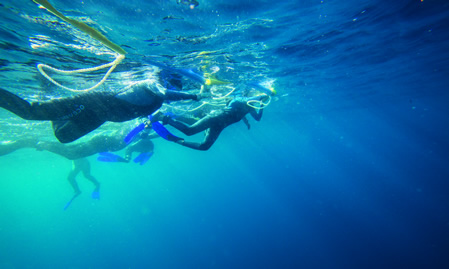 Humpback Whales on the Sunshine Coast
You can feel the coolness in the air and even the whales are excited – singing as they make their way up Australia's East Coast – Sunreef Mooloolaba's Swim with Whales season has just started.
"We are so excited," Sunreef Whale Encounter supervisor Dan Hart said. "The team is already out doing trials and training ready for the start of the season – it's such an awesome experience we just can't wait to start sharing it with people again this year."
Sunreef were the first operators in Australia to offer the Swim with the whales experience commencing in 2014. The Sunreef Swim with the Whales experience runs from July to October each year, offering half-day trips on one of Sunreef's boats as well as full day trips on Australia Zoo's research vessel Croc One.
Dan Hart says, "The whales are starting to appear regularly now in waters off the Sunshine Coast, but July is when the real action kicks off, with thousands anticipated to swim and play through the Sunshine Coast waters."
Participants who take part in a Swim with Humpback Whales experience can expect a four-hour or seven-hour round trip with a maximum of 20 participants on each trip. Dan said a lot of time and planning with Whale researchers has gone into preparing Sunreef to be able to offer customers the Swim with the Whales experience.
"We developed the swimming with whales experience with a strict Code of Conduct to protect both the whales and the participants. Sunreef provide a full briefing on what to expect and safety procedures as well as providing all required equipment," Dan said.
When on the Sunreef Swim with the Whale experience participants can expect that once a whale is sighted, the boat will be put into neutral 100m or more away from the whale, and if the conditions are determined safe by our trained crew, the boat will be turned off and swimmers will be allowed into the water holding on to the floating line attached to the boat.
Dan said from this point it's all up to the whale – it is a natural experience and it is 100% on the whale's own terms. "In our experience, the whales seem as intrigued by us as we are of by them and often come close to swimmers, gliding effortlessly around us, with such a gentleness that its like they recognise our fragility in comparison and know we are there out of wonder and respect," Dan said.
Both trips include wetsuit and snorkelling gear hire.  The four-hour trip is aboard one of Sunreef's comfortable vessels and also includes on-board snacks, while the full-day trip is aboard Australia Zoo's research vessel Croc One and includes a gourmet lunch and snacks.
As part of the Swim with Whale experiences Sunreef Mooloolaba is working closely with researchers from the University of the Sunshine Coast to find out more about the humpback whale species and their environment to help ensure their preservation into the future.
It takes about 15 minutes from the Sunreef dock to get out to the beautiful waters off Mooloolaba which are at their best during the winter months when the whales migrate.  Water temperatures during this time range from 17 to 23 degrees C and visibility is regularly up to 30 metres.
The 2015 Sunreef Swim with Whales season will run through until the end of October.
Sunreef Mooloolaba, based in Queensland's Sunshine Coast, is the longest established dive centre on the Sunshine Coast (Queensland, Australia) with roots starting back in 1976.
Sunreef is a 5 Star PADI Training Centre and offers accredited dive courses for all levels of divers as well as local reef dives, snorkelling trips and diving on the ex-HMAS Brisbane. Sunreef also plans and guides international dive trips and travel as well as dive equipment sales and servicing.
The whale swimming and watching operations work out of Mooloolaba in the heart of Queensland's beautiful Sunshine Coast.
Sydney Unleashed is one of Australia's premier entertainment publications exploring the latest in lifestyle trends. From Sydney's finest restaurants, cafes and bars to the hottest in gadgets, products, and home entertainment, Sydney Unleashed is your one-stop lifestyle platform.