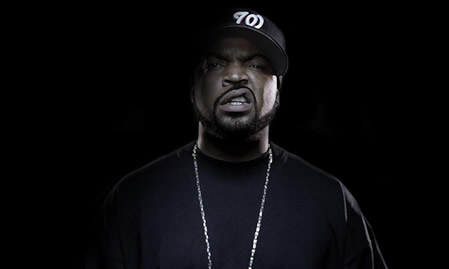 Ice Cube: Hollywood Player With Attitude
After making his name in the rap music arena hitting the big time as frontman for outfit NWA, O'Shea Jackson (better known to the entertainment world as Ice Cube) has become an unlikely bonafide actor over time ever since his highly dramatic debut in the 1991 controversial urban cult classic, Boyz N The Hood. The film was released around the same time police were under the microscope for unnecessary brutality leading into LA riots.
However after that solid performance as a gang member with a big heart on the back suburbs of LA alongside Cuba Gooding Jr also in a rookie role, the career of Ice Cube has reflected more towards comedy including his latest US box office hit sequel, Ride Along 2. 
Although it did not possess the most unique story ideas, the 2014 original buddy cop action comedy was a surprise winner with audiences. So much so, the second installment was fast-tracked by Universal Pictures. Much of the enjoyment came from rising stand up comedian, pint-sized Kevin Hart, in the fast talking sidekick role, the comic chemistry with Ice Cube worked. After the Boyz N The Hood phenomena, Director John Singleton placed him in another controversial racial vilification part in the ensemble of Higher Learning.
1997 brought us one of the most poorly reviewed movies of all time Anaconda, in which Ice Cube drifts down the Amazon with Jennifer Lopez, Owen Wilson, Eric Stoltz and a manic Jon Voight snarling in some incomprehensible accent while fighting off an oversized snake. Filmmakers must have seen something heroic in Ice Cube within that mess because pure action roles followed, less dark material worked into a niche, his physical attributes were of great benefit in motorcycle adventure Torque, underrated sci-fi Ghosts of Mars and just before both of them Three Kings. This 1999 desert war oddity lightens up serious subject matter alongside major Hollywood players George Clooney and Mark Wahlberg.
An unusual amount of sequels have been scattered throughout his diverse career, Barbershop (2002) has spawned a duo of follow ups while surprise kids comedy Are We There Yet got a sequel Are We Done Yet. Seeing big tough Ice being taken down by children emotionally, verbally and physically hit the funnybone of many. Friday, a rap comedy of 1995 also has two sequels Next Friday and Friday After Next, big hits in the US, not as much Down Under. Their following flowed into the home video market.
The movie version of retro television show 21 Jump Street (2012) ranks as one of the great idiot box adaptations to the big screen. As the outspoken captain flying with obscenities opposite Channing Tatum and Jonah Hill, it's an instant three way classic comedy trio. The sequel 22 Jump Street and pending 23 Jump Street continues that winning crude flavour.
Not just satisfied with working on camera, Ice is a producer on dozens of feature films. The most recent being the well received biography story of his band NWA, Straight Outta Compton. It stars first time actor (and lookalike son) Oshea Jackson Jr playing his father to perfection.
Although Ride Along 2 along with the original is a milked variation of the Michael J. Fox 1980s retro gem The Hard Way, it's safe to say the banter between the bickering co-stars and high end action sequences (including a car chase where Ken Hart's character imagines he is in a videogame) will be another one of the successes for Ice Cube – a Hollywood player with attitude.
Ride Along 2 is in cinemas in February.
Shane A. Bassett
Sydney Unleashed is one of Australia's premier entertainment publications exploring the latest in lifestyle trends. From Sydney's finest restaurants, cafes and bars to the hottest in gadgets, products, and home entertainment, Sydney Unleashed is your one-stop lifestyle platform.