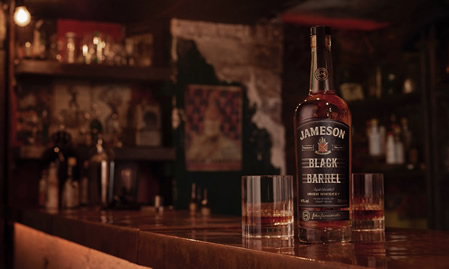 Jameson has unveiled a new structure to its family of Irish Whiskeys, representing a unique reinterpretation of the super-premium whiskey category. The new portfolio is made up of four ranges set to excite Jameson fans globally through stories that explore the brand's rich heritage, celebrate its remarkable present and share an insight into its innovative future.
Jameson Black Barrel is a triple distilled blend of 'small batch' grain and traditional Single Pot Still Irish Whiskey, which is distilled just once a year at Midleton and matured in a combination of American oak, sherry casks and double-charred bourbon barrels. Jameson Black Barrel is a tribute to the cooper's method of charring barrels. Charring is a traditional method for invigorating barrels, although today at Midleton double charred barrels are used by choice rather than through necessity. Time spent maturing in these barrels imparts the whiskey with intensified notes of vanilla sweetness and caramel, alongside toasted wood, fruit, and warm spice.
The new Jameson family brings to life the family motto that appears on every one of its bottles: Sine Metu, or 'without fear'. Jameson believes that when you fear a bit less, you live a bit more. It's not about being rash or reckless, it's about being unafraid to invite life and others in.
How do you drink Jameson Black Barrel? It's best-enjoyed neat or, follow the preference of the Jameson Master Distiller by adding two cubes of ice.
BLACK N' JAM

INGREDIENTS 
50mL Jameson Black Barrel
10mL Amaro Meletti
10mL Becherovka
10mL Lime Juice
1/2 barspoon raspberry jam
1/2 barspoon of blackcurrant jam
1 dash of Peychaud's bitters
METHOD 
Chill a sherry glass with some ice
Place all ingredients into an iced shaker
Seal and shake hard for 20 seconds
Remove ice from glass and fine strain the cocktail
Garnish options – an orange twist or candied ginger on a cocktail stick
Sydney Unleashed is one of Australia's premier entertainment publications exploring the latest in lifestyle trends. From Sydney's finest restaurants, cafes and bars to the hottest in gadgets, products, and home entertainment, Sydney Unleashed is your one-stop lifestyle platform.