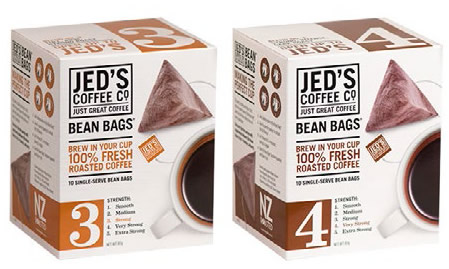 Clever New Zealand Coffee Company, Jed's Coffee Co, is set to make a mark on coffee lovers of Australia with the launch of Jed's Bean Bags®, a clever innovation using pyramid-bag technology to create 'brew in your cup' fresh roasted coffee – and it's a 'world first' innovation that's now available in Australia exclusively at Woolworths for $6.99.

Jed's Bean Bags® is the only brew-in-a-cup bag in Australia that contains 100% freshly roasted ground coffee, with not a trace of instant coffee in sight! Developed by the Innovation Team at Jed's, the collaboration of tea and coffee technology was jointly led by coffee Brew Master Stuart Hargie and Master Tea Taster, Matt Greenwood to emulate a fresh plunger experience.
Forget buying expensive coffee-making equipment or making the trek to your local café. A great tasting fresh coffee will now be as quick and easy as opening the pantry, whipping out a Jed's Bean Bags®, placing it in boiling water for a few minutes, and presto – you have a freshly roasted coffee experience at home, or on the go.
The individually sealed single serve packs are light in weight and full in flavour and the bag is 100% biodegradable making for a great no-fuss option that is perfect to take to work, on camping trips, early morning fishing expeditions or whilst watching the kids play sports on the weekend!
Michaela Dumper, Marketing Director of Jed's Bean Bags® says: "We are thrilled to be launching Jed's Bean Bags in Australia and in doing so, making an easy, convenient way of drinking a fresh great tasting coffee without any machinery, therefore making great coffee accessible for everyone. Jed's Bean Bags are a true no-fuss, no mess innovation that lets consumers drink 100% fresh roasted coffee wherever they are."
The team at Jed's Coffee Co recognised that the coffee market can sometimes be intimidating and time consuming and therefore wanted to create a great quality coffee that was easy to understand, convenient and good value for money.
Stuart Hargie, Coffee Brew Master at Jed's Coffee Co. says, "Jed's Bean Bags® are filled with top quality coffee that has been freshly roasted at our headquarters. The unique size and pyramid shape of the bag (traditionally reserved for premium teas) allows the freshly-ground coffee to move and tumble about inside the bag for a top quality brew. It's unique biodegradable filter is designed to unlock all the strength, body and flavour – no mess, no fuss, no machines or plunger required."
Matt Greenwood, Master Tea Taster, Bell Tea and Coffee Co says: "There is nothing else in the world like this product that offers such high quality coffee. We've taken our extensive knowledge of tea and applied it to coffee to create something truly unique and innovative. No other product has ever been able to deliver the quality that a Jed's Bean Bag® offers. The roast profile, filter material and pyramid shape make the Bean Bag® unprecedented in the coffee category – nothing like this has ever been done before."
LOOK OUT FOR JED'S IN THE COFFEE AISLE OF WOOLWORTHS
Jed's Bean Bags® RRP $6.99 for a pack of 10 single serve
Bean Bags® in two strengths 3 (strong) and 4 (very strong).
Sydney Unleashed is one of Australia's premier entertainment publications exploring the latest in lifestyle trends. From Sydney's finest restaurants, cafes and bars to the hottest in gadgets, products, and home entertainment, Sydney Unleashed is your one-stop lifestyle platform.