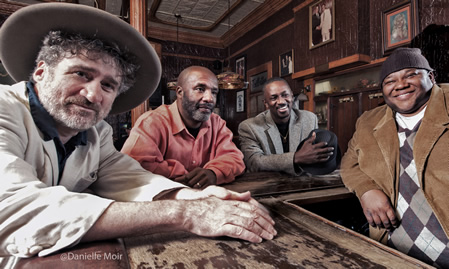 Jon Cleary Australian Tour
It's been six long years since Jon Cleary last brought his legendary band The Absolute Monster Gentlemen to Australia (despite a quick lap of the map with his trio The Philthy Phew and alongside Allen Toussaint and the Dirty Dozen Brass Band on the Legends Of New Orleans Australian Tour in 2011).
Described by many as the funkiest band in the city that has the funkiest musicians in the world, Jon Cleary and The Absolute Monster Gentlemen are the gem in the New Orleans crown – a four piece riot of gospel harmonies and foundation rocking grooves – a southern soul band like no other. Running the full gamut from second line street beats to old school rhythm and blues, the party is propelled by Cleary's vocals and dazzling piano chops, skills learned as a teenager in New Orleans directly from the old masters who invented the style.
In the hallowed ranks of New Orleans 'piano professors,' Jon Cleary is on the tenure track. Born in England and bred in New Orleans, Jon Cleary is a triple threat, combining soulful vocals, masterful piano skills, and a knack for composing infectious grooves with melodic hooks and sharp lyrics. He balances a career performing on solo piano, playing with his power trio The Philthy Phew, and the aforementioned, and celebrated, funk band The Absolute Monster Gentlemen, with a career as a notorious hired gun for artists such as Bonnie Raitt and John Scofield [Cleary is featured on vocals and keyboards on Piety Street by John Scofield & The Piety Street Band.] Jon has toured with Bonnie Raitt since 1999, and has appeared on the albums Silver Lining and Souls Alike. On these recordings, Raitt covered the Cleary originals, 'Fool's Game,' 'Monkey Business,' 'Unnecessarily Mercenary,' and 'Love on One Condition.
Back in the 1980s Cleary recruited guitarist Derwin 'Big D' Perkins and Cornell Williams from the gospel world and found drummer Jeffery 'Jellybean' Alexander playing late night gigs on Bourbon Street. They quickly developed a cult reputation and though these days individually busy in their busy respective schedules as session men they still find time to get together and do what they like doing best.
Wherever Jon Cleary and The Absolute Monster Gentlemen perform you can be sure a large percentage of the audience will be musicians, although it's a testament to the band's taste that the technical brilliance always takes second place to fun – pure and simple. Cleary explains, "Ultimately all New Orleans music is about making a joyful noise; even when burying their dead folks in New Orleans will have a wild jazz band to celebrate the good life."
With sessions currently taking place in Louisiana for Cleary's new album, which promises to be his best yet, fans can look forward to enjoying both new material as well as favourites 'When You Get Back' and 'Mo Hippa' and forays into their New Orleans rhythm and blues roots.
Cleary, described by Bonnie Raitt as 'the ninth wonder of the world' has been in high demand in recent years working alongside Taj Mahal, Doctor John and jazz man John Scofield but he still maintains that there's no bigger thrill than the electricity generated when the Absolute Monster Gentlemen take the stage. Real music played real good by real musicians!
Proudly presented by Nathan Farrell Entertainment & Elastic Entertainment. Dates (2014):
Thursday 6 March @ Northcote Social Club, Melbourne VIC
Friday 7 – Saturday 8 March @ WOMAD, Adelaide SA
Sunday 9 March & Monday 10 March @ Port Fairy Folk Festival, Port Fairy VIC
Wed 12 March @ The Substation, Newport VIC
Thu 13 March @ The Great Northern, Byron Bay NSW
Fri 14 March @ The Basement, Sydney NSW
Sat 15 March @ The Basement, Sydney NSW
Sun 16 March @ Lizottes, Newcastle NSW
Sydney Unleashed is one of Australia's premier entertainment publications exploring the latest in lifestyle trends. From Sydney's finest restaurants, cafes and bars to the hottest in gadgets, products, and home entertainment, Sydney Unleashed is your one-stop lifestyle platform.