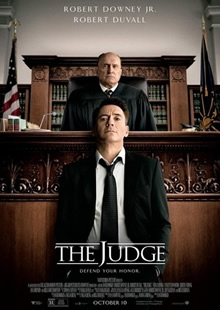 Starring: Robert Downey Jr, Robert Duvall, Vera Farmiga, Leighton Meester, Billy Bob Thornton, Vincent D'Onofrio (Rated M 141 min).
An irrepressible Robert Downey Jr remains at the top of his game with his co-stars equally impressive in this must-see simmering quality drama.
The former wild one plays Hank Palmer, the kind of shady Chicago lawyer that gets the cases nobody else wants or can afford. Bright lights, big city life has become mundane within his private life while still providing a show for the onlooking media. The catalyst for change is his mother's death and returning to his childhood town where his father (Robert Duvall) is the local magistrate and also suspected of murder. After 43 years of delivering verdicts, Judge Palmer is now on the other side of the bench when police match blood found on the hood of his car with a recently deceased man. Although maintaining his innocence of murder, it also comes to light Judge was behind the wheel after a drinking session.
Believe it or not the court case is momentarily secondary to father and son reconnection, it's a trip down memory lane for Hank whether it be catching up with old flames or getting to know his estranged brother. Deep sensitivity of emotion is a chance for two acting elite of different cinematic generations facing off and embody their techniques as screen combatants. Downey and Duvall are perfect. Watch out for Billy Bob Thornton storming in and chewing up scenery as a prosecuting lawyer, while Vera Farmiga (Bates Motel) holds edge as the incredible looking, still single after all these years ex-love interest.
A controversial sub-plot involving Gossip Girl starlet Leighton Meester may raise a few eyebrows although it is very nice to see Twin Peaks veteran Grace Zabriskie back on the big screen. Attempted comedic bits fall a little flat compared to all the high stakes dramatic poise. The trick for Hank is recalling his vast experience to convince people his grizzled father is actually a decent person even when the spotlight on evidence makes the Judge look very guilty.
Superior performances alone is why you see this movie. As for courtroom scenarios, the slow burn leading to redemption and family ties may provoke tears, however, it's no A Few Good Men or To Kill a Mockingbird.
Shane A. Bassett
Sydney Unleashed is one of Australia's premier entertainment publications exploring the latest in lifestyle trends. From Sydney's finest restaurants, cafes and bars to the hottest in gadgets, products, and home entertainment, Sydney Unleashed is your one-stop lifestyle platform.