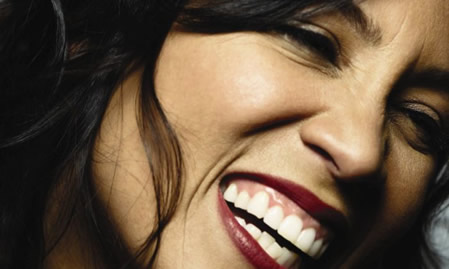 Iconic Australian singer Kate Ceberano performed at the very first concert I ever attended. Unbeknown to my parents, I travelled with my girlfriend at the time, her friends in tow on the train to Cronulla arriving to a music festival called Australian Made. Before the days of the Big Day Out, this was a collection of groups which included the likes of INXS, The Saints, The Models and singer Jimmy Barnes. It was a filmed event and even got a cinema release exclusive to Hoyts back in the 1980s.
At the time, Kate Ceberano was part of a funk-pop outfit called I'm Talking, who performed early in the day. Through my girlfriend, we had access backstage to meet Kate as she was a friend of a friend, apparently. Here I am as a teenager looking up to Kate a couple of years older than me in awe on stage, then up-close and personal back stage complete with a Polaroid. The whereabouts of that shot is unknown. It's an early memory I'll never forget because it's the same day I met Michael Hutchence. Sadly I am not mentioned in her new biography, I'm Talking (out now from Hachette Books Australia) but the concert is, in detail.
The book is hard to put down, not just because of an array of never before seen photos. This well loved entertainer who has travelled the globe shares insights to her life that certainly opened my eyes enlightening her career on stage and screen including Jesus Christ Superstar. From kissing the great Divinyls frontwoman Chrissie Amphlett to sitting in an English street crying to be consoled by Sex Pistols manager Malcolm McLaren, the book tells all. Her scientology beliefs are also covered, however I was more concerned with her career. I was lucky enough to ask Kate a few questions about her latest endeavour, being a first time author.
How long ago did you think it was the right time to release a book?
Telling media details can be daunting.  I hope I am ageing gracefully, being mature (laughs) not completely mature, but I feel as though I'm in a certain place now with my work. I'm especially comfortable with the early parts of my life which I thought could be interesting to tell. The other thing I relish is authenticity. If you leave it to just media reports to comment on your career, it can be glowing. It can also not be. I have never lip synced by the way.
With so many fantastic successful songs on your set-list (Bedroom Eyes, Brave, Young Boys Are My Weakness, Lead The Way) just to name a few; do you have a particular song which is a favourite to perform?
Good question but it's easy to answer. Not the retro crowd favourites, what I am doing now is relevant for me. Actually being a division of a band is important not just standing out front in a pretty skirt chirping lyrics. Playing drums when singing is good for the soul. It's a vast difference singing while playing a piano too – I prefer that as an option now.
Jazz is a difficult medium to perfect – you're very good at it. Is it a favourite style for you now?
It's a challenge as all music is whether it's playing instruments or performing. Jazz is special to me. Just before our interview, I had my headphones on getting into some jazz tracks. Not mine, romantic 1950s jazz is something I adore.
The music industry has changed since you began. Do you embrace downloads or sharing online and what younger Australian artists do you admire?
Yes, it's a modern world and a way of getting music played so thats appropriate. Vinyl is making a comeback (laughs). Megan Washington and Kate Miller-Heidke are brilliant, I like that kind of performer who marches to the beat of their own drum with unique sounds.
I was one of the few who saw your feature film debut 'Dust off the Wings' at cinemas. Considering the difficult making of conditions expressed in the book, your acting is emotionally superb. Other than a couple of other films, have you considered more on screen work recently?
Well thank you Shane. If the opportunity presents itself, that could happen but I don't actively look for it. Music is consuming me right now. I did enjoy acting, another film I did for director Paul Cox was Molokai.
Yes, I saw that when released and I was also shocked to see you pop up on stage singing unannounced for a cameo in 'Till There was You' with Sarah Jessica Parker. 
Correct, you're good. Molokai was an experience and one of the best parts was catching a plane to the set everyday with Kris Kristofferson, so gracious. Also working with people like Peter O'Toole and Sam Neill. Kris talked a lot about Johnny Cash, he actually considered Cash as gone commercial. The cameo just came about from colleagues and I took it – it was fun times.
Have you ever been mistaken for anyone else by a star-struck fan?
I have been asked if I was Christine Anu a few times. That's fine, I love Christine.
Being of some Hawaiian heritage, can you surf?
Yes (answering enthusiastically). My very first wave was in front of pro surfer Joel Parkinson. I was in Fiji at the time and it was a massive thrill. Hands up in the air proud. When my dad arrived in Australia, he only had two things. In his suitcase was a ukulele and he had hold of a surfboard. There's some good beaches up your way. To me Newcastle is the salt of the earth. I really love it up there, the scene of some memorable shows.
Finally, your bra ads were glamourous I must say.
(Laughs) That's bold and appreciated, I have to pay the bills (laughs again).
Thanks Kate. It was a pleasure meeting you; it's a moment I have brought up at many a dinner party.
Thanks Shane, great interview. Enjoy your day. 
I'm Talking is now available at all good book shops and department stores. I highly recommend it.
Shane A. Bassett
Sydney Unleashed is one of Australia's premier entertainment publications exploring the latest in lifestyle trends. From Sydney's finest restaurants, cafes and bars to the hottest in gadgets, products, and home entertainment, Sydney Unleashed is your one-stop lifestyle platform.