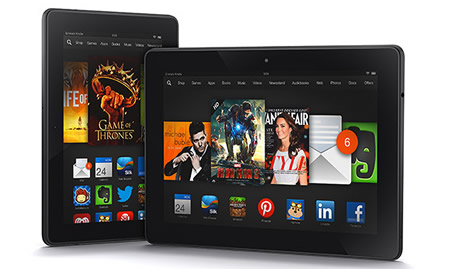 Kindle Fire HDX 7″ Tablet
Kindle Fire HDX is perfect for work or play, with the fastest processor on a 7″ tablet, the latest graphics engine, world-class Dolby audio, and a highly portable form factor.
FEATURES:
Powerful Quad-Core Processor: Kindle Fire HDX tablets are the first tablets to be powered by the 2.2 GHz quad-core Snapdragon 800 processor, making them the first to clock in at over 2 GHz. It provides 3x more processing power than the previous-generation Kindle Fire HD and, combined with 2GB of RAM, provides faster app launches, faster website load times, smoother multi-tasking, and better overall performance.
Console-Quality Graphics: The new Adreno 330 graphics processor on Kindle Fire HDX delivers high frame rates and console quality graphics—4x the performance of the previous generation Kindle Fire HD.
Custom Dolby Audio: Kindle Fire HDX uses the power of Dolby Digital Plus to create a world class audio experience. Dolby Digital Plus includes technology that adjusts volume, creates virtual surround sound, and delivers easier-to-understand dialogue in movies and TV shows. Kindle Fire HDX is designed to automatically optimize the audio profile based on what you're doing (with or without headphones), such as watching a movie, listening to music, or talking on Skype.
Improved Battery Life: With advanced power management technology, Kindle Fire HDX delivers an uncompromised 11 hours of reading, surfing the web on Wi-Fi, watching video, or listening to music. When you're just reading, Kindle Fire HDX automatically powers down unused system components, extending battery life to 17 hours.
Breakthrough HDX Display: Kindle Fire HDX has a high resolution display (1920×1200) and high pixel density (323 ppi) for an incredible multimedia experience. The display features over 2 million pixels for vivid, lifelike images that go beyond standard HD.
Perfect Colour: Both the 7″ and 8.9″ Kindle Fire HDX displays feature perfect colour (100% sRGB), displaying images and videos as the photographer or videographer intended.
Better Viewing Indoors and Out: The HDX display features dynamic image contrast, a unique feature that automatically optimizes the color of each pixel based on the amount of light in your surroundings. This makes images and videos even easier to see in any lighting conditions, including outdoors.
Live On-Device Support: NEW—Simply tap the "Mayday" button to be connected for free to an Amazon expert who can co-pilot you through any feature by drawing on your screen, walking you through how to do something yourself, or doing it for you—whatever works best. Mayday is available 24×7, 365 days a year, and it's free. Throughout the process, you will be able to see your Amazon Tech advisor live on your screen, but they won't see you. 15 seconds or less is the Mayday response time goal.
Watch it in Action: Kindle Fire HDX is easy to use right out of the box. But when you need extra assistance, the "Mayday" button is there. See how it works in these short commercials.
Front-Facing HD Camera: Both the 7″ and 8.9″ Kindle Fire HDX tablets have a front-facing 720p HD camera, perfect for Skype HD video calls and taking photos to share via Facebook or e-mail.
Import and Edit: Kindle Fire makes it easy to keep favorite photos and personal videos close at hand. Download your albums from Facebook, or add photos and personal videos (up to 20 minutes long) to Amazon Cloud Drive from your PC, Mac, or phone. Editing on your Kindle Fire is just as easy—simply select a photo to begin editing or use one of many popular apps in the Amazon Appstore.
Sydney Unleashed is one of Australia's premier entertainment publications exploring the latest in lifestyle trends. From Sydney's finest restaurants, cafes and bars to the hottest in gadgets, products, and home entertainment, Sydney Unleashed is your one-stop lifestyle platform.