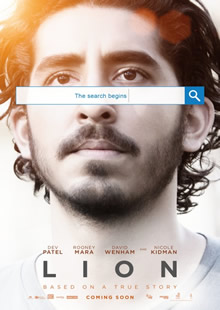 Starring: Dev Patel, Nicole Kidman, Rooney Mara, Sunny Pawar, David Wenham (Rated PG – 118 min).
Beautifully told true story not saturated with over sentimental clichés, although that does not mean you won't need tissues to wipe the tears away. My glasses certainly fogged up several times.
Based on the best-selling book 'A Long Way from Home' by Saroo Brierley, his life changed from a very young age back in his country of origin, India, when finding himself alone on the streets of Calcutta after falling asleep on an unscheduled train journey taking him thousands of kilometres from home.
Five year old Saroo is played remarkably well by bright-eyed Sunny Pawer plucked from obscurity to be in the film. His innocence is conveyed while dodging possible atrocities while abandoned and afraid without food or shelter until somehow he survives against all odds and is put into the hands of authorities.
Eventually Saroo is adopted by loving Australian couple John (David Wenham) and Sue (Nicole Kidman) in Tasmania. The new life in a whole new world takes some time to adapt to but Saroo is welcomed with open arms from his new parents.
Over time we see Saroo all grown up into a young man (Dev Patel spouting an almost perfect Aussie accent) but at a certain point, even as everything he knows is in Australia, including girlfriend Lucy (Rooney Mara), he has an idea of possibly looking up his long lost Indian family online.
Cue endless, and I mean elongated, boring, glazed staring at computers (this bugs me and is the only real blip on a great movie), searching through Google Earth. There's also one of those familiar maps on the wall you only see in movies with pins and twine all over certain symmetrical points.
Saroo breaks the news to John and Sue, shocking them in some ways. However deep down, they know it is the ambitious right thing to do for 'their' son. Cinematography is glorious from the beauty of the Apple Isle to the vast overcrowded landscapes of Asia, it looks wonderful beamed across the big screen.
Nicole Kidman is a standout deserving the multiple award nominations she is receiving as Sue Brierley. As a mother who raised a baby as her own to let him leave to find another set of family members is heartbreaking but accepted, her performance is indeed powerful.
Shooting to fame first in the overrated Slumdog Millionaire, Dev Patel is a proven actor but this is a role of a lifetime, as mentioned his wonderful Aussie accent is as natural as it gets while you certainly get plenty of close-ups of his eyes staring into those computer screens.
Must-see if for nothing else, to sit in wonderment. Stick around during the end credits as you will witness actual footage of the real life first meeting of mum and missing son also reuniting with his entire Indian family, high emotions all round.
Shane A. Bassett
Sydney Unleashed is one of Australia's premier entertainment publications exploring the latest in lifestyle trends. From Sydney's finest restaurants, cafes and bars to the hottest in gadgets, products, and home entertainment, Sydney Unleashed is your one-stop lifestyle platform.