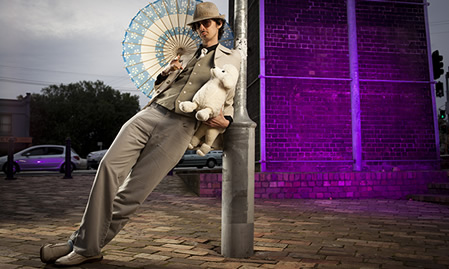 Acclaimed songwriter, comedian and musician Luke Escombe has recently released his latest project 'Chronic Symphonic'/'Live on the coast'. To celebrate the release, Luke Escombe chats with Sydney Unleashed.
How did you get your start in the industry?
My Dad worked in the rock and roll industry so I kind of grew up in it. I went to my first gig when I was three months old and saw pretty much every big act that came through the UK before I was ten, so a career in music was an obvious choice. As for the career I have now, there were a bunch of false starts but definitely the big breakthrough was doing the Melbourne Comedy Festival in 2011. I'd never combined music with stand-up before and was absolutely shitting myself with nerves but the show got good reviews and that gave me the confidence to take it to Edinburgh and around the rest of Australia, which opened up all kinds of opportunities I'd never expected.

Best part of what you do?
I love that I can take all my negative experiences and emotions and turn them into music and comedy. I'm inspired by that every single day
And the worst part?
The uncertainty. Everything might be going great now but look a few months ahead and the calendar is a blank wilderness again. You gotta keep on pushing
 Any interesting experiences you can share?
While I was at the Edinburgh Fringe, I had my passport and credit cards stolen. It was a really low moment. I had to borrow money from some people I'd just met to take a train down to London to get new travel documents in time to make my flight home. It was just after the riots and there were cops everywhere. An incident occurred involving me, a public convenience and four members of the riot squad. A few months later I used it as the inspiration for a gangsta rap music video about public toilet access which I premiered at Parliament House in Canberra in front of the health minister. Look behind most of my songs and you'll find an improbable story like that
Favourite album of all time and why?
Oh God, it changes all the time. Right now I'll say "Abbey Road", because the world is round it turns me on
Best live performance that you've ever seen?
Queen's last show with Freddie Mercury at Wembley when I was about seven years old. I watched it from the sound tower. Total magic. Nick Cave at the Opera House last year is right up there too.
Favourite bars/clubs/pubs to hang out in?
Lazybones Lounge in Marrickville and the Moonshine Bar in Manly are two of my favourites at the moment.
Take us through a typical day in the life of Luke Escombe.
Lots of staring at the computer punctuated by coffee and walks to the beach.
Any news or final comments?

I'm heading to New Zealand with my full band for the first time this month to do a show in a place called Ngatea. It's the first time they've ever had a touring band play in that area. The show is a fundraiser to send a young Kiwi hockey player to the Olympics. After that I'm going to be appearing "virtually" at the European Open Science Forum in Copenhagen, talking about using songwriting as a therapeutic tool for people with chronic illness. After that I'm getting my wisdom teeth extracted and watching the World Cup from my sofa with a big tub of Endone.
© Danny Canak
Sydney Unleashed is one of Australia's premier entertainment publications exploring the latest in lifestyle trends. From Sydney's finest restaurants, cafes and bars to the hottest in gadgets, products, and home entertainment, Sydney Unleashed is your one-stop lifestyle platform.