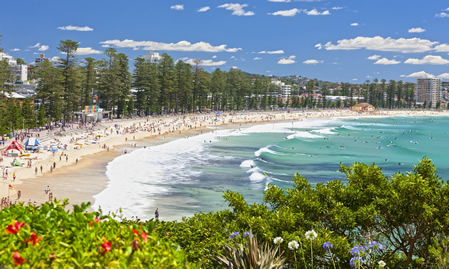 Manly Beach: Australia's #1 Beach
Manly Beach has been announced as the winner in Trip Advisor's Top 25 best beach list.
This stunning beach took the crown ahead of Surfers Paradise Beach and Whitehaven Beach in the 2018 Travellers' Choice Awards.
The historic and iconic beach will be a hive of activity in the coming weeks with the Vissla Sydney Surf Pro coming up between February 24 and March 4. It will feature top level, international surfing with over 20 countries being represented in local, junior and World Surf League Qualifying Series 6000 events.
During this world-class surf event, Manly Corso will come alive with a range of festivities, from community markets, surf movies and daily activities, promotions and parties hosted by the Steyne Hotel. You'll even see a VW Kombi Rally, and an inflatable boat race from Shelly Beach to Manly Beach, and the very best surfboard shapers in the world crafting boards right in front of you.
Highlights during the nine-day period include:
Manly Inflatable Boat Race, Sun 25 Feb: Head to Manly for one of the most fabulously fun beach charity events. Great fun and excitement for everyone, attendees dress in fancy dress (the crazier the better!), and armed with a colourful inflatable (anything from pool ponies to pink swans) paddle an approx 1km course from Shelly Beach and back to shore in support of Tour De Cure.
VW Kombi Rally, Sat 3 March: A selection of retro beauties will be on display with major prize giveaways, art installations, skate comps, drink specials, pop up bars and a spectacular array of flared collar shirts.
Meet the world's best surfboard shapers, live: More than 21 of the world's best surfboard shapers will take part in a live shaping demonstration for the masses right on Manly Beach. Visit the craftsmen in their custom pop-up glassed-in shaping bay. Watch, listen and learn from each shaper as they turn a blank of foam into a slick surf sled. Each shaper will be fitted with headphones and a mic so they can walk you through their process and interact with the live webcast commentary team too! From 10am to 6pm, Tuesday 27 February – Sunday 4 March.
Kids Seaside Fun Zone: Slide through a huge inflatable shark, practice surfing like the pros on the mechanical surfboard, and enjoy games and blow ups galore throughout nine days of the festival. Located at North Steyne, across from the Novotel Sydney Manly Pacific.
Manly Market Place, Saturday 24th February and Sunday 4th March: Village markets held at South Steyne Beachfront, from 9am to 4pm.
Photographic Exhibitions: Featured in various Manly locations throughout the period.
For more information, visit: http://sydneysurfpro.com/
Sydney Unleashed is one of Australia's premier entertainment publications exploring the latest in lifestyle trends. From Sydney's finest restaurants, cafes and bars to the hottest in gadgets, products, and home entertainment, Sydney Unleashed is your one-stop lifestyle platform.