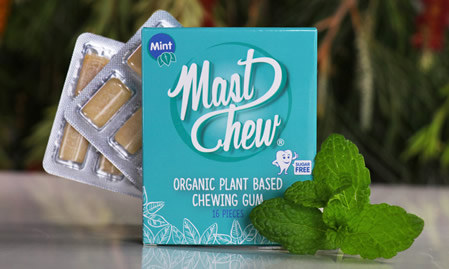 Mast Chew is Australia's first locally manufactured plant-based sugar-free chewing gum. Created by Australian Food and Pharmaceutical Industries as a healthy alternative to traditional chewing gum, Mast Chew is made from 100% natural and organic ingredients and combines a minty fresh flavour with the unique warmth of mastic for a naturally familiar taste. Using an ancient Mediterranean gum, Pistacia Resin, as its base, Mast Chew offers antimicrobial benefits while containing no synthetics, latex, sugars, colours, artificial sweeteners or additives.
Belonging to a genus of Anacardiaceae trees, Pistacia Resin is a viscous yellow-green liquid obtained from the trunk of the Pistacia tree. Found throughout the Mediterranean and Zagros Mountains, particularly in Western and Northern Iran, and Eastern and Northern Iraq, Pistacia Resin has been used for thousands of years to maintain gut health and treat abdominal related illnesses, including heartburn, gastric and intestinal ulcers.
The combination of xylitol, mint and antimicrobial gum base in Mast Chew cleanses the mouth and soothes the stomach. Clinical studies have shown that swallowing the gum will assist in the treatment of stomach ulcers.
INGREDIENTS: Organic Plant Based Gum Base, Beeswax, Xylitol, Maltitol, Essential Mint Oil, Glazing Agent (Acacia Gum).
Mast Chew is available now (16-piece blister pack RRP $4.50 / 35-piece bottle RRP $6.95).
Sydney Unleashed is one of Australia's premier entertainment publications exploring the latest in lifestyle trends. From Sydney's finest restaurants, cafes and bars to the hottest in gadgets, products, and home entertainment, Sydney Unleashed is your one-stop lifestyle platform.