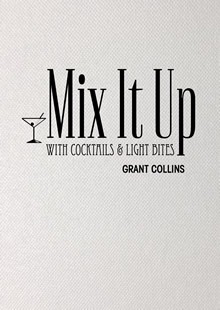 By Grant Collins with photography by Sue Stubbs.
Mix it Up with cocktails and light bites tell the delicious story of cocktails and the perfect food accompaniments. From the history of cocktails, and exotic cocktail bars around the world, to the classic and modern cocktail bar and home mixer, all is covered in this gorgeous book of delicious concoctions.
This award-winning bar manager provides information on the history of classic cocktails, mixers, and world-class drinks, as well as cocktail recipes, cocktail equipment and glassware to create the perfect at home bar. Not forgetting experimental ideas such as Margarita Ice Cream and edible soil.
Mix it Up includes easy-to-follow recipes on how to perfect the DIY cocktail. From the simple evening cocktail to a classic home cocktail party including preparations of syrups, and pitches of cocktails and punches, iced teas, mocktails and mulled wine.
ABOUT THE AUTHOR
British born Grant Collins started his bar career in the early 1990's in the USA working for an international TGI Fridays. Returning to the UK he continued working for several different top bars in London and Birmingham and was awarded the coveted "UK Bar Manager of the Year". Grant relocated to Australia in mid 2001 and took charge of the Water Bar at the W Hotel. During his time there he managed to replicate his winning formula with the bar being awarded "Bar of the Year" two years running by the Sydney Morning Herald and "Hotel Bar Cocktail List of the Year 2003" by Hoteliers Magazine. Grant himself has won the "Australian Bar Manager of the Year" award both in 2002 and 2003 by the Australian Liquor Industry. Grant is currently consulting for Zeta Bar at the Hilton Sydney, which has become renowned for its cutting edge cocktails. In October Zeta was named "New Cocktail Bar Of The Year 2006."
Mix It Up is available now.
Sydney Unleashed is one of Australia's premier entertainment publications exploring the latest in lifestyle trends. From Sydney's finest restaurants, cafes and bars to the hottest in gadgets, products, and home entertainment, Sydney Unleashed is your one-stop lifestyle platform.