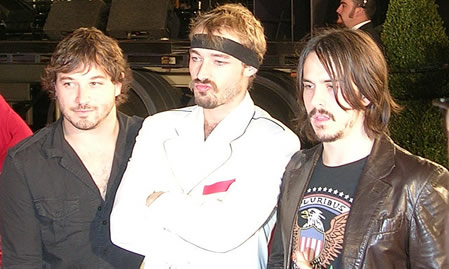 The 2007 MTV Australia Video Music Awards (AVMAs) started off under controversial circumstances when scheduled co-host Snoop Dogg was effectively muzzled by being barred from entering the country. But despite Snoop's absence, the 2007 AVMAs were well and truly dominated by international artists who took out the majority of awards at the event which was held at Sydney's Acer Arena on 29 April. While big winners Evanescence (Album Of The Year for 'The Open Door') and Red Hot Chili Peppers (Best Group) weren't here to collect their gongs, a healthy line-up of international guests did make a showing. Fergie, Good Charlotte, Pink, 30 Seconds To Mars and Teddy Geiger not only strolled the red carpet, but all coincidentally picked up awards. The latter even declared to us backstage that this was "probably the most exciting event that I've ever been to."
While Justin Timberlake was up for six awards making him the most nominated artist, he only managed to win in one category (the best hook-up award for his track with Timbaland – 'SexyBack'). Pink was the next most nominated artist with five in total but she picked up two – Best Female Artist and Download of the year for 'Who Knew'. 30 Seconds to Mars also had a successful night with 'The Kill (Bury Me)' picking up the Video Of The Year award and also Best Rock Video.
But the night wasn't all about the international stars. Some of the local talent that put in a showing included Eskimo Joe, Evermore, Stephanie Macintosh, Damien Leith, TV Rock, and a whole swag of others. On the local awards front, Silverchair were the big winners picking up a new hall of fame type award that recognised their lasting impact on the MTV generation – the inaugural Video Vanguard Award.
Both the winner and runner-up from the first Australian Idol series were the other two Australian artists to win awards. Guy Sebastian's steamy 'Elevator Love' video with Jennifer Hawkins picked up the Best Pop Video. When Guy chatted to us backstage, he revealed just what he really thought about Hawkins. He said, "She's awesome. It was good to have her in the video – it means I didn't have to do much. Because, you know, you always want a beautiful face in the video." With Megan Gale lurking around in the background, the question was posed as to who he'd have chosen for the video if it was out of Gale and Hawkins. He joked, "They're both beautiful in their own right and I shop at both Myer and David Jones."
Guy's good buddy Shannon Noll was the other local artist to pick up an award. Noll was crowned the Best Male Artist for the third year running. Noll told us that he was working on a new album overseas but that he would always remain a true blue Aussie. He said, "I'm a bloke who wants to bring something to the market that is authentically Australian. Not so much in the style or the sound of the music, because you can't pinpoint anything in each different genre of a country, but when it comes down to the interviews and that sort of thing, I'm as real as you get…and I'm proud of it. And I'm not going to change that for anybody for any success or anything. I'll go born Australian and I'll die Australian."
While they didn't win an award, Bliss N Eso also had a very Australian message to share. They said, "This is the most beautiful country in the whole wide world. This right now where we live – we're so far away from all that bullshit (overseas) and yet we still have these little minorities of people that are causing shit. That race riot shit was just a minority thing – we are all in this country together as one and we're all here for peace, love and unity."
Now in its third consecutive year, the publicly voted event also featured a swag of non-musical guests including Laguna Beach star Kristin Cavallari, Nicole Richie, Bessie Bardot, Holly Brisley, members of the Bra Boys, footballers and other local celebrities. Celebrity blogger Perez Hilton also made an appearance. While posing for a photo with Sophie Monk, he happily shared a rather fascinating story with us. He said, "I had a lovely conversation with Daniel from Silverchair. I met his wife (Natalie Imbruglia) in London recently and we had a lovely time. So we were hanging out in the hotel room with Kimberley Stewart and Kings Of Leon – the band. We wanted the boys in the band to show us their 'wee wees' – their dicks. And they didn't want to show their dicks unless she showed her tits and she wouldn't show her tits. So I was so disappointed I didn't see Kings Of Leon's dicks."
Other goss we were privy to backstage included Megan Gale's revelation that she takes fashion tips from her boyfriend Andy Lee, Grinspoon's Phil Jamieson coming clean about his habit…to download songs off the internet, the Veronicas enlightening us with the news that they'll be releasing their own fashion line through Target and Lisa revealing that she's not dating Dean Geyer but "I wish the rumour was true…I'm still waiting for him to ask me on a date," Sneaky Sound System telling us that they were finalising a deal for Europe while vocalist Connie Mitchell recently recorded a track with Kanye West, Paulini disclosing that she "won't be doing any TV anytime soon" and also how her Young Divas partner Kate Deraugo injured her hand in a limousine door before walking the red carpet, and Dirty Sanchez who provided most of the laughs backstage. While one member took on a challenge to skoll a whole beer, another revealed the fascinating title of a song that he'd written with his punk band. 'What Would You Rather Do: Wank Your Dad Or Your Dad Wank You' is the title of the track that will no doubt be taking the world by storm soon. The boys covered every topic from dildos to didgeridoos and even compared Fergie to a gypsy ("she looks kind of dirty but nice at the same time"). It capped off another memorable night in the local music calendar.
Congratulations to all of the winners:
Video of the year: 30 Seconds to Mars – 'The Kill (Bury Me)'
Album of the year: Evanescence – 'The Open Door'
Spankin' new artist: Teddy Geiger – 'For You I Will (Confidence)'
Best rock video: 30 Seconds To Mars – 'The Kill (Bury Me)'
Best male artist: Shannon Noll – 'Lonely'
Best female artist: Pink – 'U & Ur Hand'
Viewer's Choice Award: Good Charlotte – 'Keep Your Hands Off My Girl'
Best group: Red Hot Chili Peppers – 'Dani California'
Sexiest video: Fergie – 'Fergalicious'
Best hip hop video: Snoop feat R. Kelly – 'That's That'
Best dance video: Fedde Le Grand – 'Put Your Hands Up For Detroit'
Best pop video: Guy Sebastian – 'Elevator Love'
Download of the year: Pink – 'Who Knew'
Best hook-up: Justin Timberlake feat Timbaland – 'SexyBack'
Video Vanguard Award: Silverchair
Free Your Mind Award: Oak Tree Foundation
© Danny Canak
Sydney Unleashed is one of Australia's premier entertainment publications exploring the latest in lifestyle trends. From Sydney's finest restaurants, cafes and bars to the hottest in gadgets, products, and home entertainment, Sydney Unleashed is your one-stop lifestyle platform.