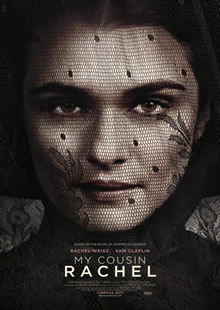 My Cousin Rachel: Movie Review
Starring: Rachel Weisz, Sam Claflin, Holliday Grainger, Poppy Lee Friar, Harrie Hayes, Iain Glen (Rated M – 106 min).
Adapted from the classic Daphne Du Maurier novel and filmed once before in 1952, this is a stunning period piece aplomb with seductive black widow gothic girl-power around the eerie atmosphere showcasing the amazing Rachel Weisz in a chilling duality of personalities around an equally impressive ensemble.
Philip (Sam Claflin) was brought up by his cousin Ambrose whom decides to go to Italy after falling ill in an attempt to regain his health. Unfortunately he turns recluse and never recovers and tragedy occurs sending Philip on the hunt for clues on what actually happened to his beloved father figure.
Suspicion is raised when other cousin Rachel seems to be a possible cause although no evidence can be traced back, yet. Her appearance in England triggers a revenge plot but soon Philip gains considerable complicated feelings toward her charm that swings from meek, modest to lust before an exhilarating reveal. Be wary of unexpected twists and turns that may cause anxiety.
More than just standing in front of impressive ceiling high bookcases and lurking down candlelit castle corridors, the set design comes alive while the costumes deliver a level of Oscar-worthy authenticity.
So good in more than a dozen underrated roles such as Constantine (2005), Brothers Bloom (2008), to The Lobster (2015), just to name a few, Rachel Weisz is truly believable as vixen of death Rachel conveying guise, warmth, terror. She relishes that male resistance seems to be futile.
Pretty boy Sam Claflin (Hunger Games, Me Before You) is unlike you have ever seen him before. In rare form of multiple emotions as frustrated as he is turned on by the prospect of the secretive almost definitely doomed love affair. High standards all round, even Holliday Grainger who has perfected the corset wearing in a variety of new versions of classic tales from Jane Eyre to Great Expectations, rises from cliche as the voice of reason and counter balance for Philip.
With the almighty Wonder Woman deservedly top of the box office, this is another feminine big screen empowerment of a different kind not to be missed.
Shane A. Bassett
Sydney Unleashed is one of Australia's premier entertainment publications exploring the latest in lifestyle trends. From Sydney's finest restaurants, cafes and bars to the hottest in gadgets, products, and home entertainment, Sydney Unleashed is your one-stop lifestyle platform.