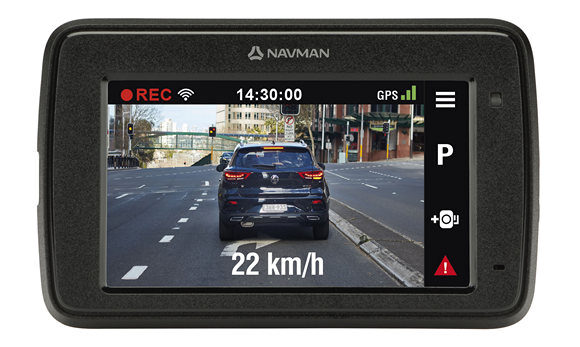 New Dash Cams in time for Easter
Driving without a dash cam is like driving without a seatbelt or a spare tyre, according to Navman Australia. You don't need it, until the moment you do, and then you're very glad you have one. Sales of these essential in-car devices continue to climb year on year as more and more of us opt to protect our insurance excess, and ourselves from unnecessary stress in the event we are in an accident.
There are now dash cams for almost every type of vehicle, including trucks and motorbikes, and design features and mounts to suit all types of cars and drivers, and it is easy to download and share footage instantly.
Australia's leading manufacturer of dash cams has released three new models just in time for the busy roads over the Easter holidays that not only record crystal clear footage but offer a ton of useful features to make life on the road safer. Best of all, they are all designed, built and tested by Navman for Australian and NZ conditions.
MiVUE™ 770 SAFETY
This nifty dash cam, with its 2.7" LCD screen, is packed with powerful features including alerts for speed and red-light cameras, school zones and accident black spots. Footage is recorded in Full HD 1080p and tagged with all the details your insurer will need (precise location, speed and direct of impact). You can easily upload and share footage via wifi, and you can even set ADAS alerts to warn if you are encroaching into another lane. And if saving money on petrol is important, check out Eco Drive which measures the fuel efficiency of your driving (RRP $229).
MiVUE™900 DC
Having eyes in the back of your head is always a good idea, especially when most road accidents are 'nose to tail'. The new MiVUE™900 DC has two cameras – front and rear both recording in Full HD 1080p at 30 frames per second. The front camera also has a Premium STARVIS™ Ultra Low Light Sensor, perfect for dark streets or car parks. It comes with a full suite of safety alerts, which can be updated monthly for free. And if you are in an accident, event recording instantly triggers and hard saves your footage without you thinking about it. Add in a SmartBox accessory (RRP $79) and you can access Parking Mode which will record any motion or impact with your vehicle even when the engine is switched off (RRP $299).
MiVUE™1200 SENSOR XL DC
This dual camera (front and rear) dash cam is built with the biggest sensor on the market on the front camera. Why is this important? It allows more light to be pulled into the camera, producing super clear vision and more definition. The front camera also records at 60 frames per second, allowing it to smoothly film even very fast-moving objects. The rear camera has a Premium STARVIS™ Sensor. The device records on two channels offering an extra layer of protection for footage and it comes with a 32GB endurance micro-SD card. As you would expect on a high-end model, the MiVUE™1200 Sensor XL comes with safety and speed alerts and will even remind you to turn your headlights on when entering a carpark (RRP $479).
Visit: www.navman.com.au
Sydney Unleashed is one of Australia's premier entertainment publications exploring the latest in lifestyle trends. From Sydney's finest restaurants, cafes and bars to the hottest in gadgets, products, and home entertainment, Sydney Unleashed is your one-stop lifestyle platform.