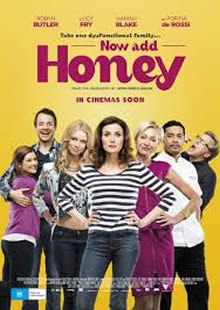 Starring: Lucy Fry, Robyn Butler, Phillipa Coulthard, David Field, Lucy Durack, Erik Thomson, Hamish Blake (Rated M – 100 min).
While covering a dozen topics with a big heart and an abundance of inspiration, this becomes an inevitable mess of forced comic capers falling embarrassingly flat all too often.
A gallant ensemble cast largely made up of television talent who appear to try hard with the ramshackle material. The standout performance from irrepressible Lucy Fry (Vampire Academy) saves the film from being a complete bust.
A Melbourne family is sent into disarray when Honey (Lucy Fry) a pop star cousin comes to stay after her mum (Portia DeRossi in only her 3rd Australian film) is detained and ordered to detox at a health retreat before returning to her daughter. Honey and her alter ego 'Monkey Girl' are tween idols with paparazzi never far away causing all sorts of heartache for Aunty Caroline (Robyn Butler) and her usual family routines.
Sleeping in separate rooms, Caroline has marriage dramas with husband Rich who seems to be mysteriously working at the office late nights on a frequent basis, while her sister (Lucy Durack) is craving attention due to a fast approaching wedding. Unbelievably this is only the beginning of the pandemonium with even more strands of shaky script tossing up further characters in the mix including Angus Sampson (Mad Max Fury Road, Insidious) as a sleazy photographer trying to exploit the young starlet Honey offering her big dollars by posing seductively.
At the core, the moral to the entire film is to grow old naturally but as a kid, don't grow up too fast. Writer/star Robyn Butler with director Husband Wayne Hope lovingly took five years to get this on the screen, it does possess light infectious appeal. However poor execution of questionable comedy loses the sincerity of the inner subject matter. Thank goodness for Lucy Fry.
Shane A. Bassett
Sydney Unleashed is one of Australia's premier entertainment publications exploring the latest in lifestyle trends. From Sydney's finest restaurants, cafes and bars to the hottest in gadgets, products, and home entertainment, Sydney Unleashed is your one-stop lifestyle platform.