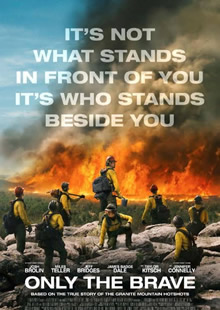 Starring: Josh Brolin, Taylor Kitsch, Jennifer Connelly, Miles Teller, Alex Russell, Jeff Bridges, Andie MacDowell (134 min – Rated M).
Inspiring, breathtaking as much as it is heartbreaking, true story of Granite Mountain Hotshots – elite team of bush fire fighters specialising in prevention of the spreading or inflammation of further burning into towns or properties.
Josh Brolin simply gets better as the years roll by. As Chief Eric Marsh, he demonstrates that authority of team control and gruff acting perfection. Taking on recruit Brendan McDonough (Miles Teller), a young man with personal substance history and a newborn he never sees, Eric forms a bond with the new guy while also sharing a secret.
Risking their lives to protect others embodies these understated heroes. Standing up facing flames of death does not deter their strive to do anything they can which makes for some truly incredible scenes.
Family issues and individual circumstances within the group are played out with emotion, honesty without overdoing the sentimentality until necessary. Jeff Bridges is one of modern Hollywood's current living legends, the fact he sings a tune in a celebrative bar scene is a bonus. Fast rising Australian talent Alex Russell (Chronicle, Jungle) is almost unrecognisable with his moustache fleetingly appearing throughout, with one particular memorable moment.
Backdraft (1991) still impresses me, as does The Towering Inferno (1974) – a duo of 'fire' movies that stand the test of time in my eyes. Actually based on a GQ magazine article, the screenplay adapted holds attention shedding light on this dedicated bunch and what they achieved. The build up to the final stanza concerning the Yarnell Hill Fire of June 2013 is interesting with eventual emotional heights that may cause shock, especially if you're unaware of the outcome such as I was.
Despite being a touch overlong, it's a terrific film worth seeing. Only the Brave, completely appropriate title for a survival tale of the human spirit. Acted above average and directed by Joseph Kosinski (Oblivion), who if you believe rumours, is frontrunner to make Top Gun 2: Maverick.
Shane A. Bassett
Sydney Unleashed is one of Australia's premier entertainment publications exploring the latest in lifestyle trends. From Sydney's finest restaurants, cafes and bars to the hottest in gadgets, products, and home entertainment, Sydney Unleashed is your one-stop lifestyle platform.