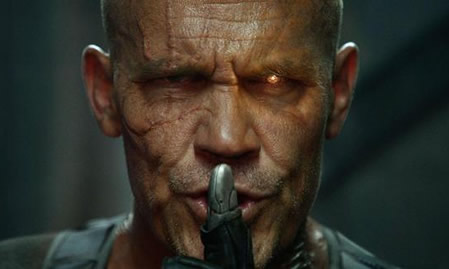 Deadpool 2: Josh Brolin Retrospective
Much anticipated adults only anti-superhero action sequel Deadpool 2, now in cinemas, is rightly focusing leading man Ryan Reynolds as the Merc with the Mouth blood red suit wearing crimefighter in all the unconventional advertisements. However co-star Josh Brolin as nemesis Cable is on a cinematic roll and not just because of basically stealing the limelight in a little recent hit called Avengers: Infinity War.
Son of veteran actor James Brolin, one time male model, and star of classic originals Westworld (1973), The Amityville Horror (1979), amongst a stellar career, young Josh made his own feature film acting debut at 17 in ultimate retro gem The Goonies (1985). On a side-note, he recently wore a version of his Goonies costume including headband to a Halloween party. A skateboard movie Thrashin was next followed by an array of television appearances including 21 Jump Street and Young Guns style western series, Young Riders.
There was something about him that gave him screen presence like his father. Small roles in Valentine's Day classic Bed Of Roses and road film comedy alongside Ben Stiller in Flirting with Disaster, made him a go-to player.
Nightwatch (1997) with Best Laid Plans (1999) were highlights among a mix of variable roles that also regrettably involved a modern movie remake of television series The Mod Squad.
As he got a little further into maturity around the early 2000s, roles became more subsequent with wickedness or brooding chiselled looks. Sometimes characters would involve both such as in invisible man retread Hollow Man (2000) and Into the Blue (2005), an underwater treasure movie that could be passed off as just fluff but turned into an exciting thriller opposite gorgeous Jessica Alba and the late Paul Walker.
For over a decade, Josh was married to fellow child of the '80s starlet Diane Lane (Outsiders, Streets of Fire). 2007 was a massive year of films that stepped up the level of diversity to characters which Josh had played included Planet Terror, In the Valley of Elah (directed by Tommy Lee Jones), American Gangster opposite Hollywood heavyweights Russell Crowe & Denzel Washington and Best Picture Oscar winner No Country for Old Men.
The very next year, Josh was nominated for supporting actor by the Academy for Milk opposite actual Best Actor winner Sean Penn. However it was his controversial portrayal of former college bad boy and President George W. Bush in W. that finally got critics solidly in his corner.
The brilliance kept flowing from all angles, His second outing for Woody Allen, You Will Meet A Tall Dark Stranger, to a fix-it executive during the golden age of Hollywood in Hail Caesar (2015), to his off-beat exact reimagining of a young Tommy Lee Jones in Men in Black 3, took his comedy skills up a notch. Romancing Kate Winslet under extreme circumstances in Labor Day (2013) and off his tree bumbling around in Inherent Vice (2014) struck a chord for critics, not so much box office dollars.
Sadly an excellent film about fire fighters in true story, Only the Brave, was also underseen. Sicario (2015), an intense border drug war thriller, made it to top 10 lists around the globe and a sequel is to follow with Josh front and centre. Then along came a couple of uncredited moments in the Marvel Universe which have accumulated to a major villain in this year's biggest film to date, Avengers: Infinity War.
As galaxy destroyer Thanos under a heavy dose of CGI effects, Josh still manages to convey major bad guy with mannerisms relatable to human instincts but genocide virtues brimming with insanity of the character. Now every generation knows the magical ability of Josh Brolin as Thanos but in a unique occurance, he is one of a few that will start in two superhero movies at the same time for the same Marvel Comic creators.
Brolin takes his role seriously, it's obvious here, and it works on a classic buddy cop level reminding me of Tango & Cash (1989) or 48 Hrs (1982). Deadpool 2 is a comedy action romance, emphasis on comedy of the adults only kind. Children are not recommended to experience the obscene antics and violent tendencies of Wade Deadpool, which I actually like.
Deadpool 2 is good, not great, not quite instantly forgettable but lightning hasn't struck twice after the shock of the original. Flat too often or stupid, unlike the true unforced wit of the original, but does have some epic moments worth going to the cinema for.
DEADPOOL 2 (Rated MA – 119 min)
IN CINEMAS NOW
Shane A. Bassett
Sydney Unleashed is one of Australia's premier entertainment publications exploring the latest in lifestyle trends. From Sydney's finest restaurants, cafes and bars to the hottest in gadgets, products, and home entertainment, Sydney Unleashed is your one-stop lifestyle platform.