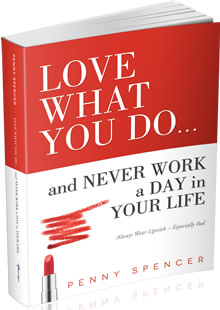 Love What You Do… And Never Work a Day in Your Life.
Penny Spencer is a leading figure in the Australian travel industry and a business success story. Her entrepreneurial journey from her days as a student to becoming the Managing Director of the multi-award winning Spencer Group of Companies is captured beautifully in her debut book "Love what you do… and never work a day in your life".
Penny gives an honest account of her business success story offering a unique insight into the triumphs and challenges of climbing the corporate ladder and developing her role as a business leader.
This book is ideal for anyone who is looking to start a business, or has an established business in any industry, filled with advice born from Penny's own experiences to inspire true life and business success. Inside, Penny details personal experiences that have led to the growth of her company and her profile, including lessons learned and mistakes made along the way. For Penny, a philosophy of persistence, perseverance and hard work has seen her progress from her beginnings as an 18 year old volunteer worker at Adventure World, to Managing Director of her multi-million dollar travel management company today.
"Love what you do… and never work a day in your life" provides insights into how Penny has navigated through the highs and lows of business management, building a loyal team with her on her journey and juggling her role as a female business leader with her role as a mother to a young family, and many will relate to her story and benefit from her insight.
"Being a woman in a position of leadership and managing a family gives me a distinct perspective to successfully run a small business. Women tend to lead differently than men—not better— just differently."
Penny's book is an honest and enjoyable read with valuable insights into how you can build a career and business that motivates, challenges and inspires you, helping you love what you do, so you never have to work a day in your life.
Penny offers advice on the key aspects that can help you achieve career or business success:
– Building relationships with clientele, staff and the business industry more broadly.
– Keeping your thumb on the pulse of change, both technology and industry changes.
– Creating a great company culture and engaging long term staff that want to stay with you.
– Growing the business: 'work on the business, not in the business' how to move from day to day involvement to role of business strategist, by grooming staff to take over key aspects of the business the way you need them to.
– Adapting to change, and dealing with disaster.
– A small business is built on specialisation, knowing your client and their needs and securing their referrals
– Long term success relies on passion, networking, planning and connecting with other entrepreneurs and learning from the experiences of those outside your industry.
– Mergers and acquisitions – build a successful business infrastructure that can adapt to new opportunities and ensure successful takeovers.
– Building a culture of mentorship in the industry – the mentor/mentee experience is important for continuing business and career success.
– Getting your success recognised with awards.
– Having an exit strategy.
Love What You Do… And Never Work a Day in Your Life is available now. 
Sydney Unleashed is one of Australia's premier entertainment publications exploring the latest in lifestyle trends. From Sydney's finest restaurants, cafes and bars to the hottest in gadgets, products, and home entertainment, Sydney Unleashed is your one-stop lifestyle platform.