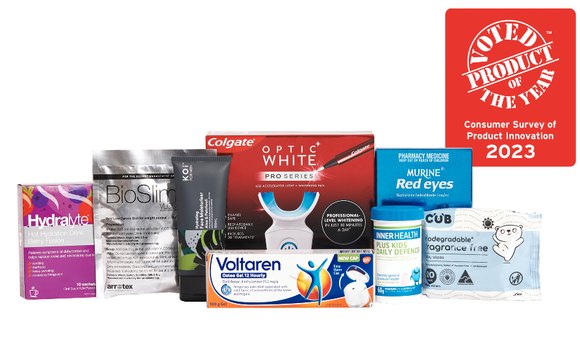 Product of the Year's Healthcare Heroes
With the colder weather still creeping around and more people susceptible to that pesky winter flu and bugs, there have been some absolute hero products that are gracing our shelves to help us get back to our full health in the quickest time possible. If you are unsure what core products to have in your kitchen/medical cabinet, we have rounded up some great products that have been recognised as leaders in their field or are award winners in their category.
These health buys have been tested by experts and 5000 Australians through the Product of The Year Awards, the world's largest consumer-voted awards program that recognises product innovation and serves as a shortcut for shoppers helping them to save time and money.
Meet some of the 'Healthcare Heros' from the 2023 winners that you need to try this year:
Strike Pro Antibacterial Cleaner
Let's be honest, as important as it is for cleaning products to get the job done, you also want your house to smell fresh, clean and not of straight-up cleaning chemicals. This crisp apple cedarwood antibacterial multi-purpose spray cleaner smells divine, and as it's a multi-purpose cleaner it can be used anywhere in the home, from bathrooms to bedrooms.
Many household cleaning products can be overcomplicated, whereas the Strike Pro Multipurpose spray has become a cult product for many due to not only the incredible antibacterial properties, but also the ease of one product doing the job of 5 others (saving plenty of cupboard space!)  At 2 dollars a bottle, this is a great product to use to keep the winter bugs at bay and keep homes smelling fresh. It won the Product of the Year Household Cleaning Category.
Inner Health Plus Kids Daily Defence
We know that the little ones can be the biggest culprits for getting sick, as they pick up lots of good (and occasionally bad!) bacteria. Once kids get run down, making them take their supplements can be a battle in itself! Make sure they are given the best defence for general health with this one-of-a-kind probiotic power.
No more wrestling with sticky medicine spoons, this yummy strawberry flavour daily defence can be sprinkled on food, cereal or popped with milk to create a strawberry milkshake and a sure way to make sure they're given the best chance at daily defence against sickness. It won in the Product of the Year Kids Vitamins / Supplements Category.
Hydralyte Hot Hydration Drink
When you're poorly or maybe just had one too many bubbles, making sure your body is getting all the electrolytes it needs is the best way to ensure you have the speediest recovery. Australia's number 1 rehydration formula is now available as a warm, rehydrating experience so you are covered all year round.
This delicious hot berry drink helps the body once it's been unwell stock up on all the hydration by helping ease symptoms of a bad stomach, excessive sweating and the occasional hangover. Simply pour into hot water, and hey presto, you'll feel the effects of hydration 30% faster than drinking water alone.*  It won in the Product of the Year Health and Wellbeing Category.
*World Health Organisation. Implementing the new recommendations on the clinical management of diarrhoea: guidelines for policy makers and programme managers (2006)
About Product of the Year Australia (POY):
POY is the world's largest consumer-based awards, with over 5,000 Australian shoppers voting for their favourite supermarket products. The POY awards recognise product innovation and serves as a shortcut for shoppers, saving them time and money when finding the right products. Shoppers can be confident when buying Product of the Year category winners as they undergo a rigorous testing process. A panel of judges, comprising of various industry experts, first tested the products for quality, credibility, and innovation. The resulting product finalists were then reviewed and voted on by 5,000 Australians.
For more information visit https://www.productoftheyear.com.au/
Sydney Unleashed is one of Australia's premier entertainment publications exploring the latest in lifestyle trends. From Sydney's finest restaurants, cafes and bars to the hottest in gadgets, products, and home entertainment, Sydney Unleashed is your one-stop lifestyle platform.