Punjabi Fusion, Millers Point
Looking for some drama in the dining room? Look no further than Punjabi Fusion – a brand new progressive Indian fine dining restaurant that takes Indian cuisine to a rarely seen level. Theatrical might be the word that best describes the presentation of the food – it's quite extraordinary – and that's before we even get to the levitating fairy floss…more on that later!
Serving up exquisite and experimental reinterpretations of classical Indian favourites, Punjabi Fusion is largely inspired by molecular gastronomy and utilises food science to transform flavours and presentations. So all you can do is sit back and become acquainted with levitating plates, cold and hot smoking and theatrical liquid nitrogen presentations, among other gastronomic techniques.
Punjabi Fusion's interiors boast all the traditional refinements of a top Sydney restaurant, with tables of crisp white linen, velvet seating, and impeccably attentive and well-dressed staff. You can even order your meal off a touch screen iPad – a great idea which helps to give you a visual understanding of your order before it hits the table.
Indian Executive Chef Vijay Prakash (who has worked alongside a string of famed celebrity chefs) likes to merge flavours and create unexpected new experiences for his diners. His offering is homage to his culinary background, marrying food science with traditional Indian cooking. If you're like us and struggle to make a decision on what to try, then the Chef Degustation Menu, where you can choose between 3, 5, 7 or 11 courses, is highly recommended. Designed to take you on a journey to different regions of India, the experience is full of delightful surprises from start to finish.
Begin your adventure with an aperitif of strawberry, prosecco foam and black salt rim. Then prepare for the theatrics as you are presented with a seasonal amuse-bouche (a tiny bite sized appetiser to start your meal) served over a smoking plate. A not to be missed appetiser is the Galauti Kebab – a tender, melt in your mouth dish specially curated for a toothless Indian King dating back to 16th century in Lucknow India. And before your main course, you'll be treated to a delightful palate cleanser of white wine, orange and basil sorbet.
When it comes to the mains, you can choose from Punjabi Fusion butter chicken with activated charcoal garlic naan or Angus beef steak with aloo tadka cake, asparagus and Kasundi mustard sauce. Absolutely scrumptious. And before you're finished licking the plate clean, prepare for the outstanding dessert – beetroot and carrot pudding with a scoop of creamy vanilla bean ice cream topped with red plum caviar. Yep, it's just as delectable as it sounds!
Which brings us to the showstopper – the levitating plate of Paan cherry fairy floss. Punjabi Fusion certainly knows how to end things on a high with the out-of-the-ordinary presentation of this dish. While it's not heavily promoted on the menu, you'll be in for a surprise when this one comes out and hits you for a six. The plate of Paan cherry fairy floss literally floats in mid-air – you'll be too busy trying to capture that perfect shot before devouring it as it truly is insta-worthy.
Punjabi Fusion is a refreshing disruption in the Sydney food scene. While they also offer traditional Indian favourites from the A La Carte menu like Butter Chicken and Biryani, we highly recommend the degustation which will completely transform your perception of Indian food, taking you on a culinary journey that delights the senses.
Punjabi Fusion
Observatory Tower, Shop 6 & 7, 168 Kent Street, Millers Point
Open for Lunch: Mon–Fri (11:30AM – 2:30PM)
Dinner: Wed-Thu (5:30PM – 9:30PM), Fri-Sat (5:30PM – 10:30PM)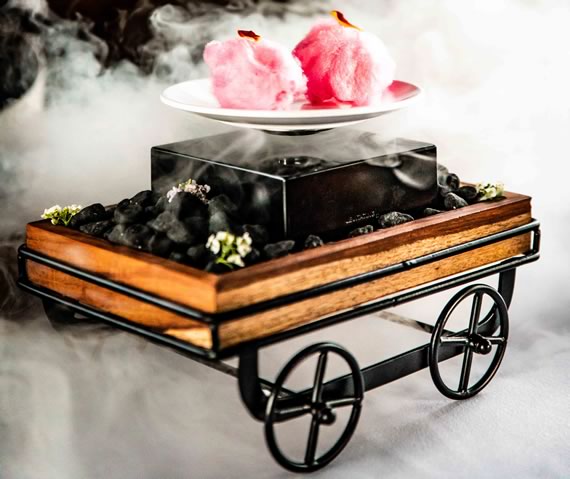 Sydney Unleashed is one of Australia's premier entertainment publications exploring the latest in lifestyle trends. From Sydney's finest restaurants, cafes and bars to the hottest in gadgets, products, and home entertainment, Sydney Unleashed is your one-stop lifestyle platform.