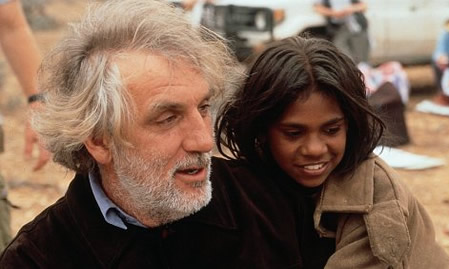 Rabbit Proof Fence Remastered: Phillip Noyce Interview
Former country rugby league player, now 50 years on the campaign trail making movies, Phillip Noyce is a legendary Australian director recognised on a global scale. Recent recipient of the lifetime achievement award from AACTA, which is proudly displayed in his daughter's room, Phillip is excited to be emerging indigenous filmmakers while hoping a new government will further assist an industry of evolving Australian film heritage. In 2002, his film Rabbit Proof Fence became an admired, important film. Now it's been lovingly restored from the original negative on Blu-ray, available now from Icon Films.
Looking back at Rabbit Proof Fence, is there anything you would change?
PN – Of course, you spend your whole life looking back at films you have made with personal tweaks. Every movie has two or three alternative scripts and often my movies keep playing in my mind, usually in the middle of the night (laughs). Two things I would change now I think about it, there was little dialogue so it would have been easy to put the language into their own dialect which would be a powerful statement and realistic. Also in their homes, you didn't see much of male family members. Of course you assume the girls were born by liaisons of visiting white man pretense, however it has always bugged me as we didn't have the right extras for more indigenous men. If we had more money, I would have projected a more varied portrait of white Australia at the time, possibly look at more of backstory for A.O Neville.
Is it a movie that remains close to your heart?
PN – Very much for many reasons, it was the film that brought me home again. People told me I'd never get finance to make it or if I did, it would not find an audience. Disproving those naysayers was a real pleasure. It became a movie with forward action that helped the reconciliation process in our country.
If you pitched it today, would it still be made?
PN – Probably get made faster but today, it would be pitched by an indigenous director. Rabbit Proof Fence is looked after, I love and nurture it, proud of it.
Was the casting of A.O Neville always Kenneth Branagh or a process?
PN – Went to several others but so happens, one of the exec-producers was a friend of Kenneth's manager who said he'd be up for it. He read it overnight, sent me a letter next morning explaining; 'My manager will argue about the fee but I'm in!' He then followed it up with a seven page dissertation on how the character should be played which was spot on. I went to Hugh Jackman first but he was just starting on another movie.
As Kenneth is a director, did he shape scenes or give tips?
PN – No, he understands the process coming from a theatre background, also where text is sacred. As much he contributed detailed outline of portraying Neville, he was the most easy-going actor I have worked with, also a nice guy.
You also had a young Jason Clarke in cast, he's come along way since.
PN – Has indeed, he was a standout in our movie as Riggs. After that he came to America and I cast him in a Showtime series, Brotherhood. Since then I haven't been able to cast him, he's always busy (laughs). What I saw in him as Riggs was he belonged in the part, his father was a sheep shearer, Jason was bought up in the bush. He has a combination of an outback spirit with earnestness, seemed perfect for the role. He is the guy who had to kidnap the kids (in film) but you never thought he was evil so that was important. Doing the job by the letter of the law was hard for him, he came across natural.
Deborah Mailman was wonderful as Mavis.
PN – As we both know, she's a tremendous actor with an extraordinary emotional range. So playing a woman in a compromised position and preyed upon by the outback station owner, she made the heartache real.
Your film stands the test of time.
PN – I hope so, let's see what people think when it is seen again on restored Blu-ray while Icon will re-release it in cinemas for its 20th anniversary…Dolby Vision remastered further which is essentially 6K format. Recently working on my films Patriot Games (1992) and Clear & Present Danger (1994) in next level 6K.
Can you re-release Heatwave (1982) and Dead Calm (1989) in 6K please?
PN – (laughs) Two of your favourites Shane. Dead Calm doesn't exist, I couldn't get a DCP from Warner Bros Pictures. At the Kolkata Film Festival, many of my films are on retrospective. WB could only provide a Blu-ray to screen explaining that was the best version of Dead Calm they have. I do control the remastering of Rabbit Proof Fence, but those other films I rely on the benevolence of different studios. Sometimes they look after their material, sometimes they don't. Fortunately we are doing Patriot Games and Clear & Present Danger but the negatives were in such bad condition. Scratched, de-colourised, it was a real tough transplant taking place to get it back to anything like the original. We are lucky in Australia, we have the film and sound archive doing exceptional work preserving. They basically take control of the negatives on behalf of the distributors, filmmakers. In fact, I get all my films sent there via Australian distributors. Patriot Games is there in pristine 70mm.
Shane A. Bassett
Sydney Unleashed is one of Australia's premier entertainment publications exploring the latest in lifestyle trends. From Sydney's finest restaurants, cafes and bars to the hottest in gadgets, products, and home entertainment, Sydney Unleashed is your one-stop lifestyle platform.