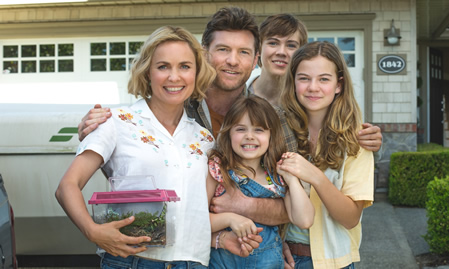 Currently swanning around in the South of France attending the prestigious Cannes film festival, Radha Mitchell is not only beautiful but she can act! She has range with a certain determination of energy in every role from the first moment I spotted her in Love and Other Catastrophes (1996).
From independent gems to big Hollywood productions or back to Australia for important local features, Radha is in demand for her precise talent. Her latest foray into complexity in The Shack is intentionally a small role but large in ideals. Adapted from the best-selling faith based novel, she plays the wife of conflicted husband Mack (fellow Aussie Sam Worthington) as he is greeted by the holy trinity in a time of reasoning and healing overture. Unfortunately Radha could not tell me much about another 'Has Fallen' instalment, the third in the action series of Olympus and London, but we did talk about The Shack – Rated M, 132 minutes, and NOW SHOWING!
Shane A. Bassett – You have nice chemistry with Sam but not enough of it. Were there scenes cut?
Radha Mitchell – No, it bookends the story which was just like the shoot for me, being there from the beginning then at the tail end. An interesting way to see the state of mind people are in from the start of a movie to the different state they are in at the wrap of the shoot. Fascinating actually. I do like working with Sam, something we had a chance to do years ago on Rogue (2007) about a maniacal crocodile and he was my slightly deranged ex-boyfriend but here we play the married couple (laughs). It is interesting how things change and both Sam and co-star Mia Wasikowska are now popular stars in their own way.
Do you go back and revisit many of your films?
RM – Sometimes, little pieces of them. Maybe just to see a clue in terms of reminding myself how my acting has possibly changed, also evolving of characters or me personally. So not often but on occasions. Man on Fire (2004) is still one of my favourite roles.
Love knows no boundaries in The Shack. How deep did you get into character?
RM – Not so deep. Though the script was beautiful, simple, direct in what it was trying to communicate and emotional, she was an interesting person, that drew me to it. Obviously it has a Christian voice specifically which may be intimidating to some people as a niche perspective or considered preaching but I liked that challenge. I do feel the movie message goes beyond that speaking to everybody and appealed to me to tell a story with a healing message. The character initially read to me as a wife supporting her husband, first thoughts were cliche! But the more I got into it, she is there no matter what as a backbone to everything defining who she is.
Were you aware of the popular novel before taking the role?
RM – No, my intuition was the script was strong. Then in conversation afterwards, the readership of the novel is extraordinary which made me think, there is going to be an eager audience for this story. It's magical to some people, I had a message from a friend of mine saying how happy they were of me making this film as the book changed their life.
So you think the appeal of this adaptation is for families?
RM – You could take your grandma or take your children, I think it's for all ages. Besides everything it's a human story trying to unravel struggle, what ever our barrier or burden is, speaking directly on many different levels. It does tie itself up in Christian theology no doubt. The movie makes things tangible for one and all. The holy trinity is a fair example here.
Making the film, did you experience divine intervention or strange happenings occur?
RM – Shane, what a good question! Something like I didn't have my ticket to New York but still able to get on the plane or someone expressed doubt about the movie but it has since become really successful, just little magical things.
Your three children in the film seemed mature actors. How were they to work with?
RM – Yes the youngest was very happy, related to the gravity of the story treating it more like a fairy tale when we were together and teenagers were grounded, especially Megan Charpentier, so easy to work with such a strong talent. All three were connected actors.
Your career is extensive on screen. Have you got aspirations to direct?
RM – Maybe eventually as I do hold long term aspirations creatively. Right now I am developing a project as producer with a company called Jungle. It's a film based on the novel Holy Cow. Also in short film Whoever Was Using This Bed, with Jean Marc Barr whom I worked with in Big Sur (2013) and the cool Jane Birkin now doing the festival circuit. But as for directing a feature, hopefully one day.
You have a movie with the great great Jack Thompson coming up too.
RH – He is such a gentleman; we shot a movie end of 2016 up in Queensland for Stephan Elliot (Priscilla Queen of the Desert) which is going to be a riot. Amazing costumes, wild set design, the whole creative team on board all brilliant including Oscar winners. Then there is the cast: Asher Keddie, Guy Pearce, Kylie Minogue, Julian McMahon. Can't wait to see it myself, such fun times making it. Stephan is a wild individual, he is amazing. The anti-thesis of The Shack.
Shane A. Bassett
Sydney Unleashed is one of Australia's premier entertainment publications exploring the latest in lifestyle trends. From Sydney's finest restaurants, cafes and bars to the hottest in gadgets, products, and home entertainment, Sydney Unleashed is your one-stop lifestyle platform.