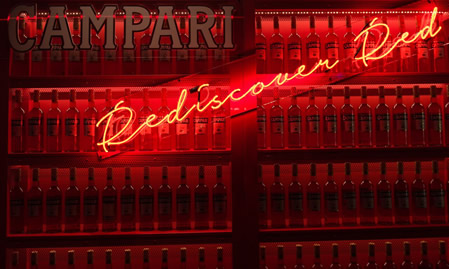 Rediscover Red with Campari
If Italy's passion, style and design excellence could be encapsulated in a drink, that drink would be Campari. The recipe for the world famous, completely unique, red Italian aperitivo has remained unchanged since it was created in Novara in 1860. Derived from alluring secret infusions from aromatic plants and fruit, it's vibrant colour, intense aroma and inspiring flavour has always delivered an intriguing, captivating drinking experience and, as such, Campari is as popular and accessible today as it was 155 years ago.
Campari, a brand perceived as traditionalist and classic will be refreshed this August through the Campari Rediscover Red campaign, transforming the Clare Bar at Chippendale's The Old Clare Hotel, delivering the unexpected from the time-honoured Italian brand. The pop-up bar will be a month-long celebration of contemporary Italian classics motivated by the drink of the moment, the Campari Tonic, a drink that is universally enjoyed by all tastes and audiences.
Visit the Campari Rediscover Red Bar throughout August to try the Campari Tonic, a very palatable yet uncomplicated mix, whereby the Tonic's mix of sweet and bitter notes complement the intense orange and herbal notes of Campari perfectly. Served with fresh lime, this superb combination makes for an easy drinking occasion to be enjoyed by a wide audience whilst completely refreshing the traditional Campari taste experience.
This August the Clare Bar will also showcase the many ways the Italian spirit caters for all tastes through a wide offering of mixes available to please even the most particular of drinkers. Beer lovers will rejoice with the Beer Americano as sweet lovers indulge with a Red Passion. The Campari Tonic will satisfy traditional drinkers with a simple yet delicious mix, while bitter lovers savour the eminent Negroni.
While at the pop-up Rediscover Red Bar, immerse yourself in the custom designed space featuring bespoke red lighting, vintage artworks and Campari bottle installations. A complete sensory experience, the Rediscover Red Bar even has it's own signature scent designed by Air Aroma, featuring delicious notes of bitter orange, grapefruit, jasmine, musk and rosewood.
Outside the bar, a custom-branded Fiat 500 will take pride of place – when it's not roaming Sydney to offer VIP guests exclusive transfers to the bar.
Throughout the month of August, the Campari Rediscover Red Bar will play host to an array of events each Wednesday evening, including:
WEDNESDAY AUGUST 10 – Superga Sneaker Monogramming
Customise your own Superga red and white sneakers (Italy's favourite sneakers!) with a live monogramming station. Have your initials etched into your new favourite kicks or take home a personalised leather tag whilst you enjoy a Campari cocktail.
WEDNESDAY AUGUST 17 – Campari x Messina Gelato Bar
Celebrate the trendiest Italians in the epicure space, with a pop-up Messina Gelato cart serving complimentary Messina Gelato, including an extra special Campari flavoured gelato, paired with bespoke Campari cocktails. Complimentary scoop cups will be available in the bar, with flavours carefully curated to complement the flavour profiles of the Campari cocktails on offer.
WEDNESDAY AUGUST 24 – Fill Your Own Campari Cronuts with Brewtown Newtown
Foodies and lovers of trendy desserts unite as Brewtown Newtown will be live at The Clare Bar serving mini custom-created Campari cronuts. Select from your choice of three Campari cocktail inspired ganache fillings and have it filled fresh right before your eyes.
WEDNESDAY AUGUST 31 – The Campari Remixed Bartender Competition
Who's side are you on – Australia's or Italy's? The Campari Dream Team take on the in-house Clare Bar team to create the ultimate twist on Campari classic cocktails. Live DJ from 6pm.
August is well and truly the month to Rediscover Red and celebrates all things Campari in Sydney, with activations also happening at Kensington Street Social, Icebergs Bar and Dining Room, Low302, Coco Cubano Central Park and Mrs Sippy in Double Bay:
– Campari Tonic Drinks Trolley at Kensington Street Social
Spot the gilded gold bar cart at Kensington Street Social when you dine at the restaurant throughout August and enjoy a refreshing Campari palate cleanser or order your choice of a bespoke Campari cocktail. On offer exclusively from the trolley will be a Campari Tonic, an Entrée Negroni, a Signature Negroni or Dessert Negroni.
Head Chef, Jason Atherton, will also be creating custom desserts and menu specials that incorporate and infuse Campari for the month of August to celebrate Rediscover Red. Join us pre dinner at The Rediscover Red Bar at The Clare Bar for an aperitivo pre dinner or a night cap after dinner.
– Icebergs Dining Room & Bar – Friday evenings from 12 August to 2 September
Enjoy Campari cocktails, complimentary canapés with Campari Tonics between 6-7.30pm on Friday evenings and a Campari inspired hand-painted mural by local artist Beni. There'll also be a live DJ from 6-10pm.
– Mrs Sippy Double Bay – Friday evenings from 12 August to 2 September
Campari Rediscover Red is taking over Mrs Sippy Double Bay across the month of August. Seek out the drinks cart serving Campari Tonic and pick your own garnish on Friday evenings.
– Coco Cubano Central Park – 4 August to 2 September
Coco Cubano are featuring the Cubano Campari Sunrise in celebration of Campari Rediscover Red. Enjoy the Cubano Campari Sunrise with Coco Cubano's mouth-watering slow cooked meat offerings across the course of August.
– Low302 – Thursday evenings from 11 August to 8 September
Drink of the moment, Campari Tonic, will grace the hands of patrons as they enjoy live jazz acts in celebration of Rediscover Red at Low302, Surry Hills.
Sydney Unleashed is one of Australia's premier entertainment publications exploring the latest in lifestyle trends. From Sydney's finest restaurants, cafes and bars to the hottest in gadgets, products, and home entertainment, Sydney Unleashed is your one-stop lifestyle platform.