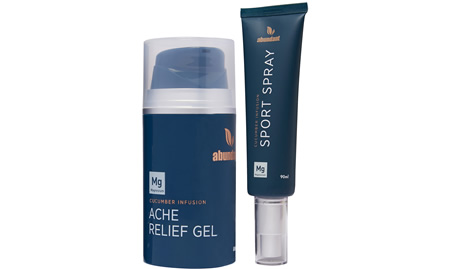 Relieve Dad's Aches & Pains with Abundant Magnesium
Does your Dad like to think of himself as an Action Hero but ends up more like the Tin Man? Whether he's a high-octane Weekend Warrior, or likely to pull a muscle just getting out of the car, we've got the perfect Father's Day gift for him with Abundant Magnesium.
We all know that socks and jocks won't cut it every year, so give Dad the gift of pain relief with the Abundant Magnesium Body Range, which includes an Ache Relief Gel (RRP $22.99) and a unique pump-action Sport Spray (RRP $24.99). Both products can be used before and after sport or exercise to prolong muscle performance as well as relieve the aches and pains associated with all kinds of physical activity.
The secret is in the formulation and it's unlike anything else on the market today. Combining highly concentrated pure Magnesium, with cucumber extract, which is high in organic citric acid; the cucumber exfoliates the skin enabling the Magnesium to get straight into the bloodstream where it gets to work on aches and pains more quickly. Abundant Magnesium products are plant-based powerhouses that give immediate pain relief where it's needed most.
Tim Buchanan, coach of Easts Rugby is a big fan, explaining: "I've tried a range of products, but nothing compares to the Magnesium spray. I use it after training and games and have noticed an improvement in my recovery – getting rid of bumps and niggles faster than anything I've tried in the market."
And Matty Gee, a Sydney based Personal Trainer, agrees, saying: "There's nothing worse than a sore back, right? I woke up yesterday and my back must've spasmed whilst sleeping. Now, I've taken magnesium supplements to ease muscular discomfort from training before yet this little spray-on bottle here from Abundant Natural Health came to the rescue. Almost instant results speak for themselves."
The Abundant Magnesium Body Range – including Magnesium Sport Spray (RRP $24.99) and Magnesium Ache Relief Gel (RRP $22.99) – is available now.
Sydney Unleashed is one of Australia's premier entertainment publications exploring the latest in lifestyle trends. From Sydney's finest restaurants, cafes and bars to the hottest in gadgets, products, and home entertainment, Sydney Unleashed is your one-stop lifestyle platform.